LaGrave is the Ultimate FreeRide Ski Mountain. There is one gondola (Telepherique') that goes from the bottom to almost 11,000 feet -- 7100 vertical feet of skiing from top to bottom. There are no designated ski runs, there are no signs, there are no ski patrollers. Just 3 glaciers, hidden crevasses, steep couloirs, cliffs, lots of craggy rock, and some of the best off-piste skiing anywhere in the world. You have to hire a ski mountaineering guide if you want to ensure you won't end up somewhere you can't get out of or go off a cliff by mistake.
They don't do any avalanche control on the mountain ..... Avalanche beacons, probes, shovels, and climbing gear are mandatory to ski the couloirs ...
Here's a picture of the mountain, with "LaMeije" the big peak in the middle. On the surface there doesn't look to be much that you can ski, but the mountain is huge and the snow is deep in the coulouirs.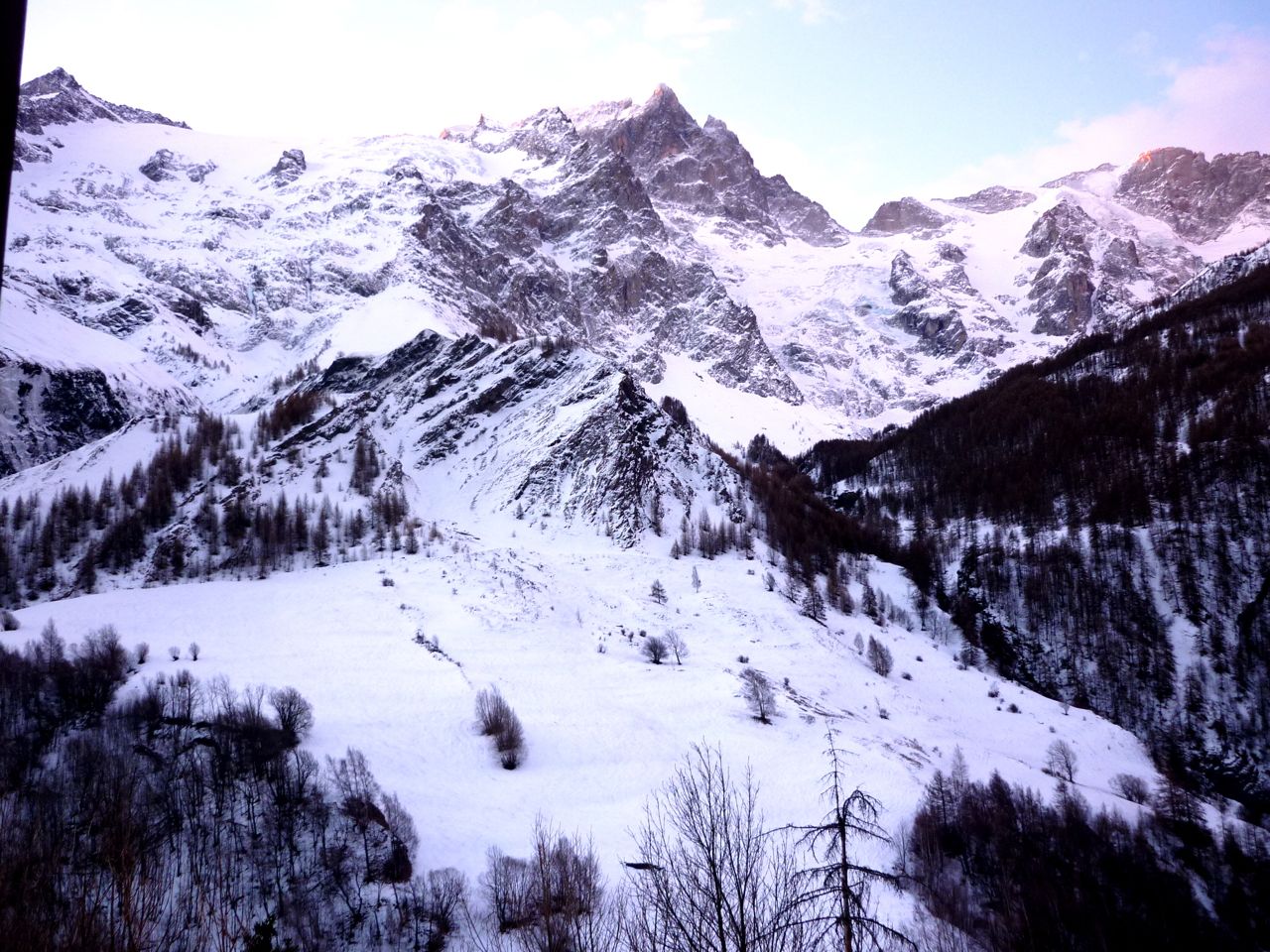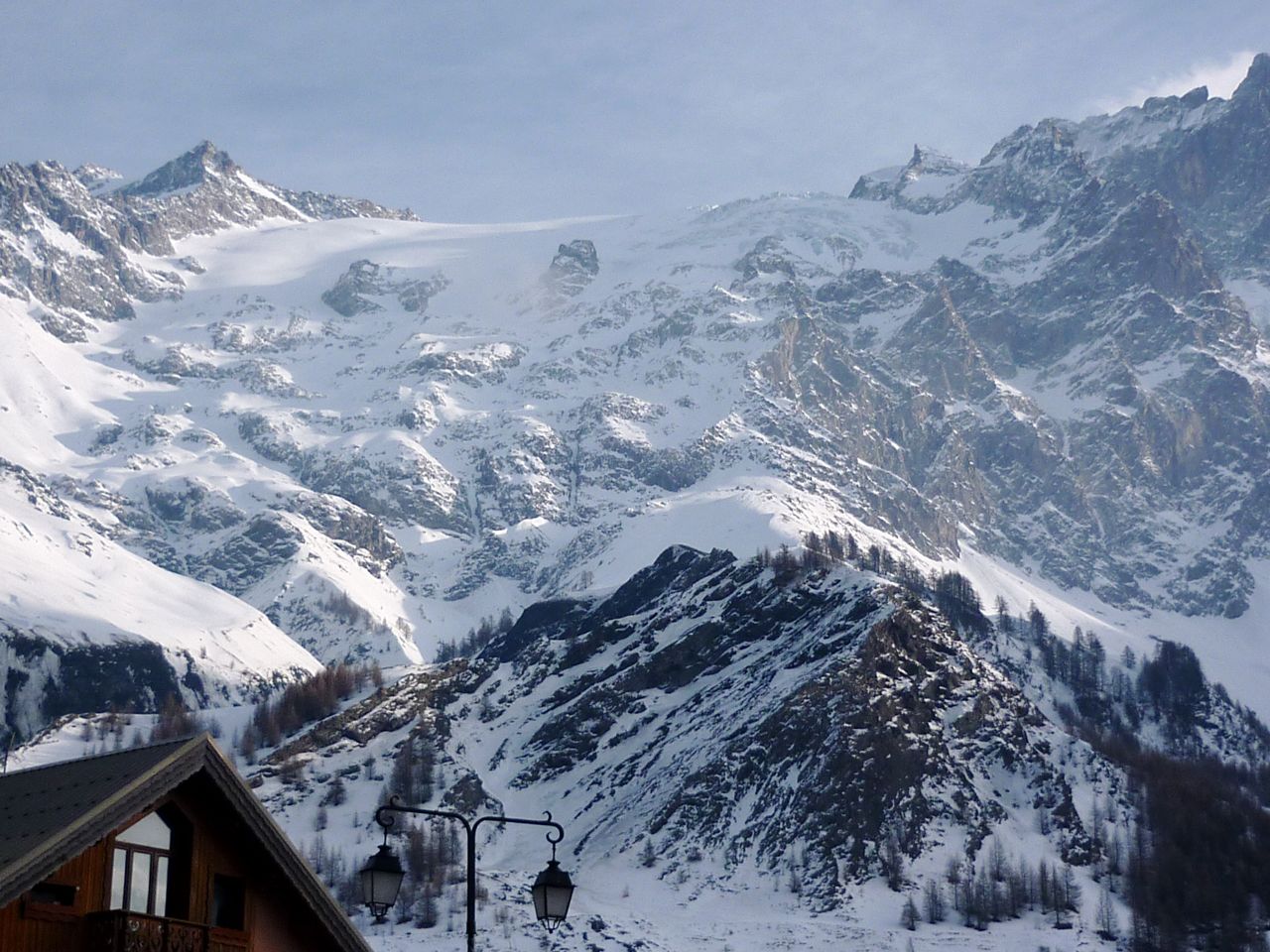 These are the only two signs that you'll see anywhere on the mountain ..... Warning, Glacier Crevasses, and "we're not coming to get you" .....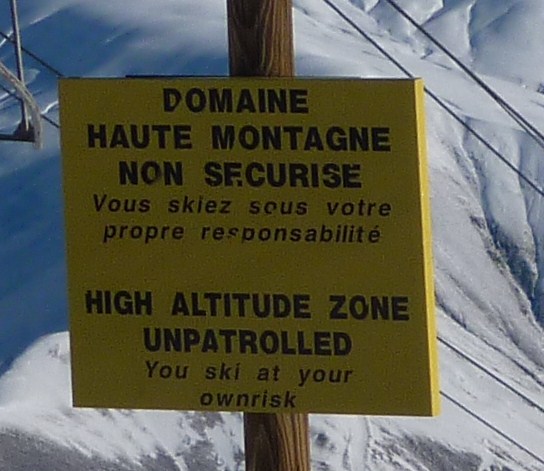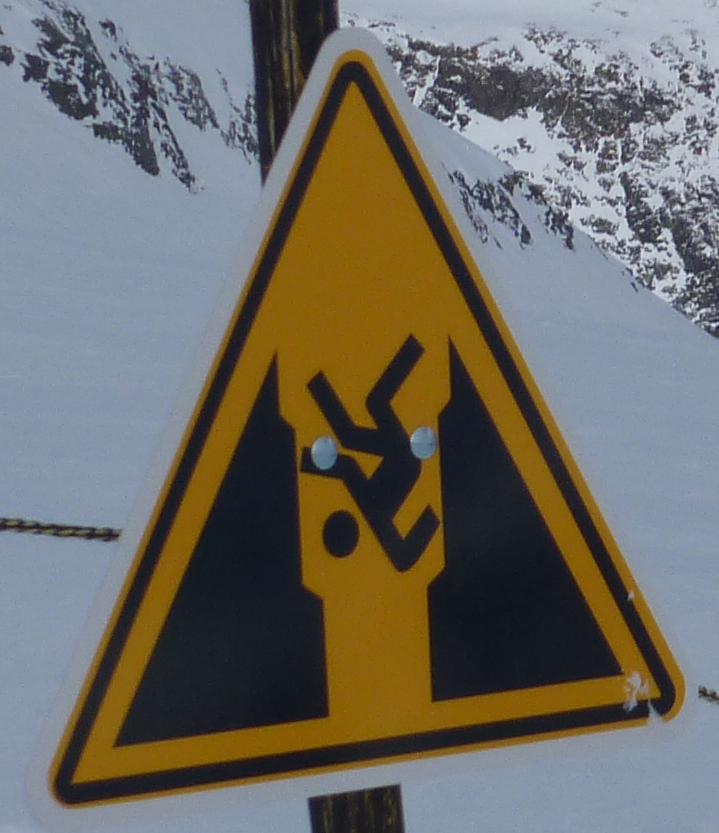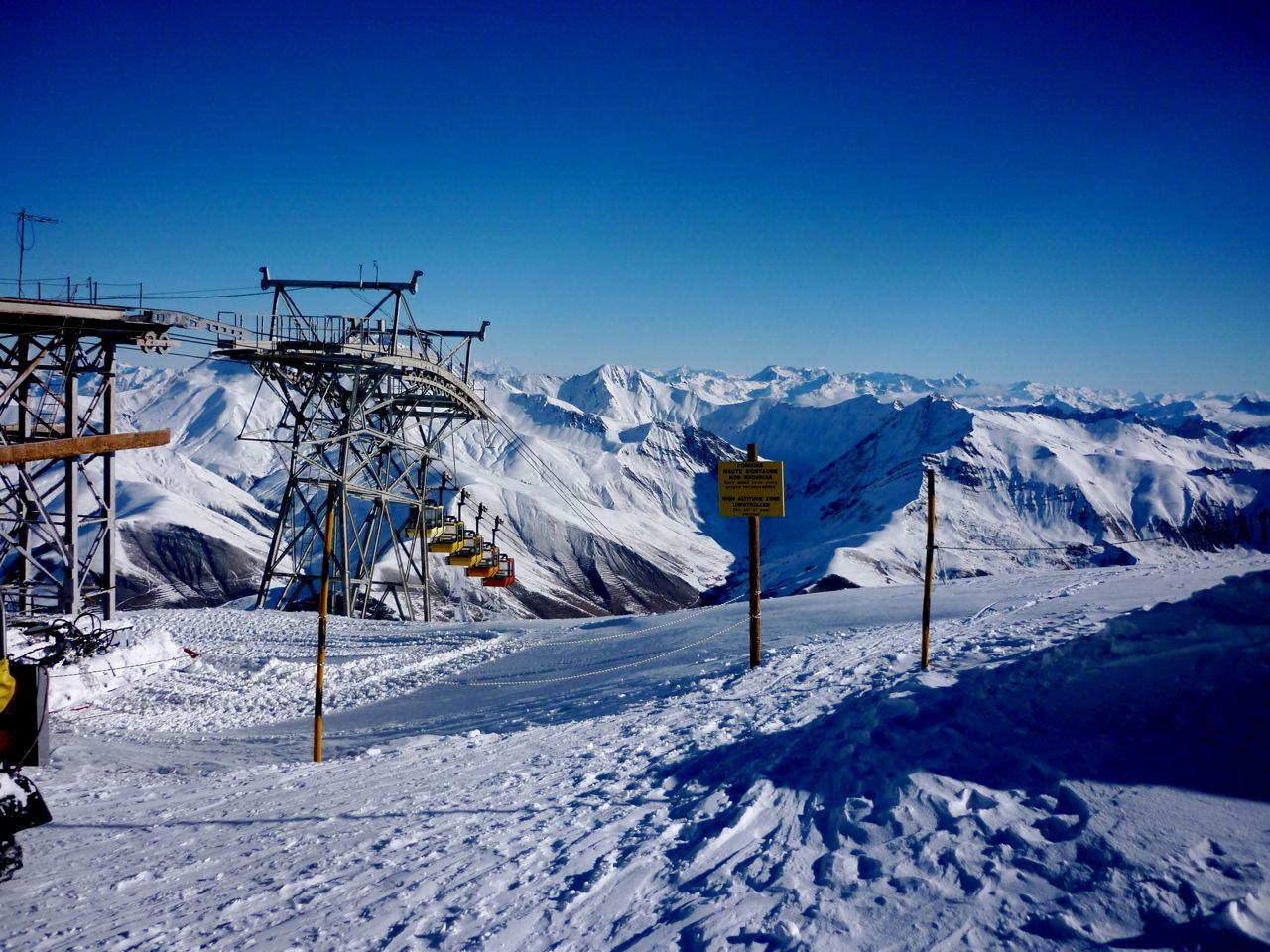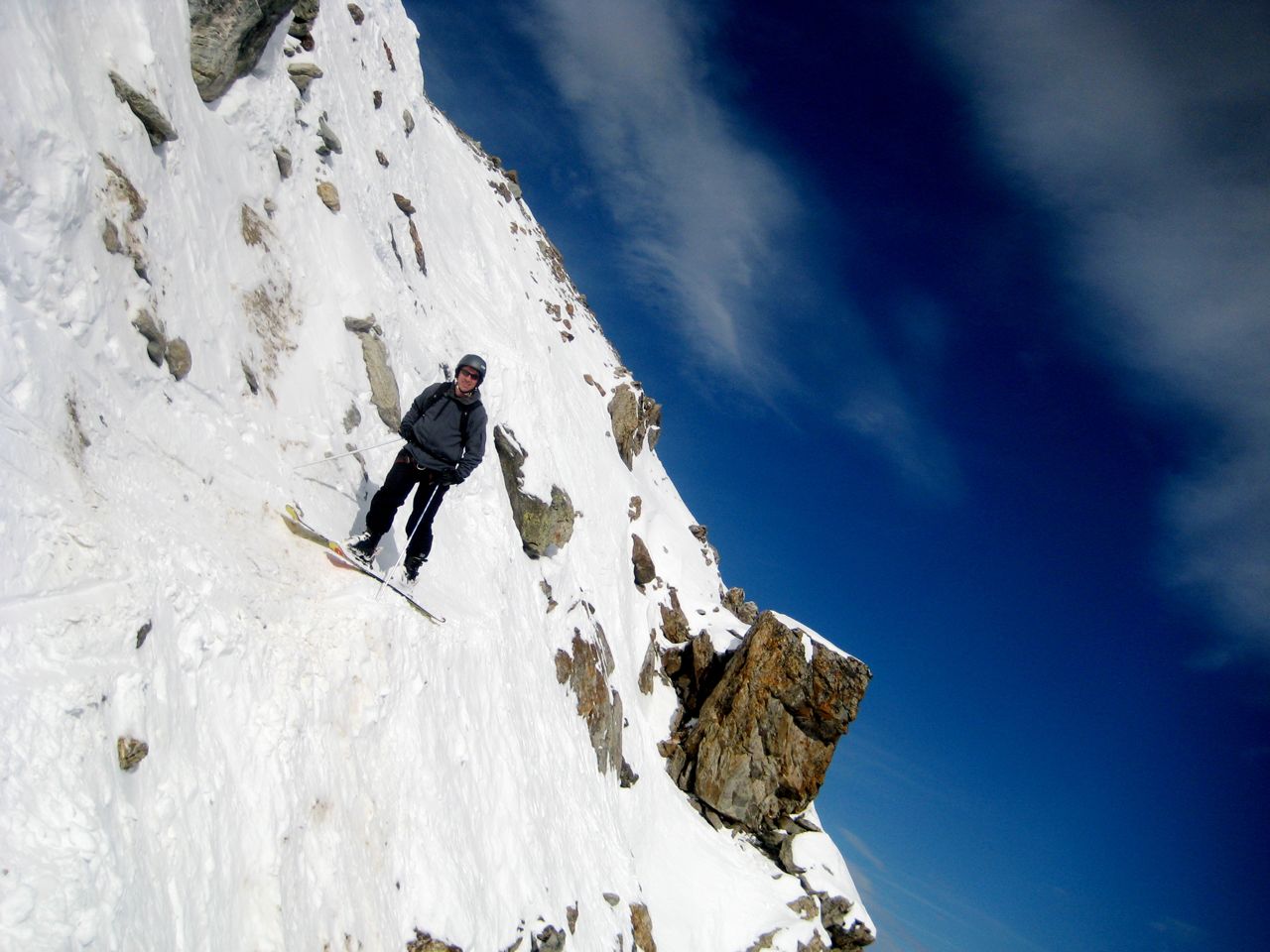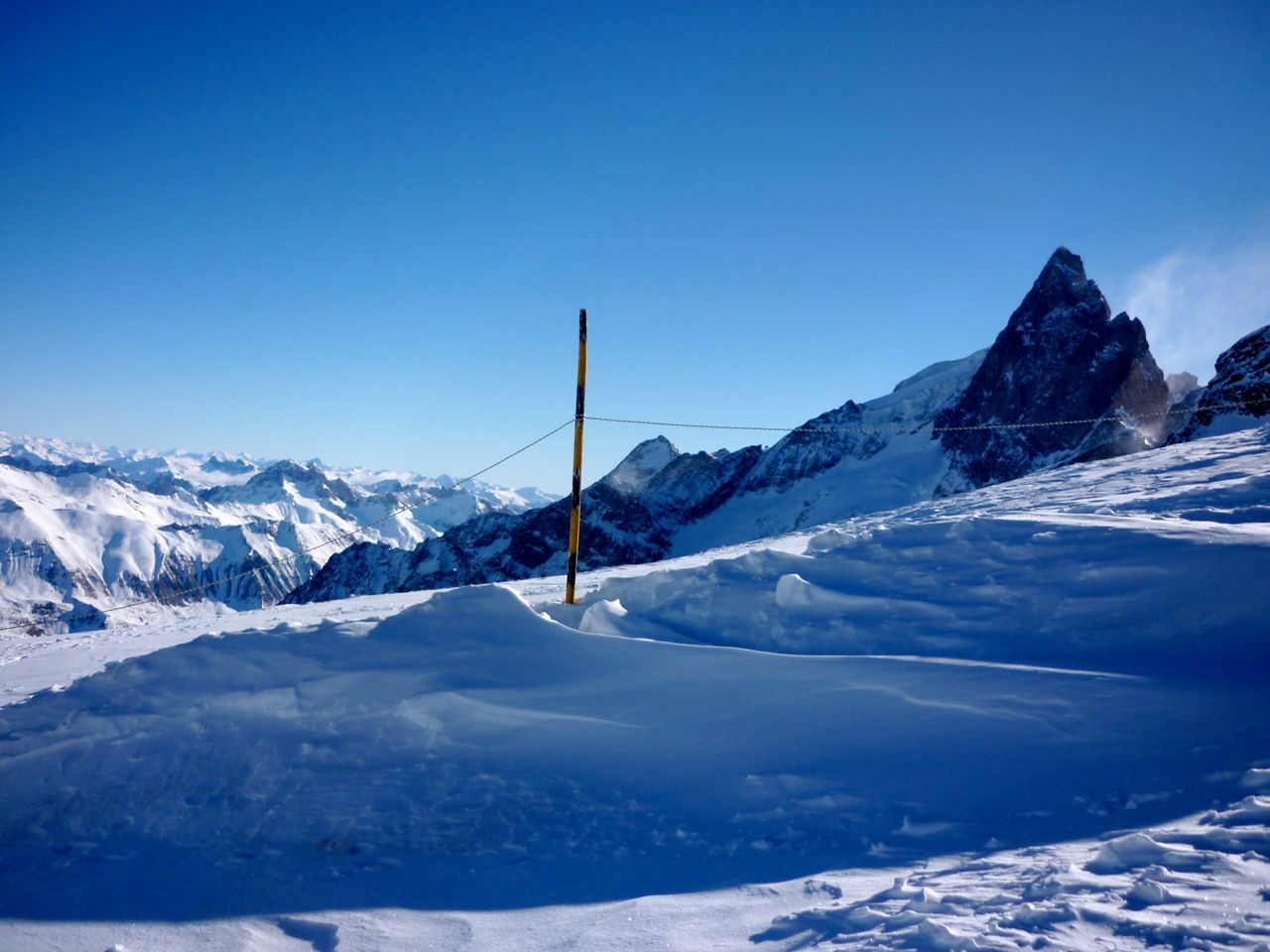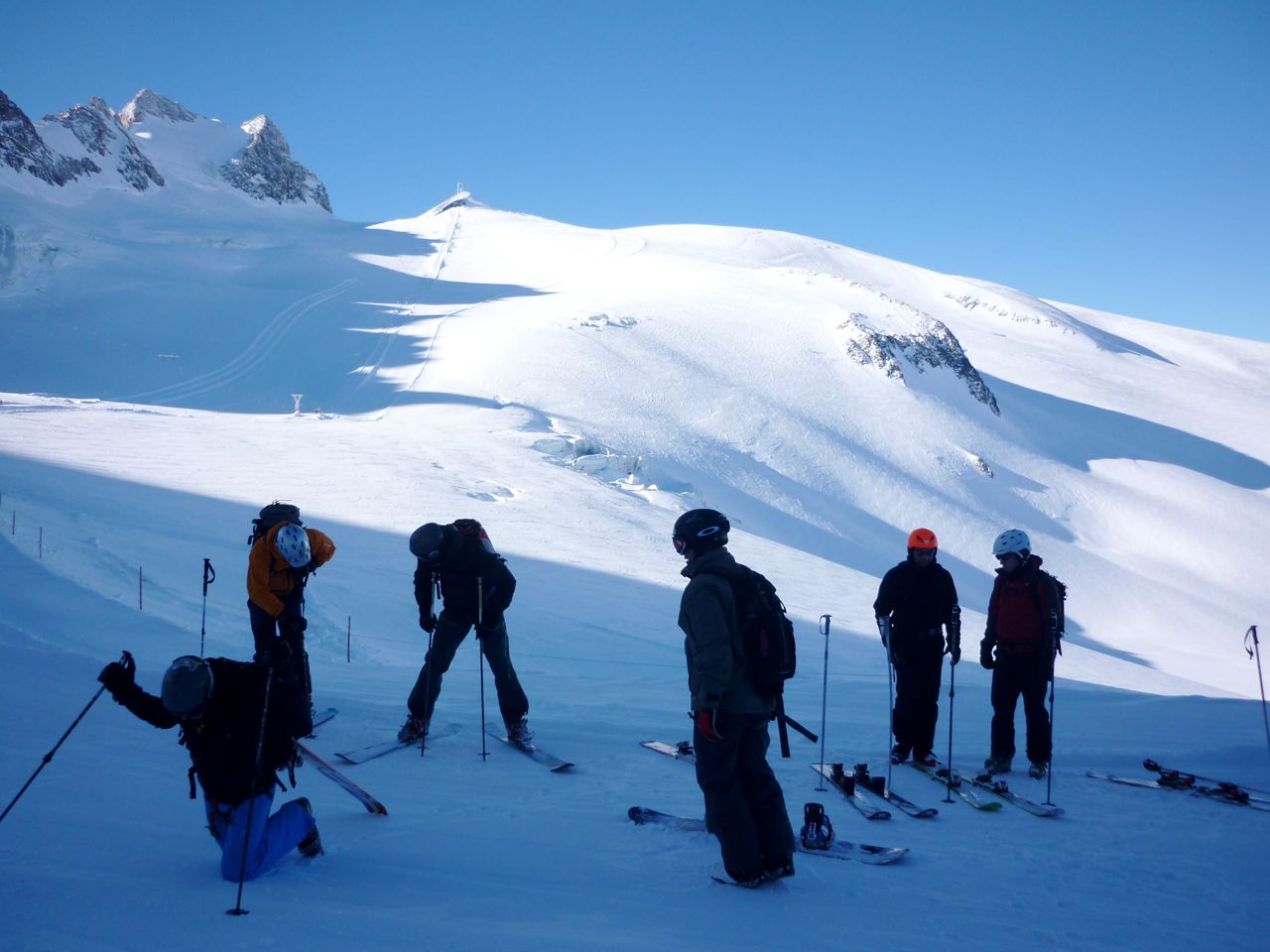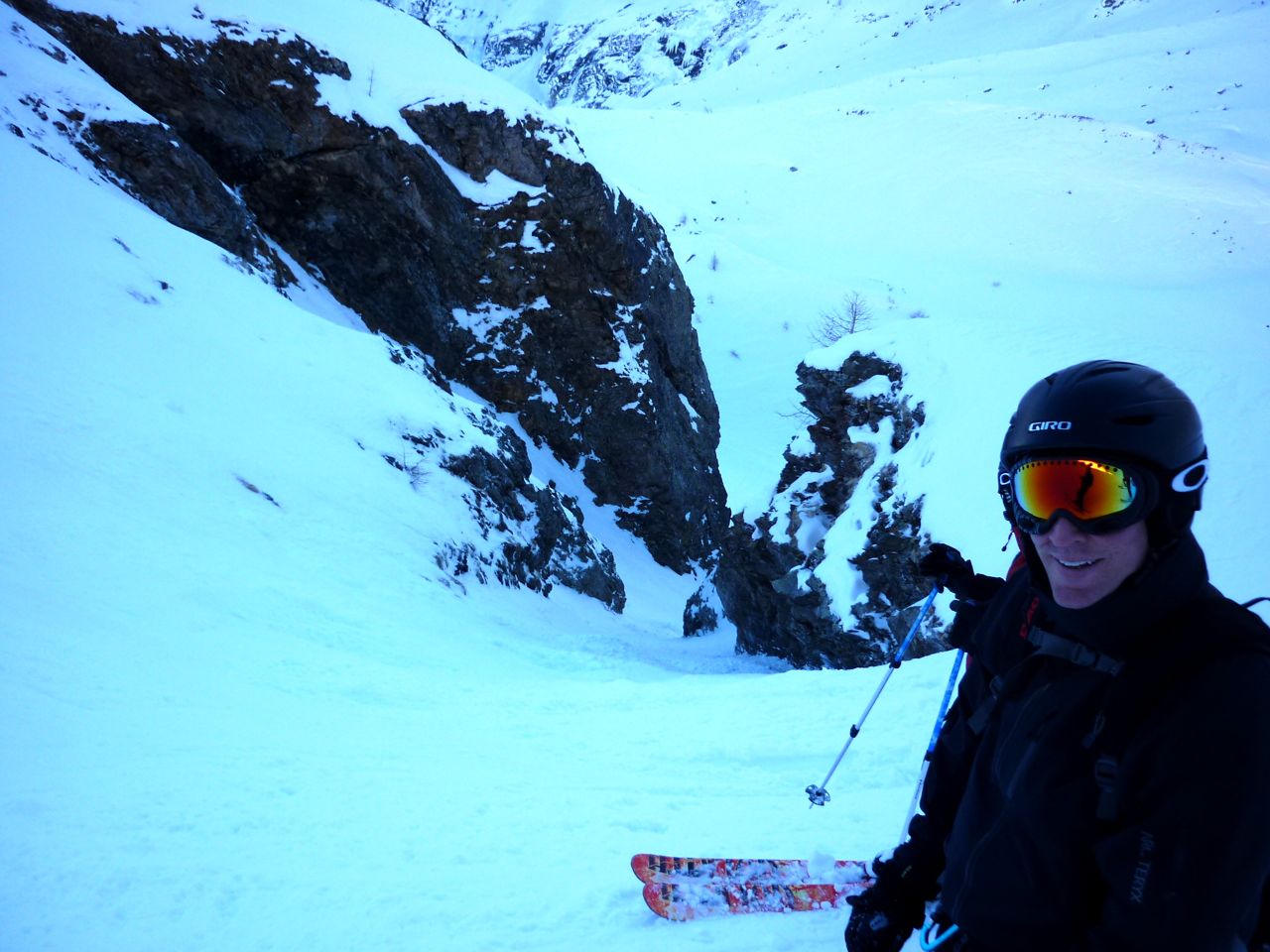 Our first colouir (rock walled chute) of the day -- "Bear Colouir"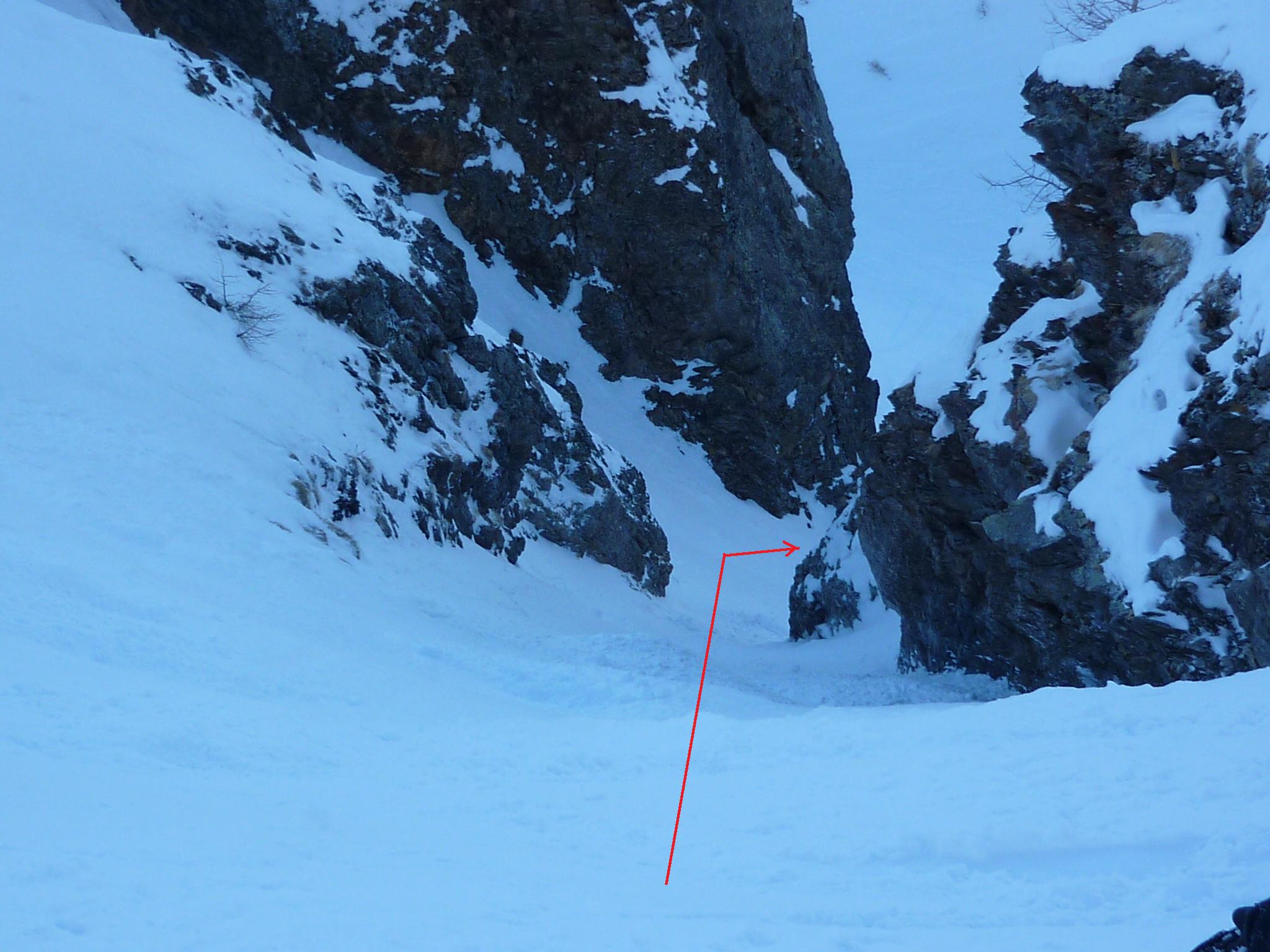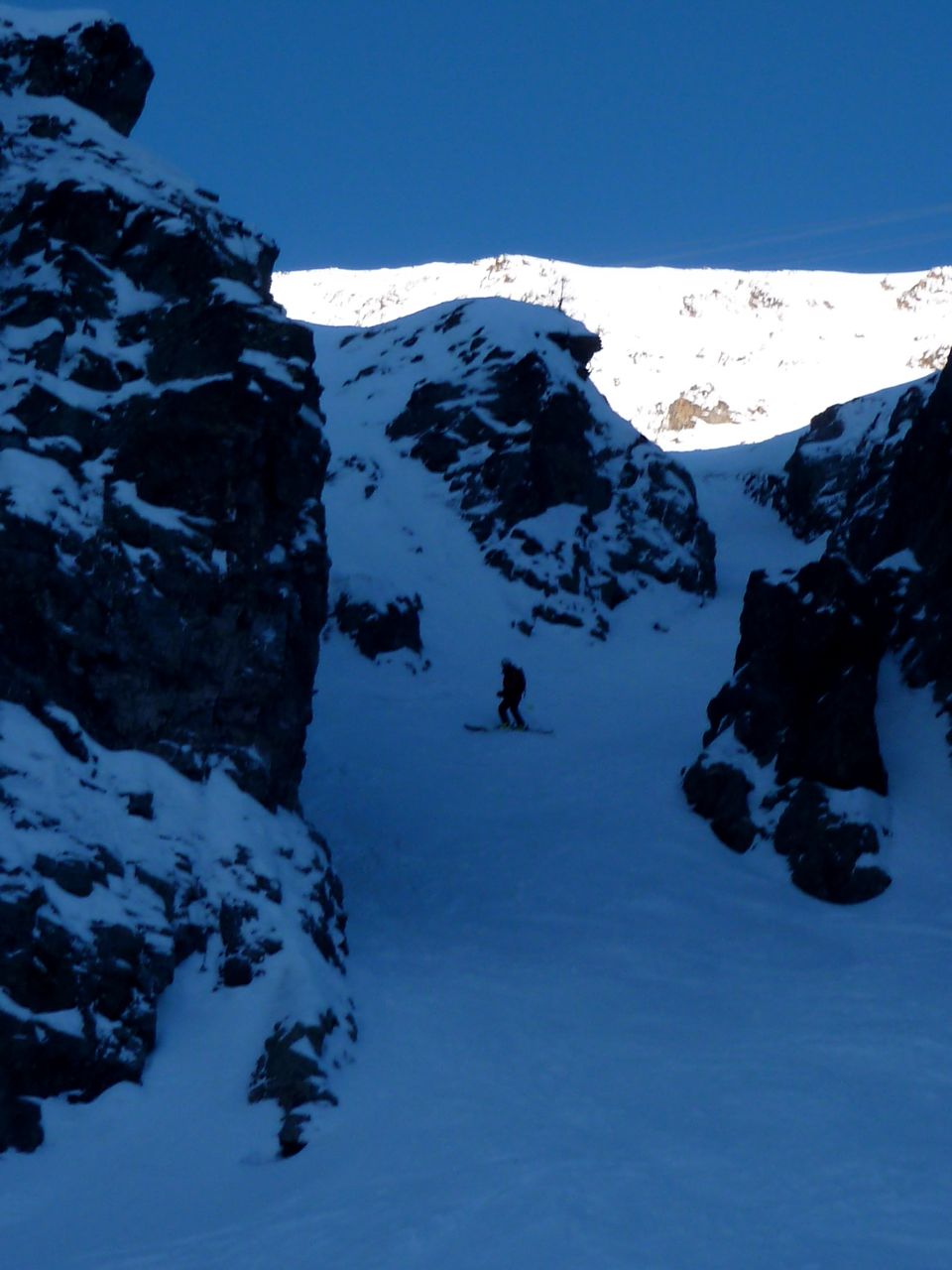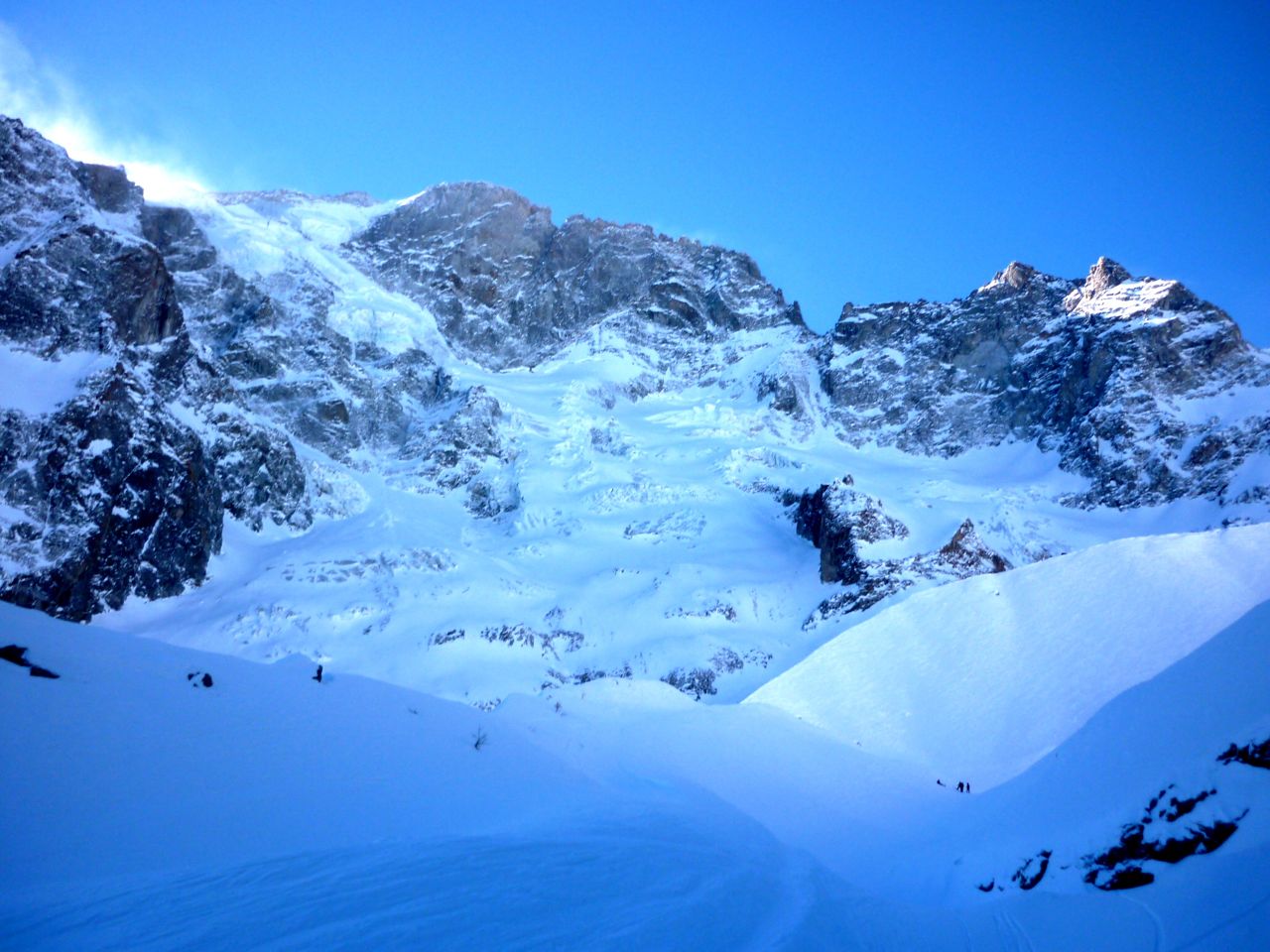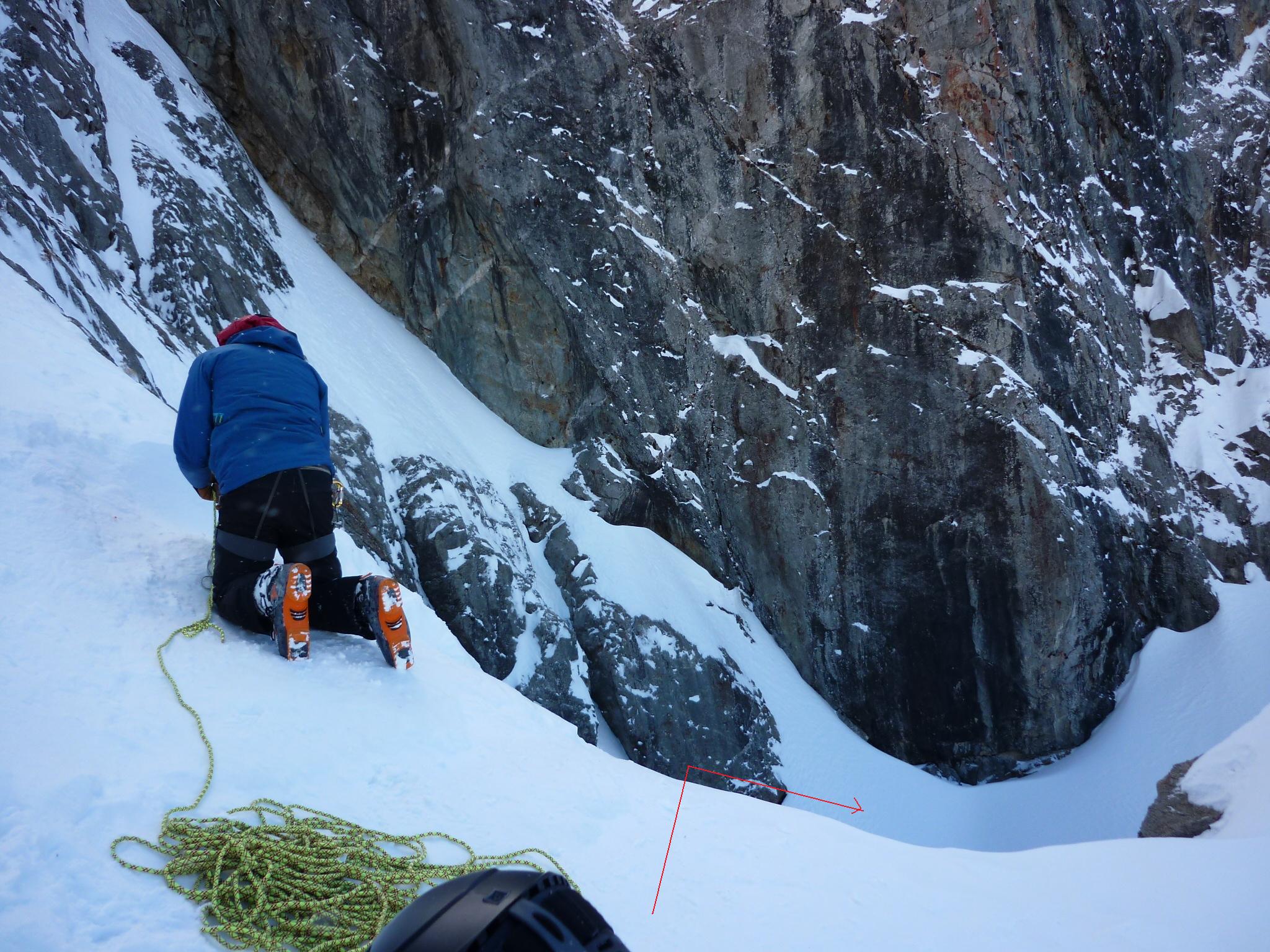 Rappelling down a ~120 foot rock wall in ski boots (skis on our pack) to get to the good stuff "La Voutre Colouir" ....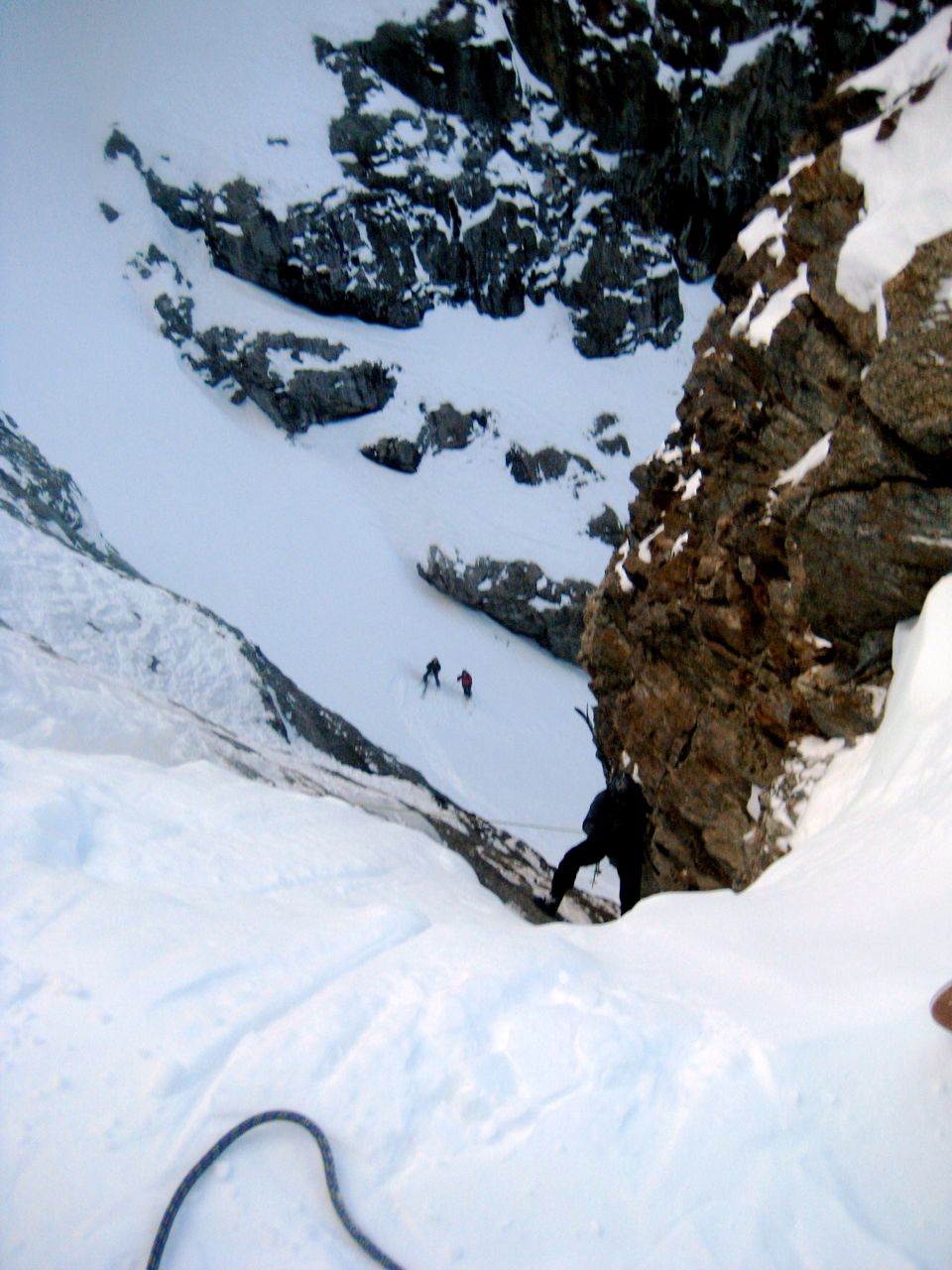 Me on the rope -- others in the group waiting below ....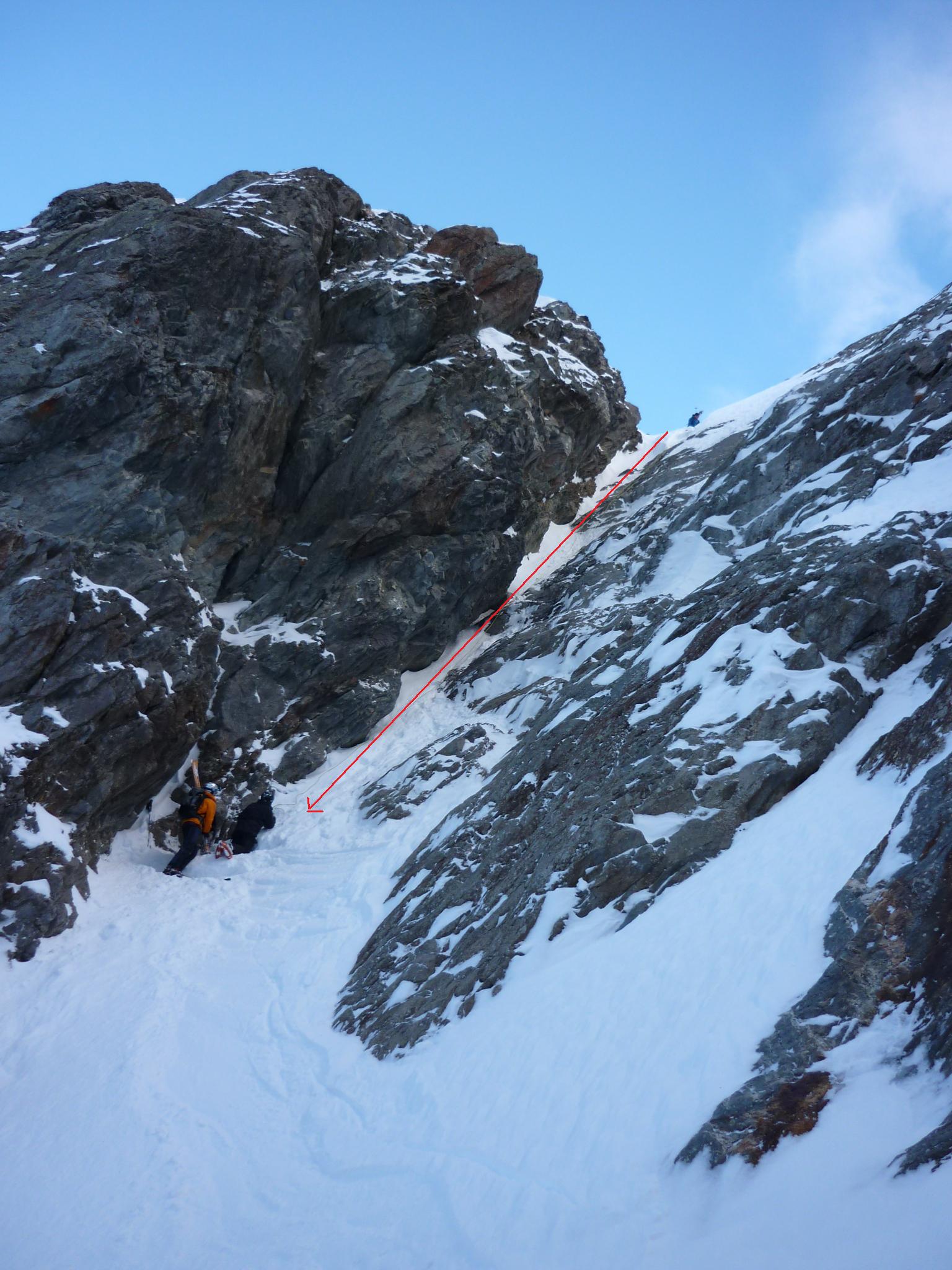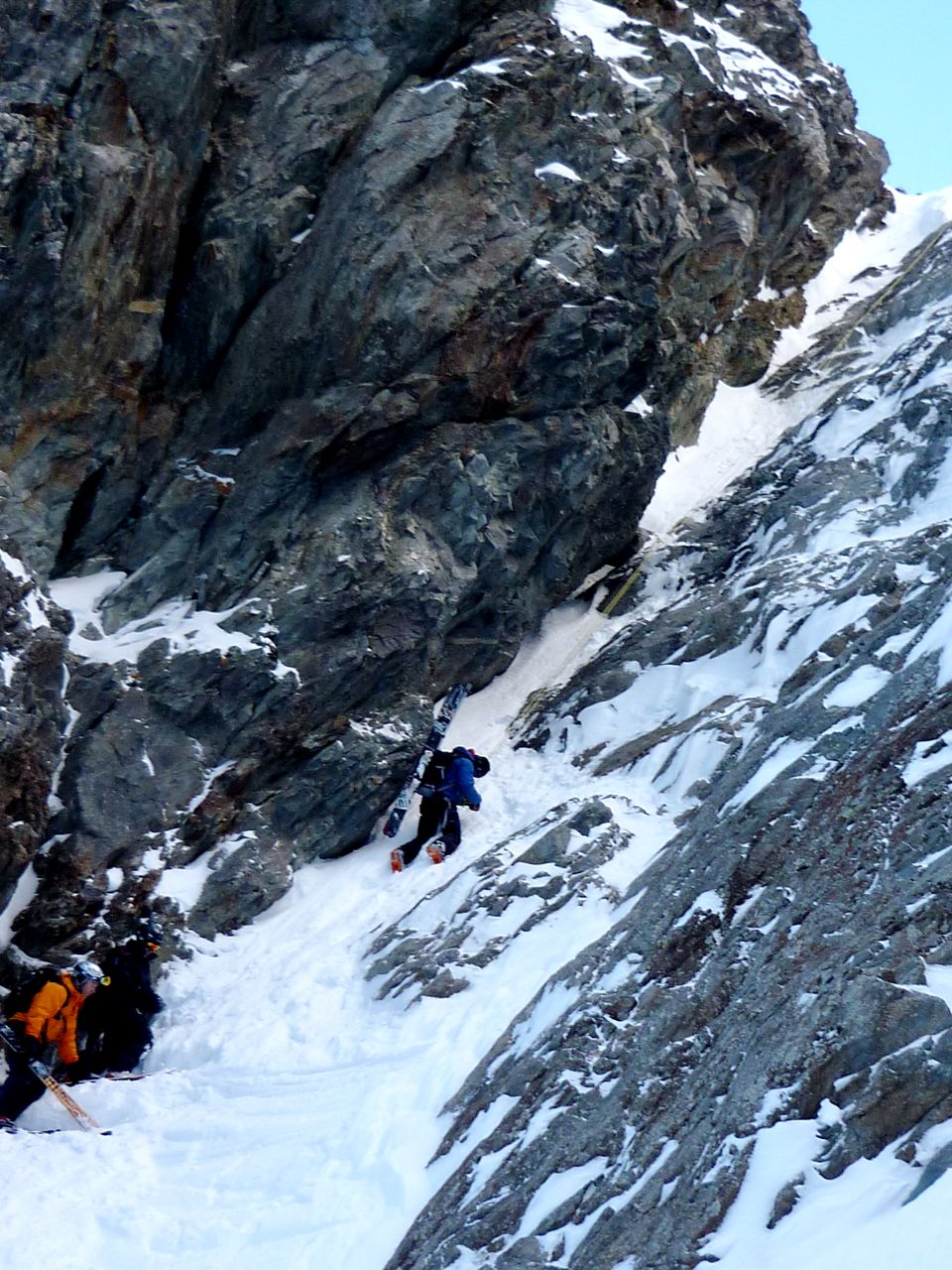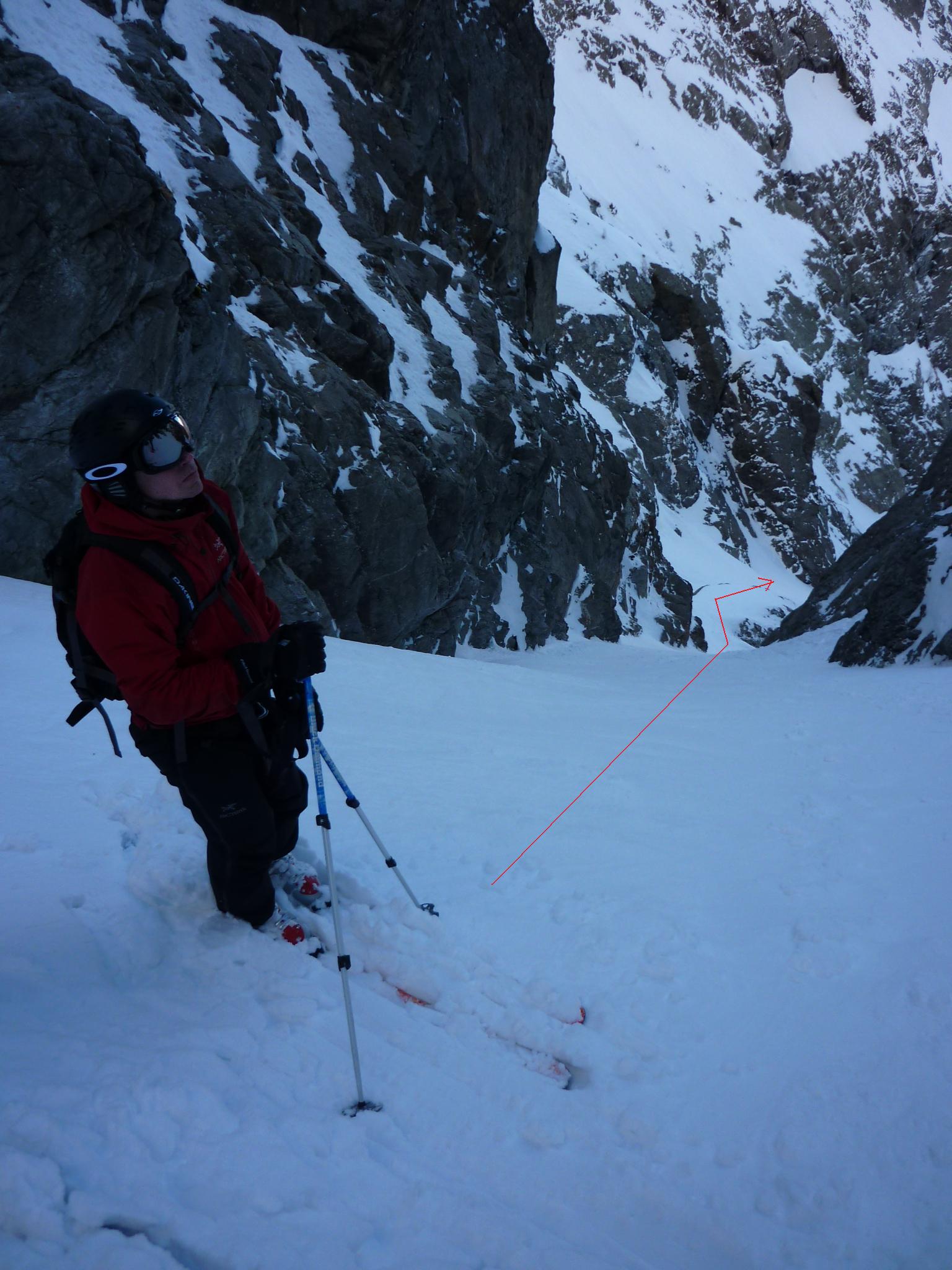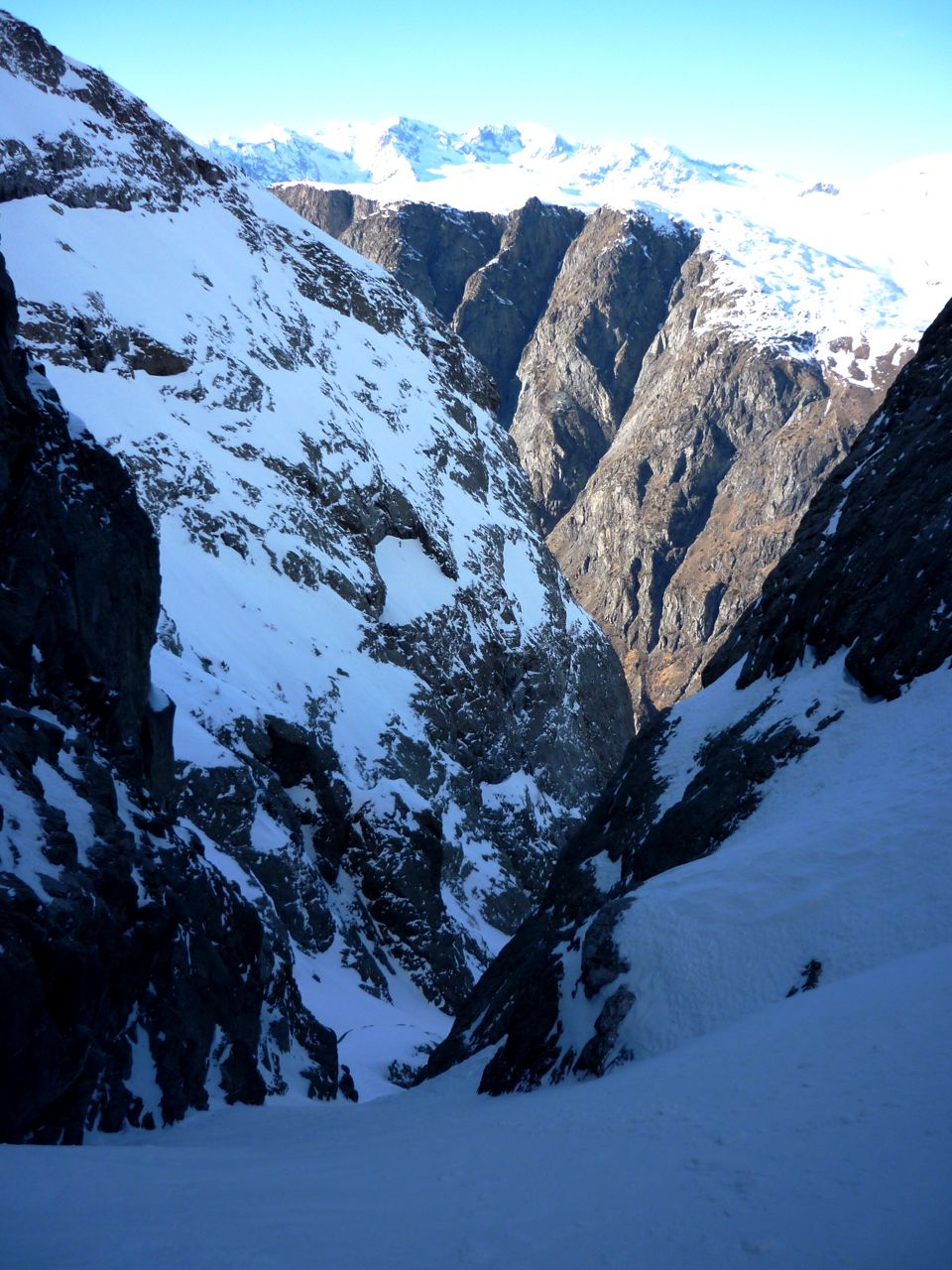 La Voutre Couloir run is over a mile long all the way down to the road -- we skiied over 20K vertical feet the first day ...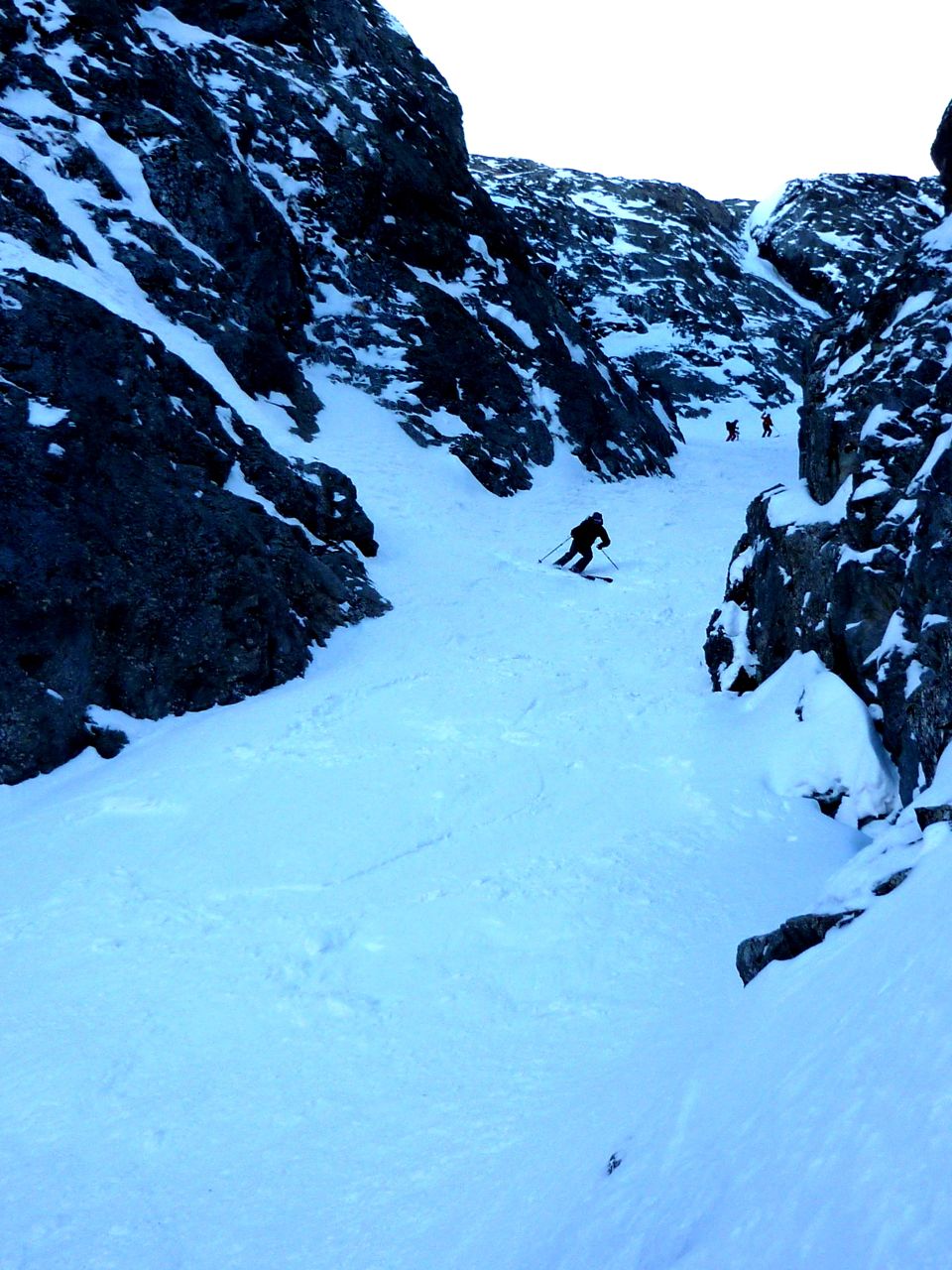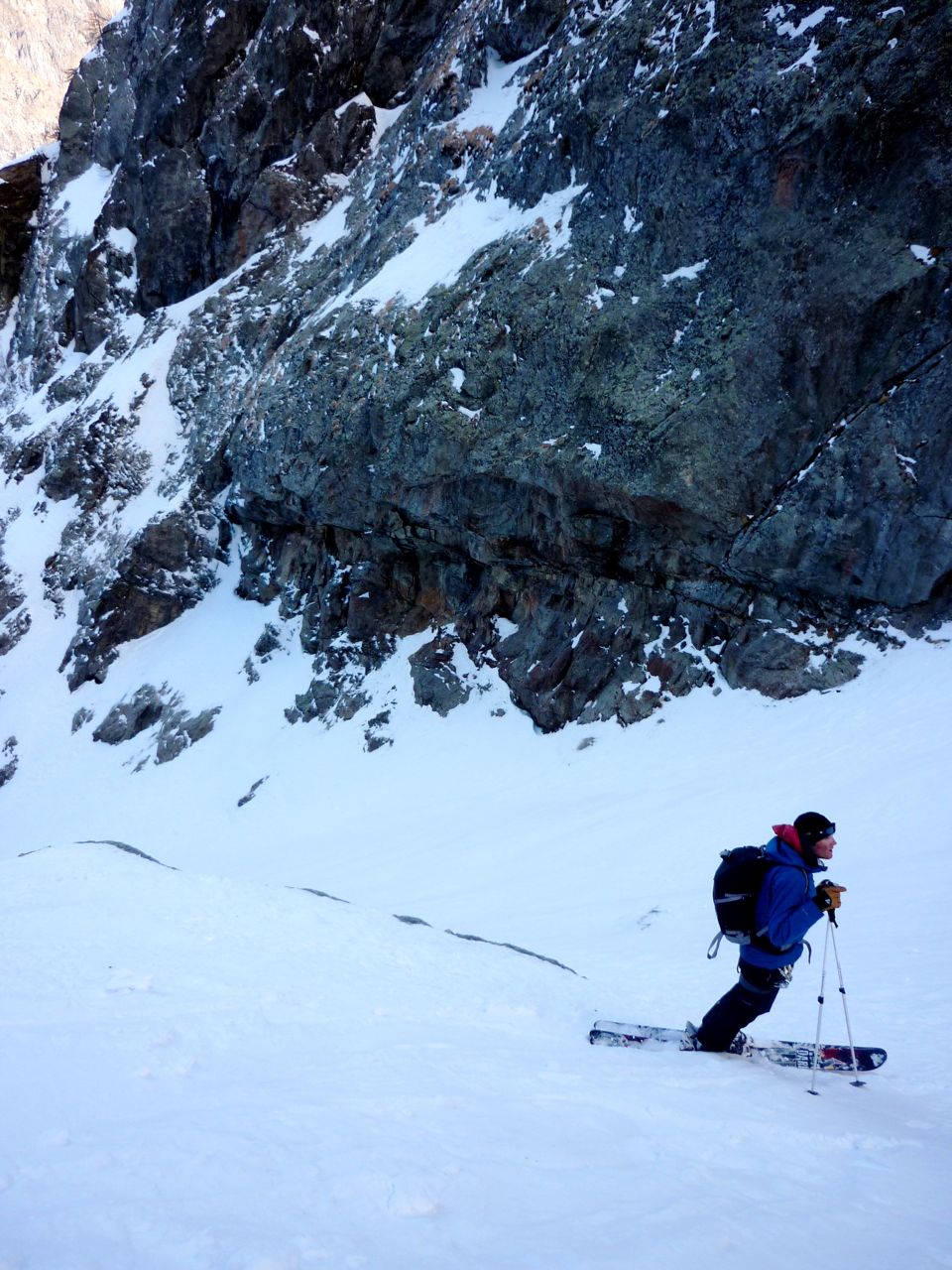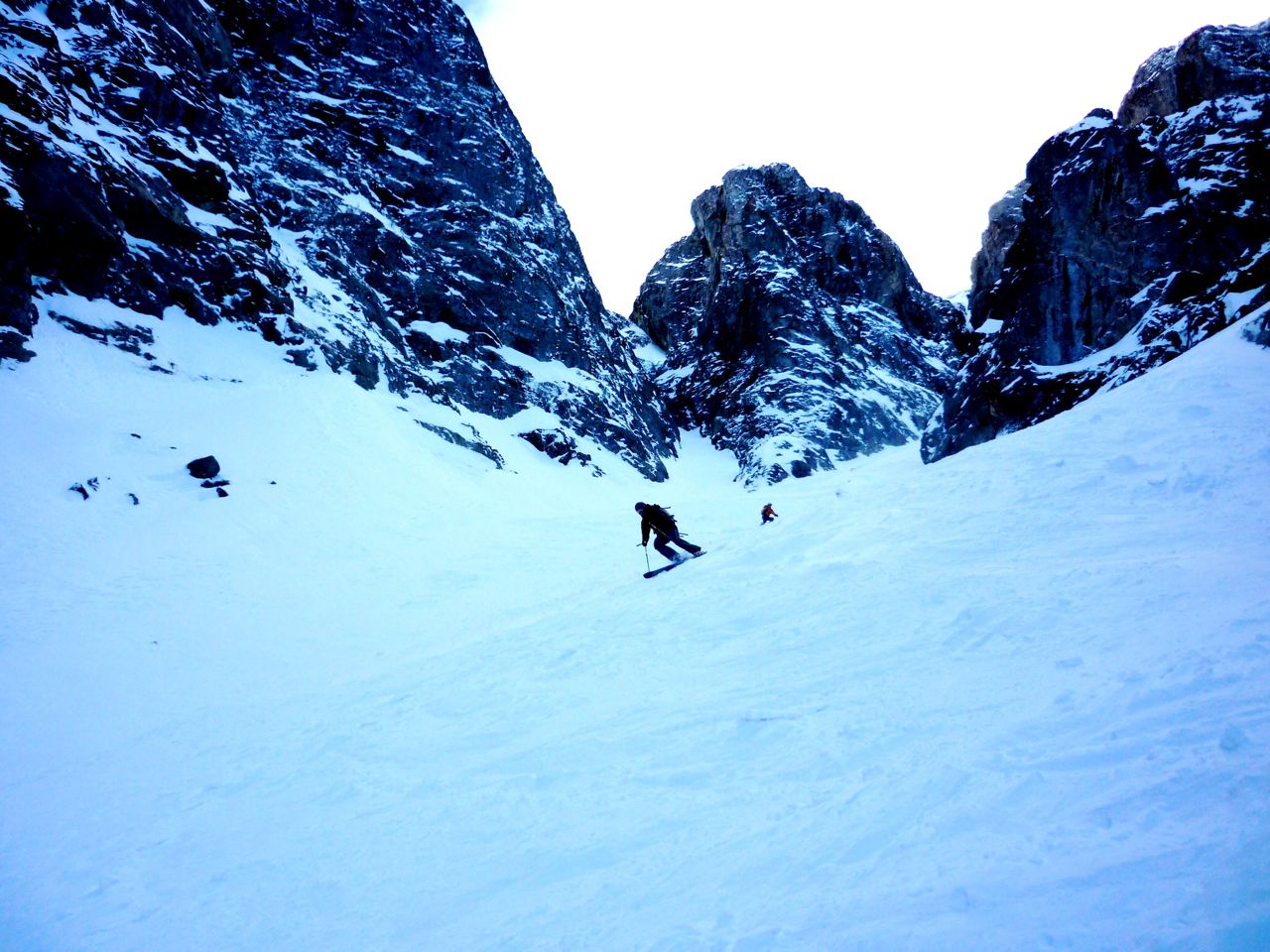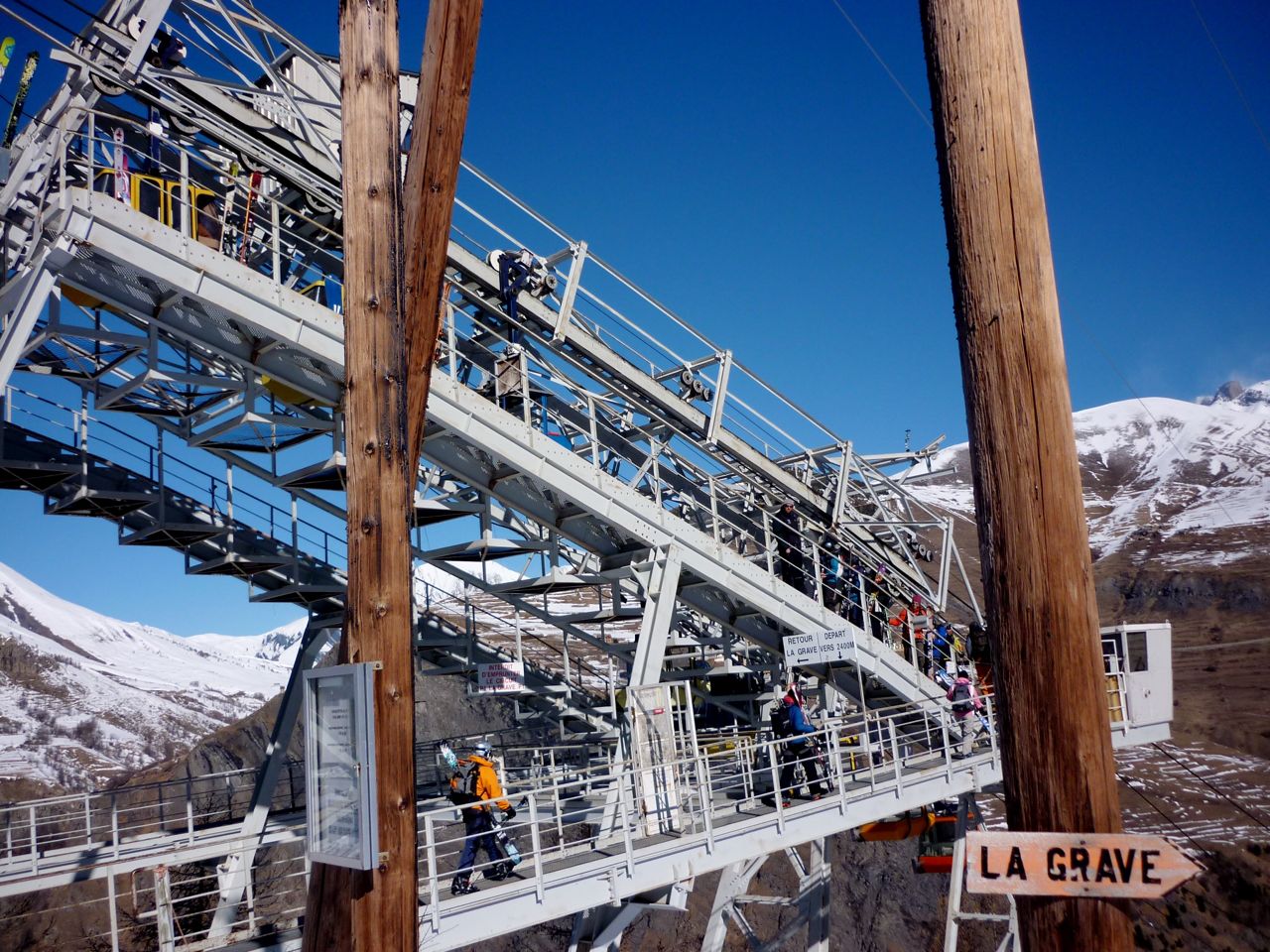 No lift attendant or controlled station at the mid mountain platform (P1), you stand on the cable support platform, throw your skis on and jump in as it goes by .....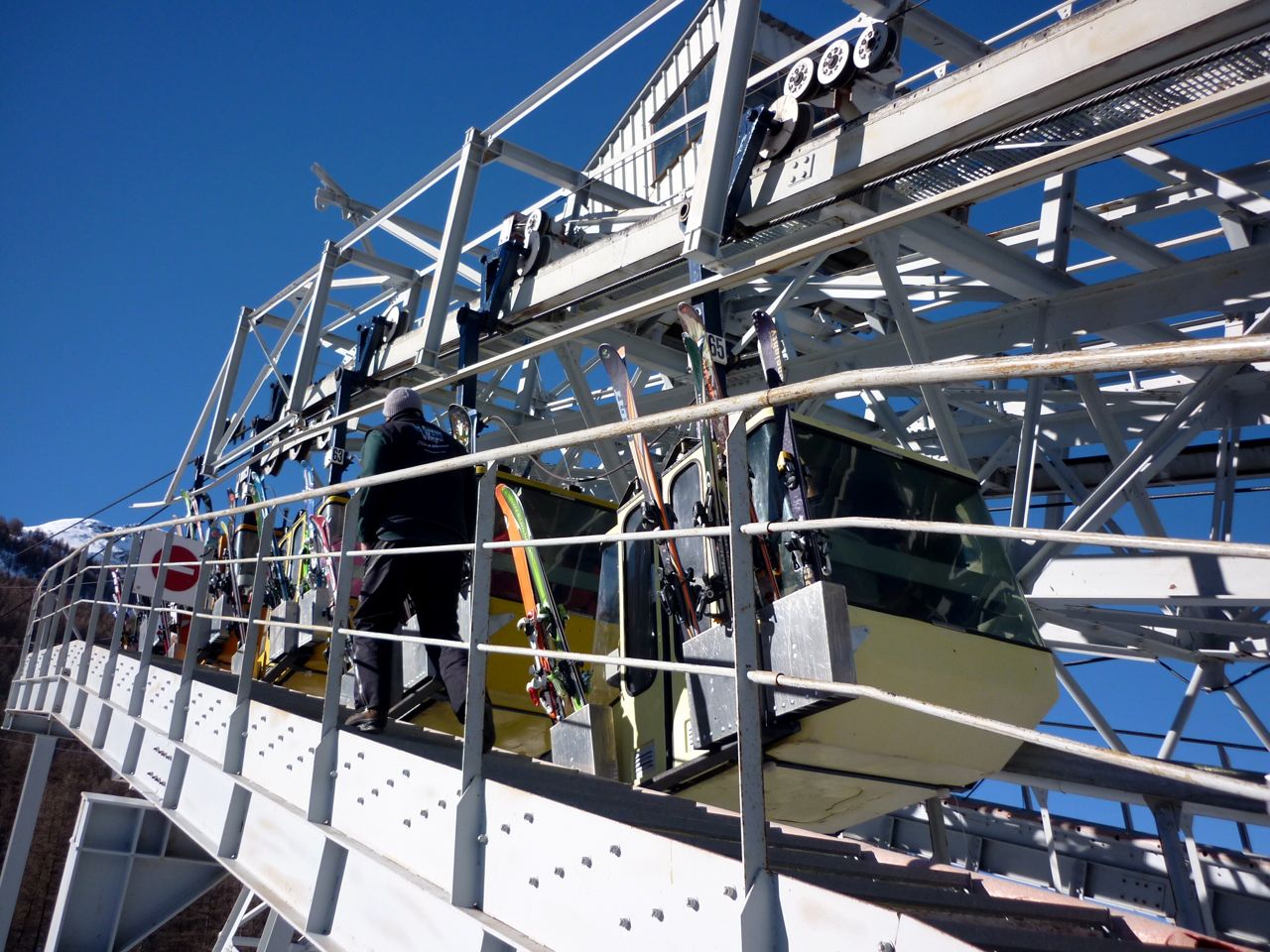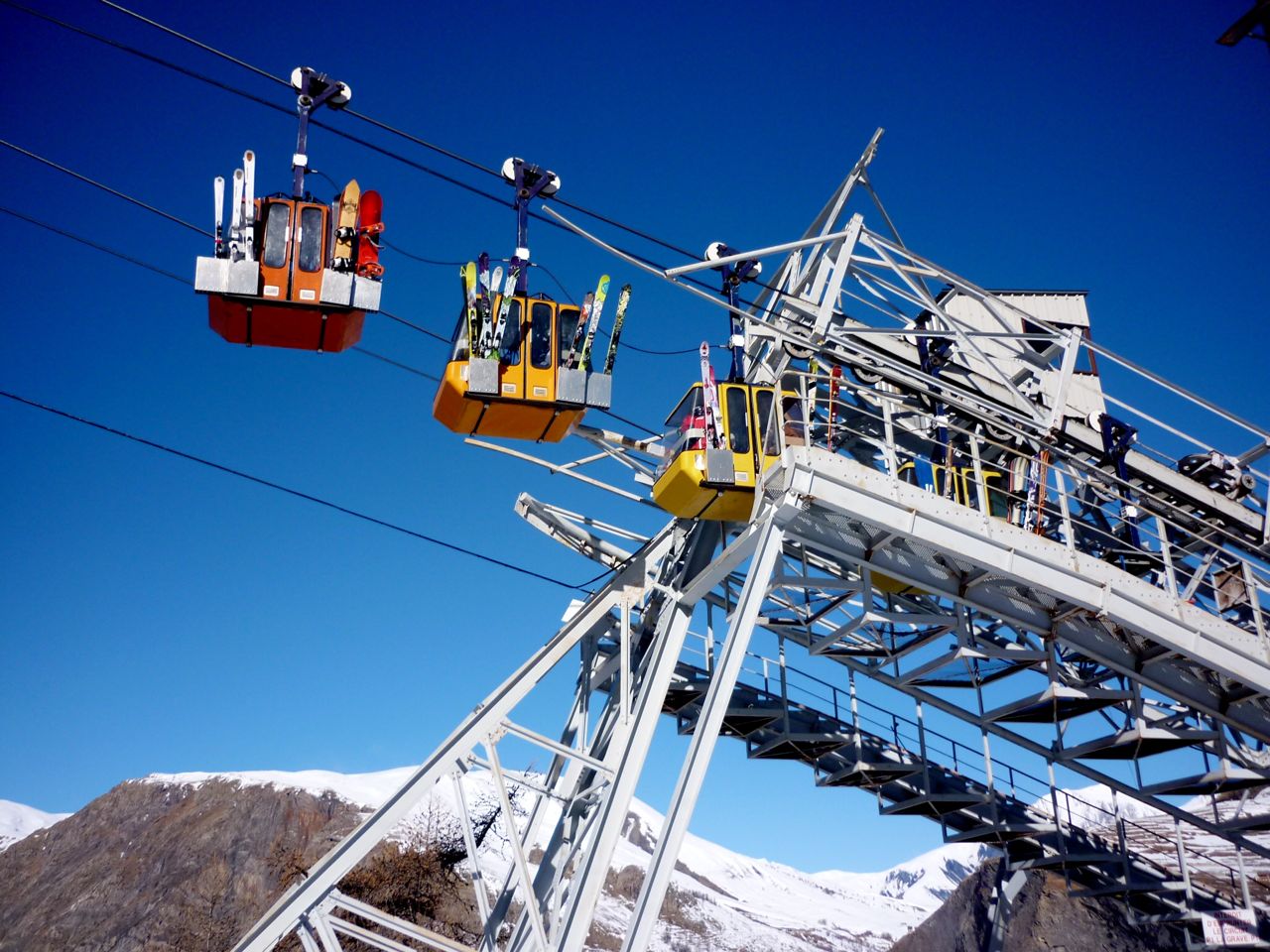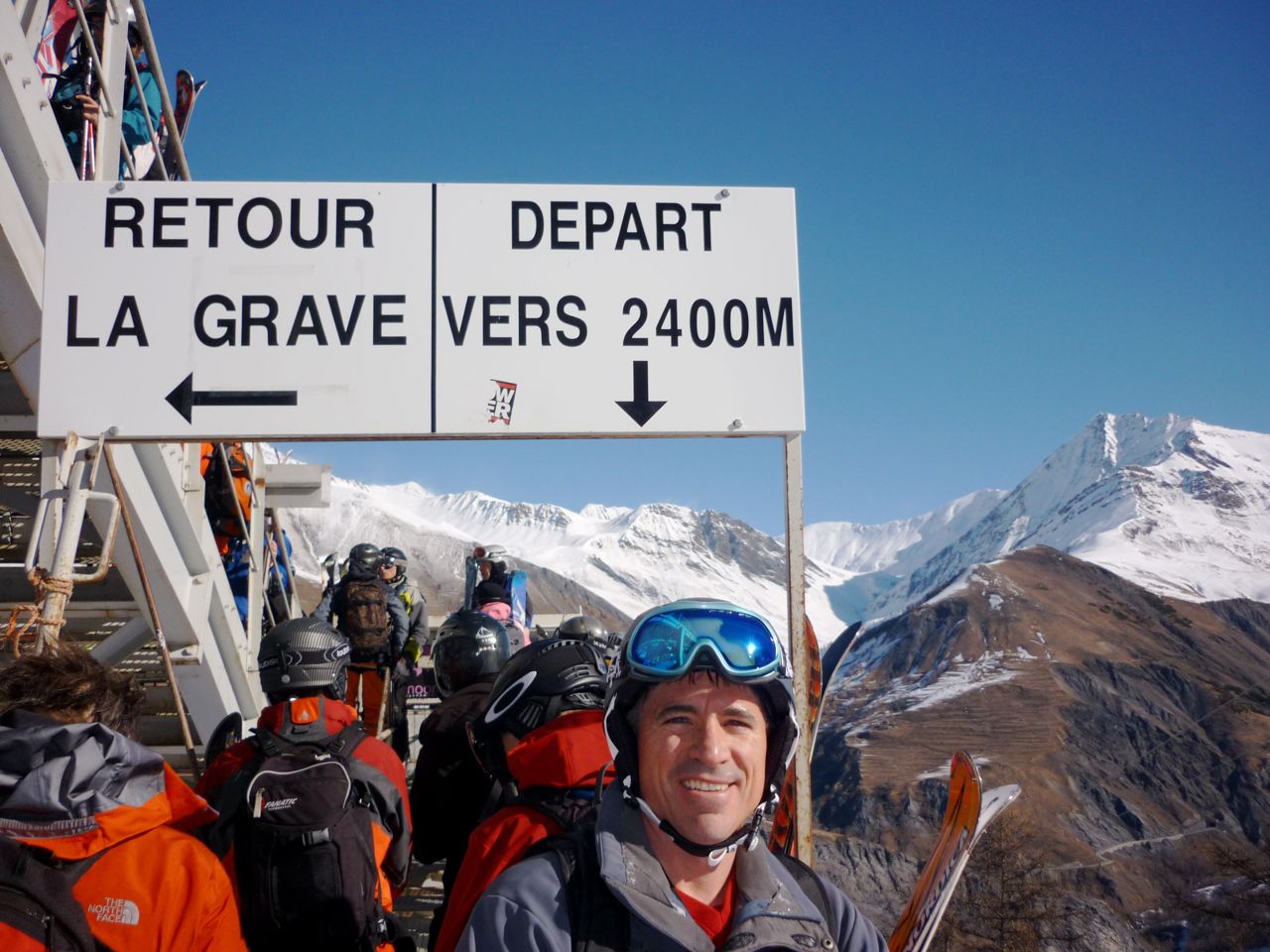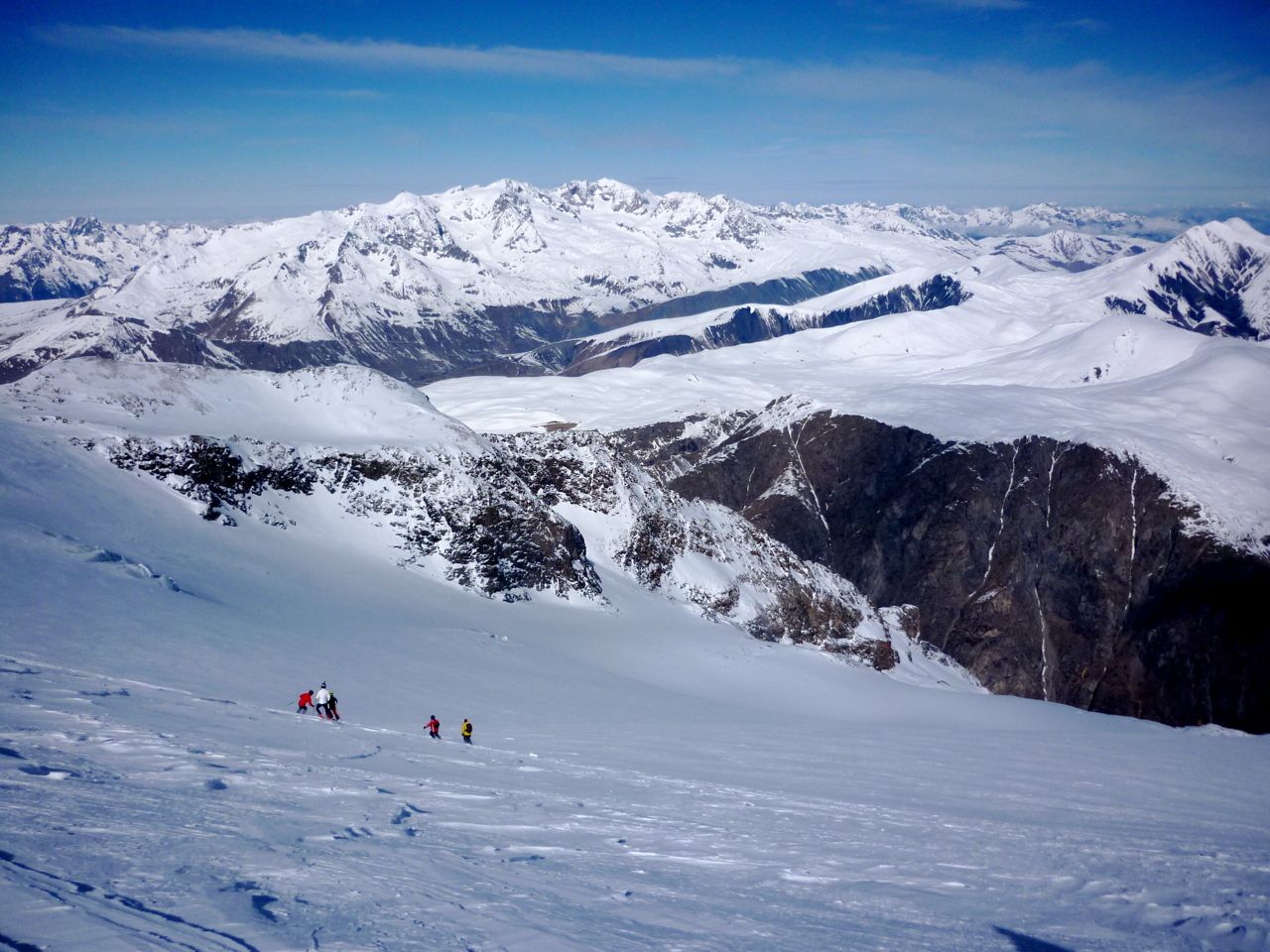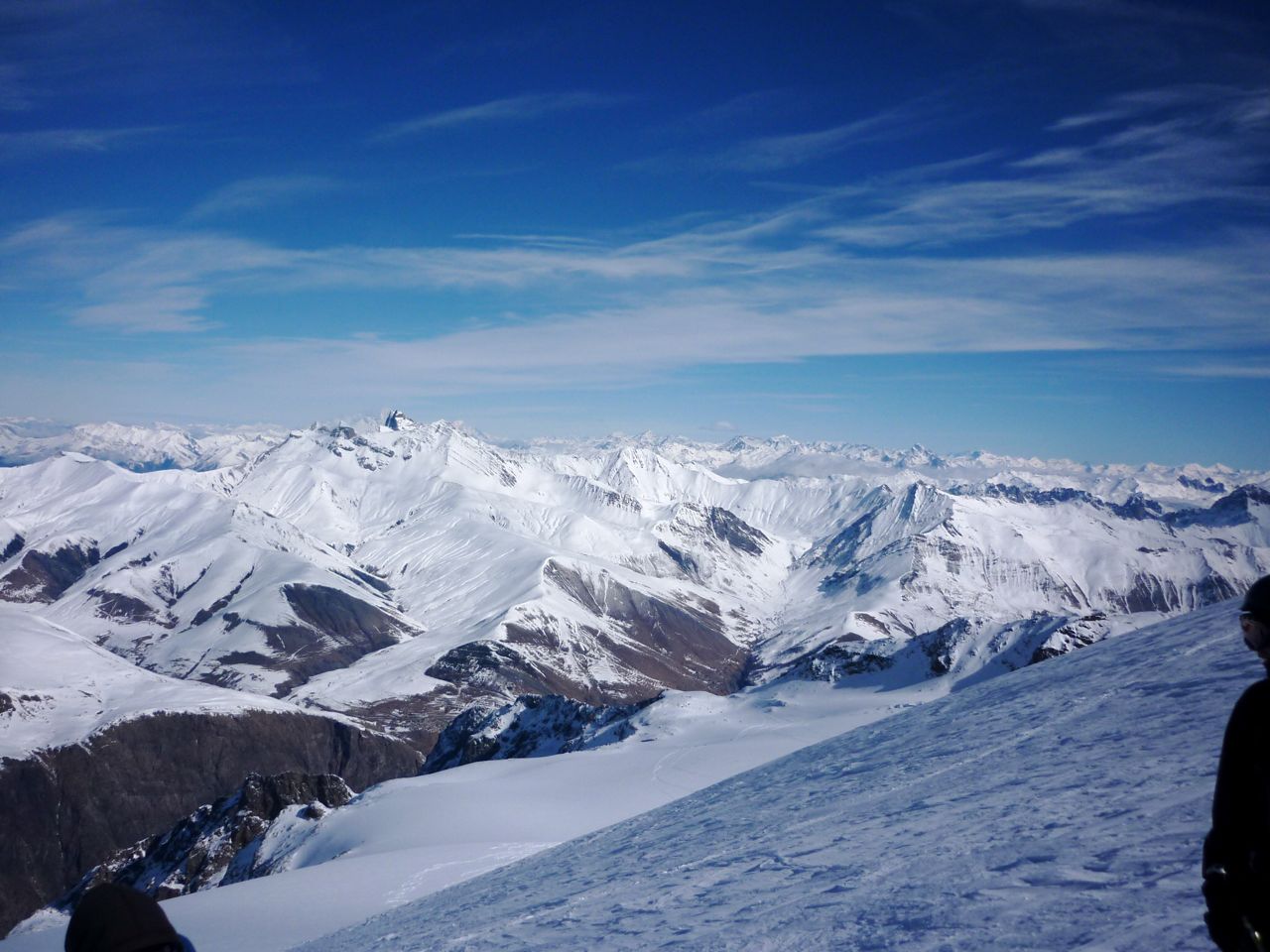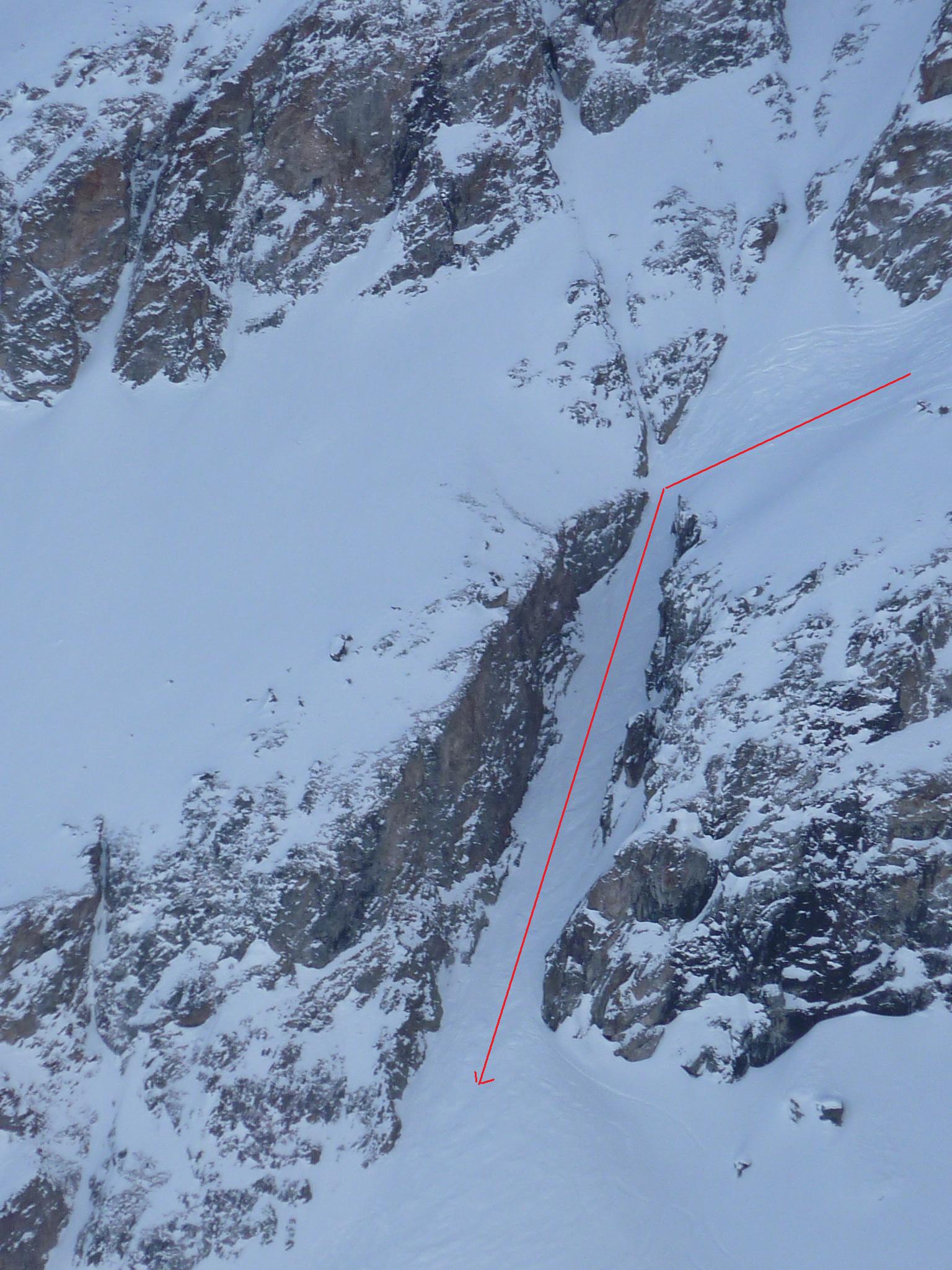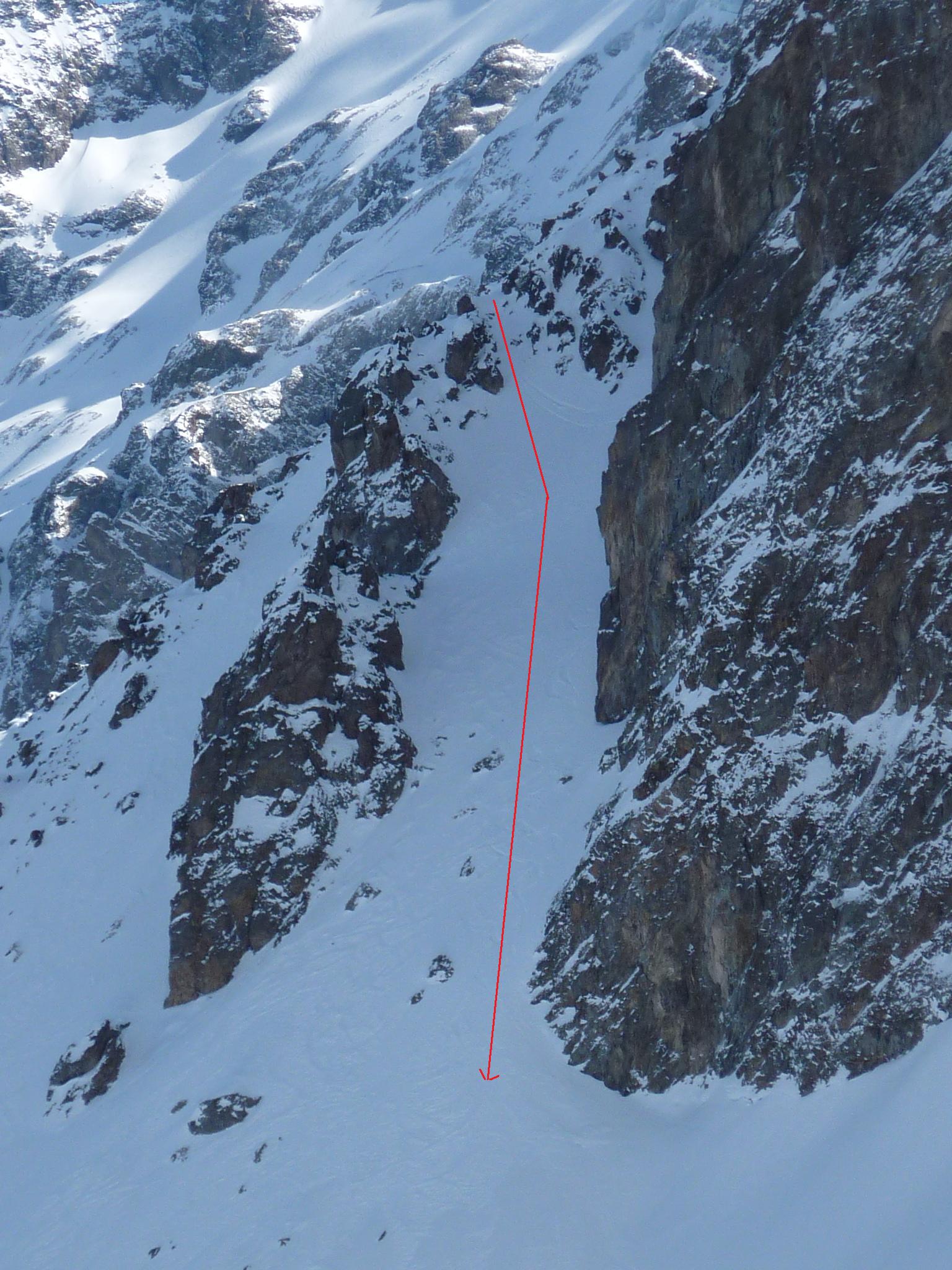 The "Lac Colouir"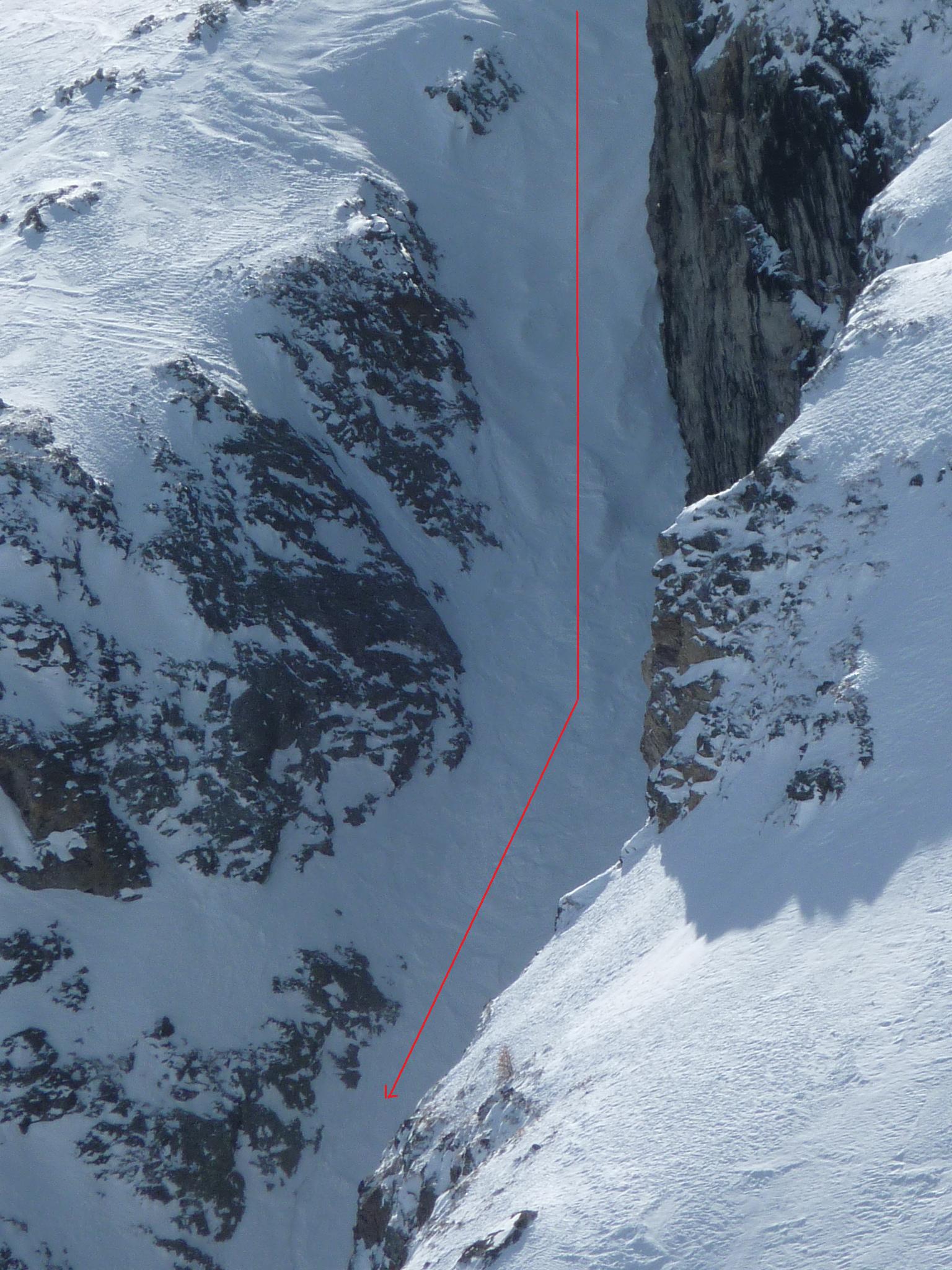 The "Banana Colouir"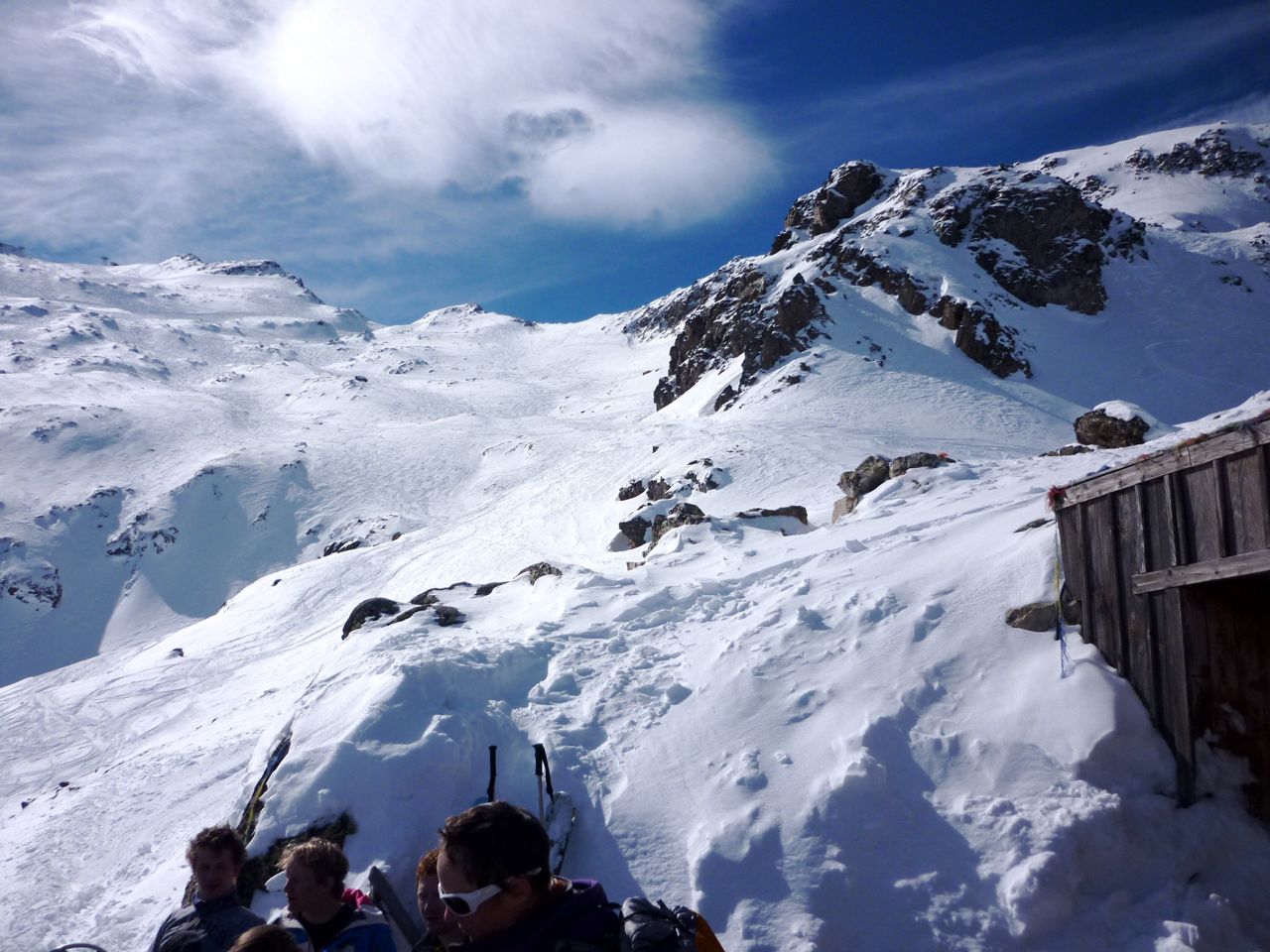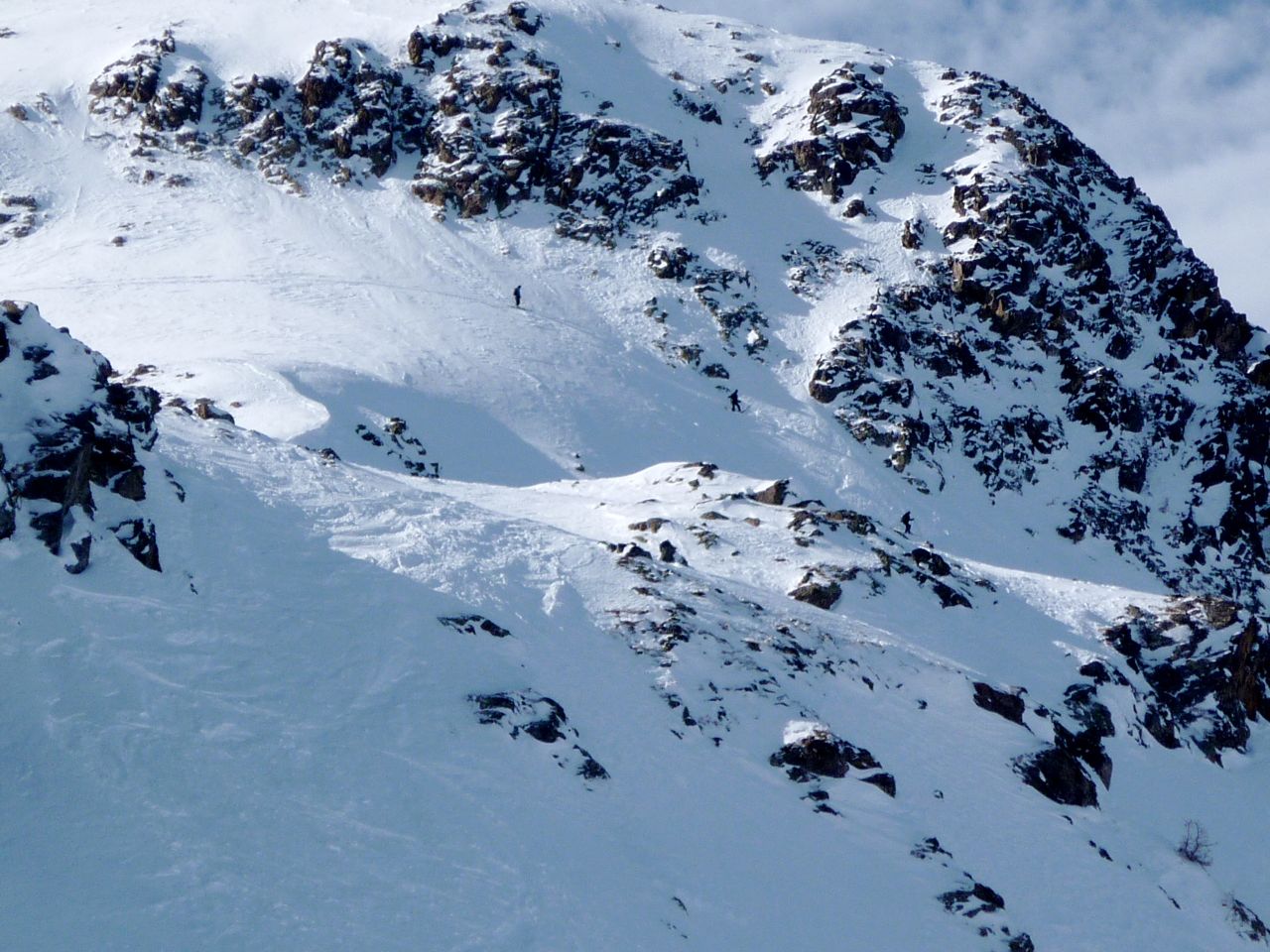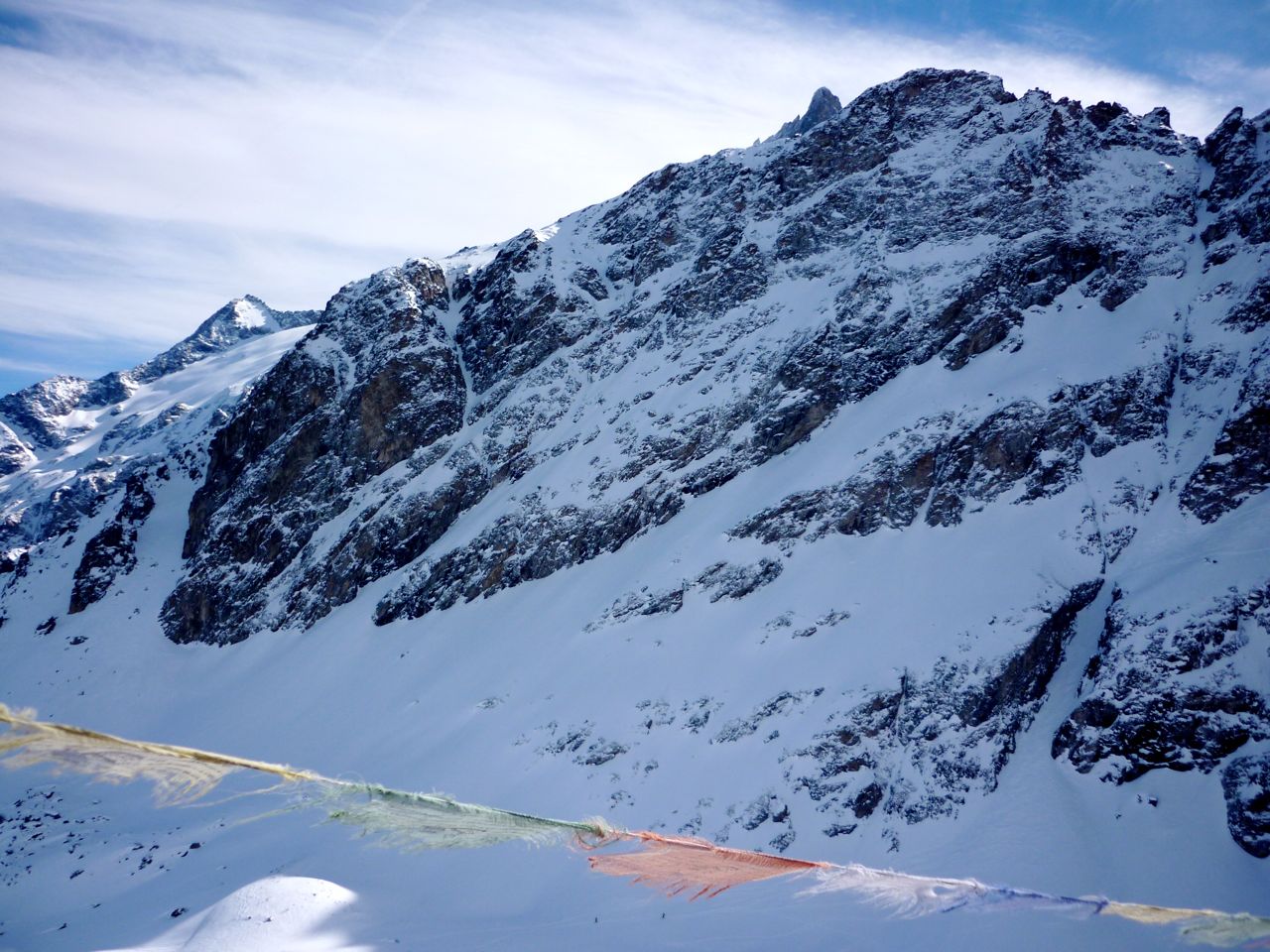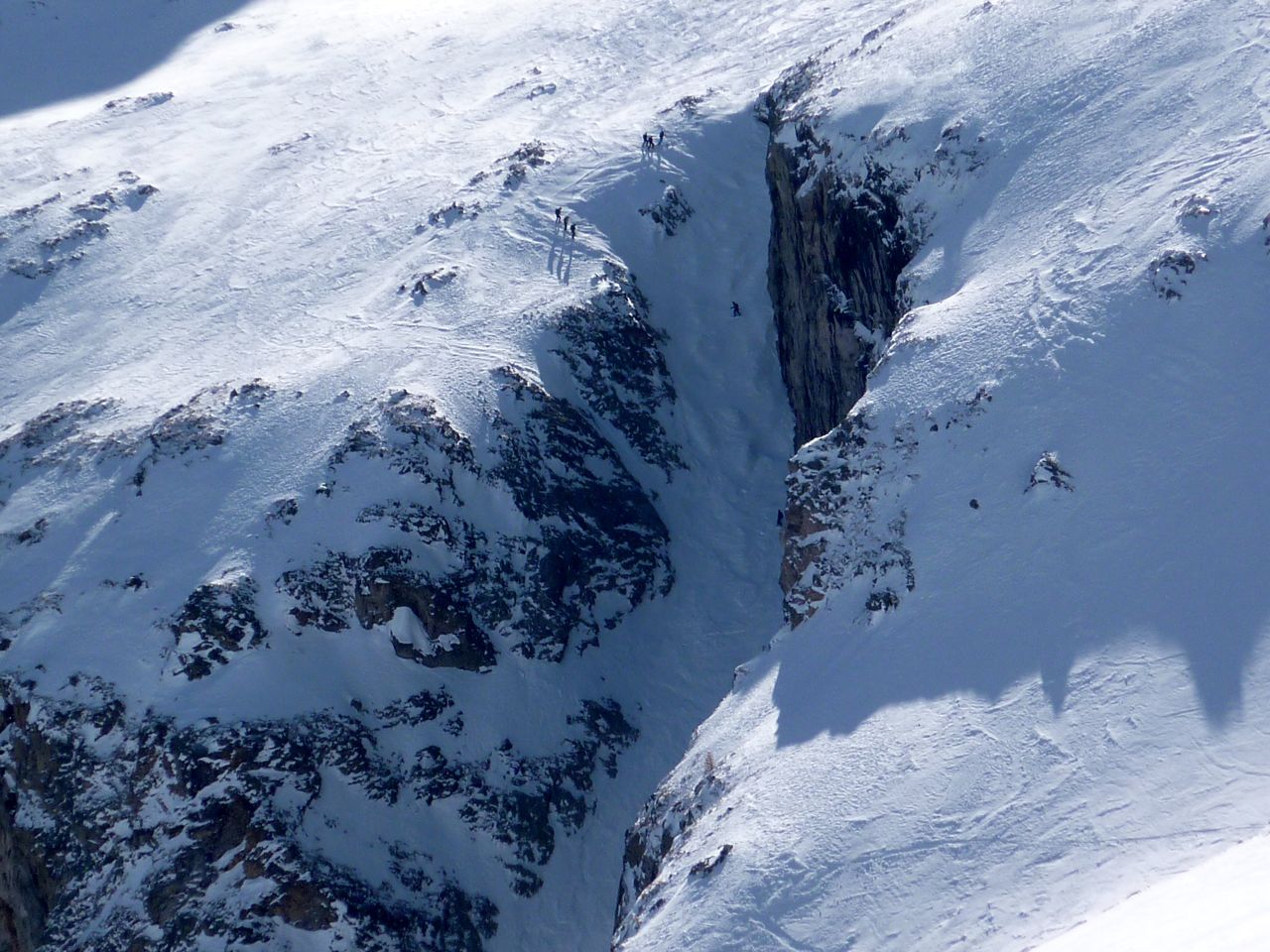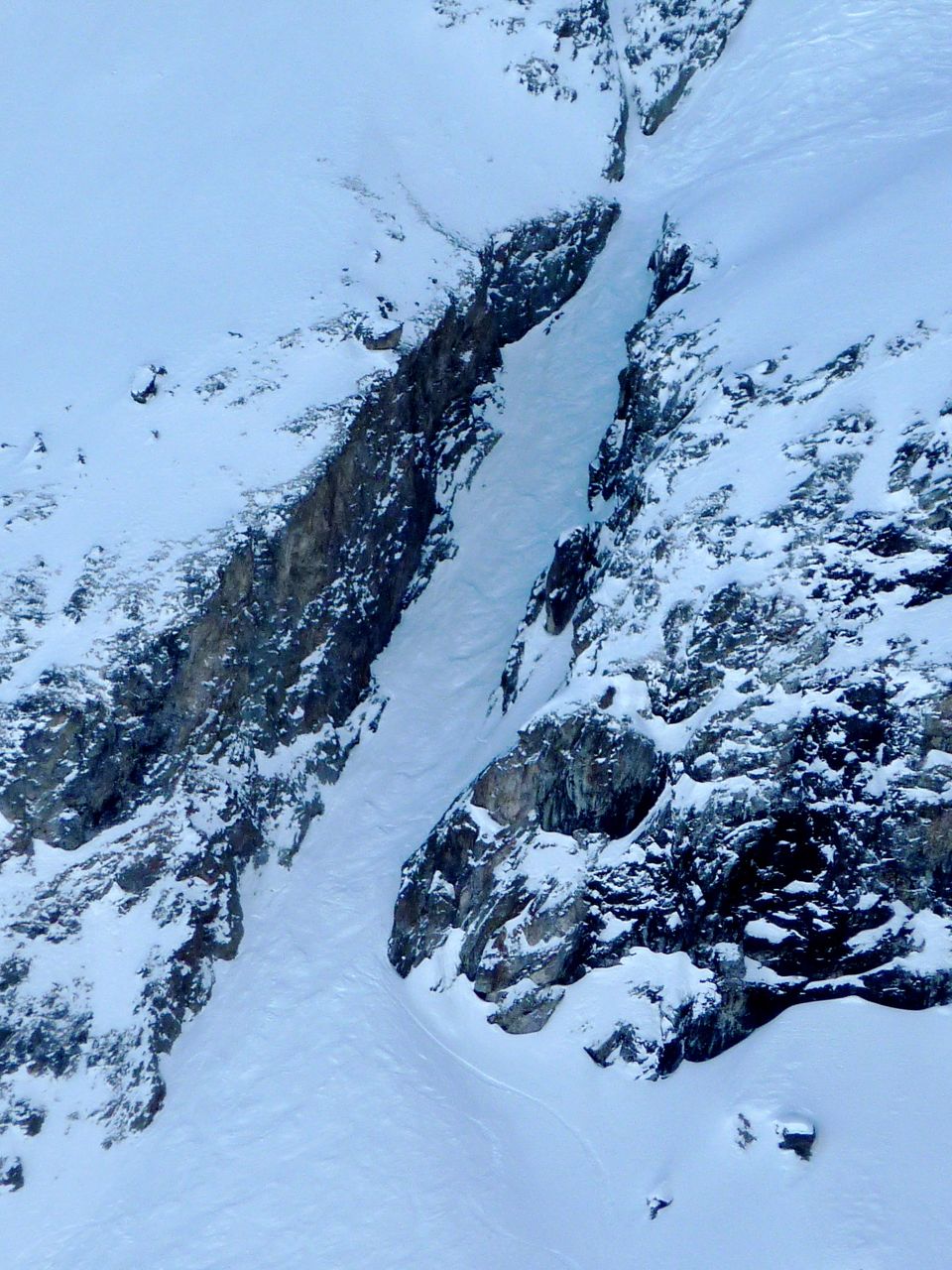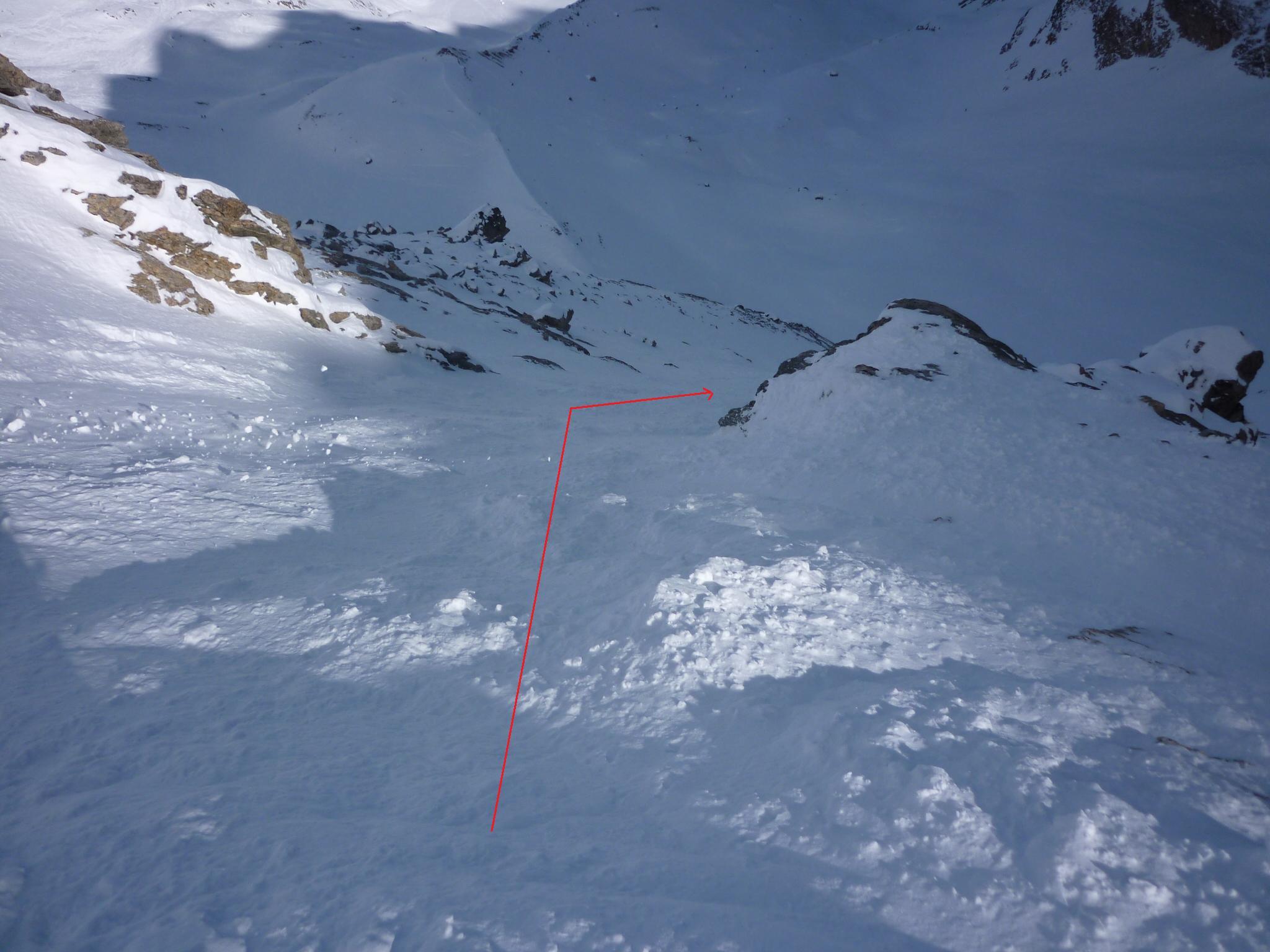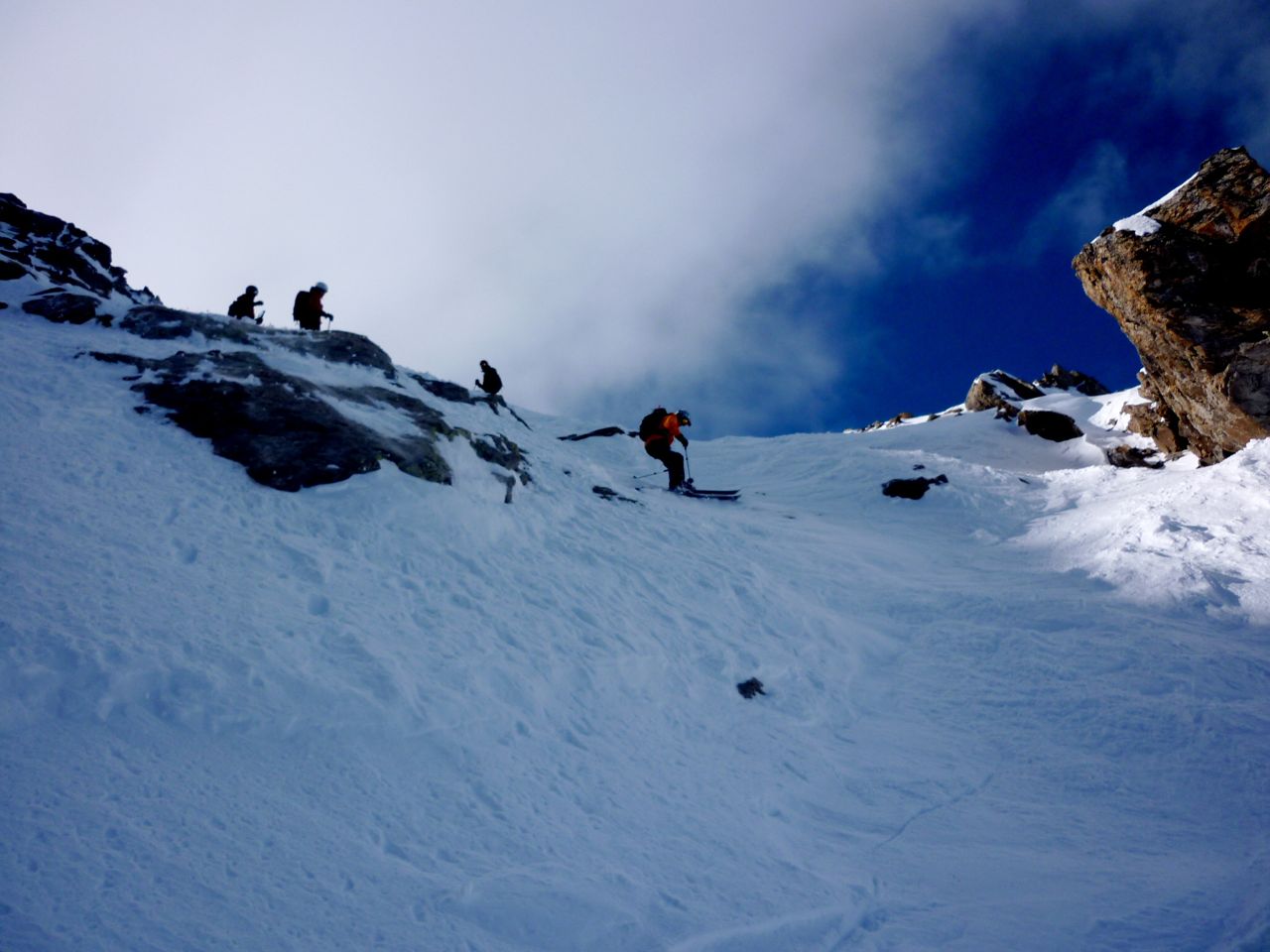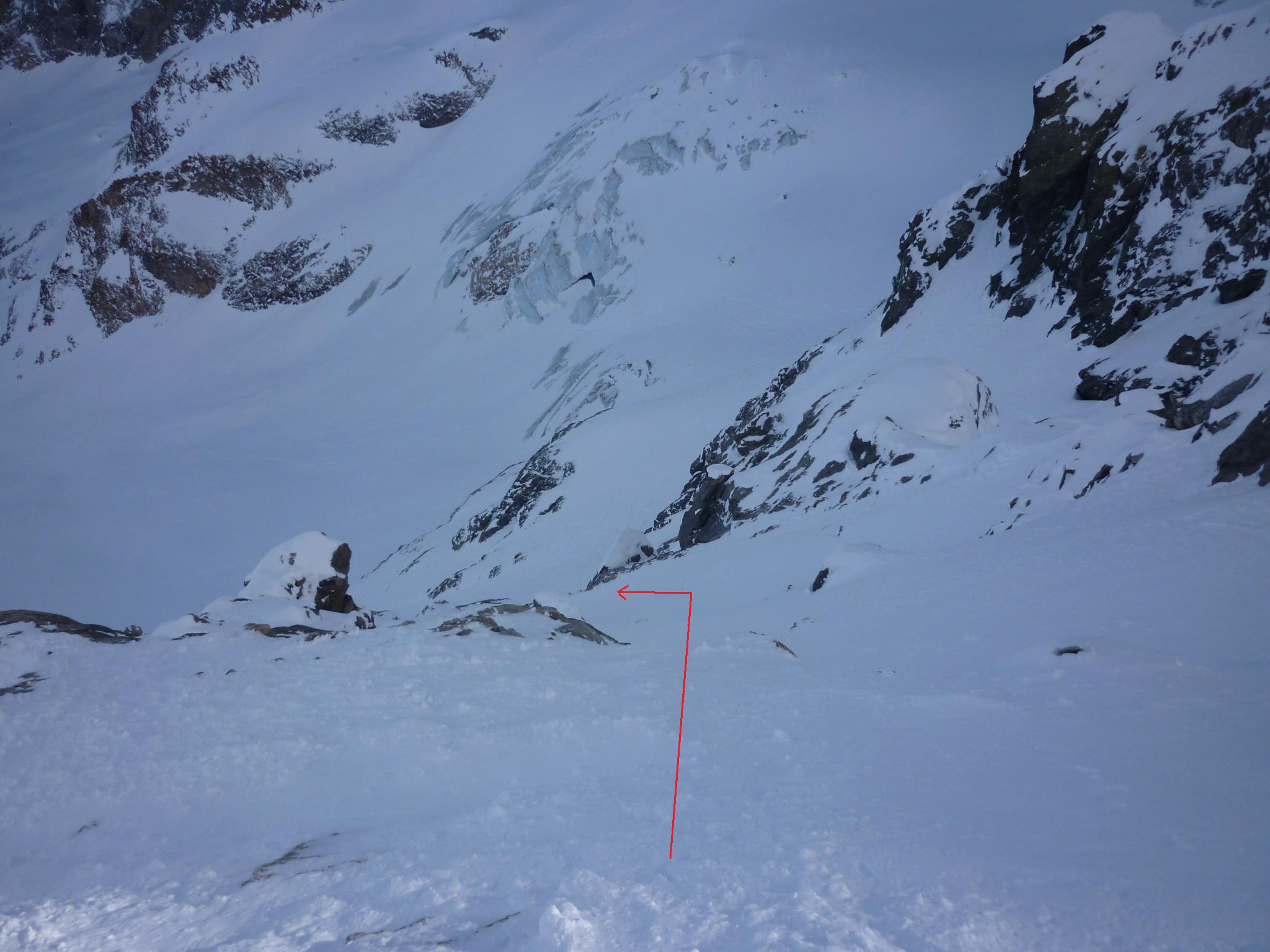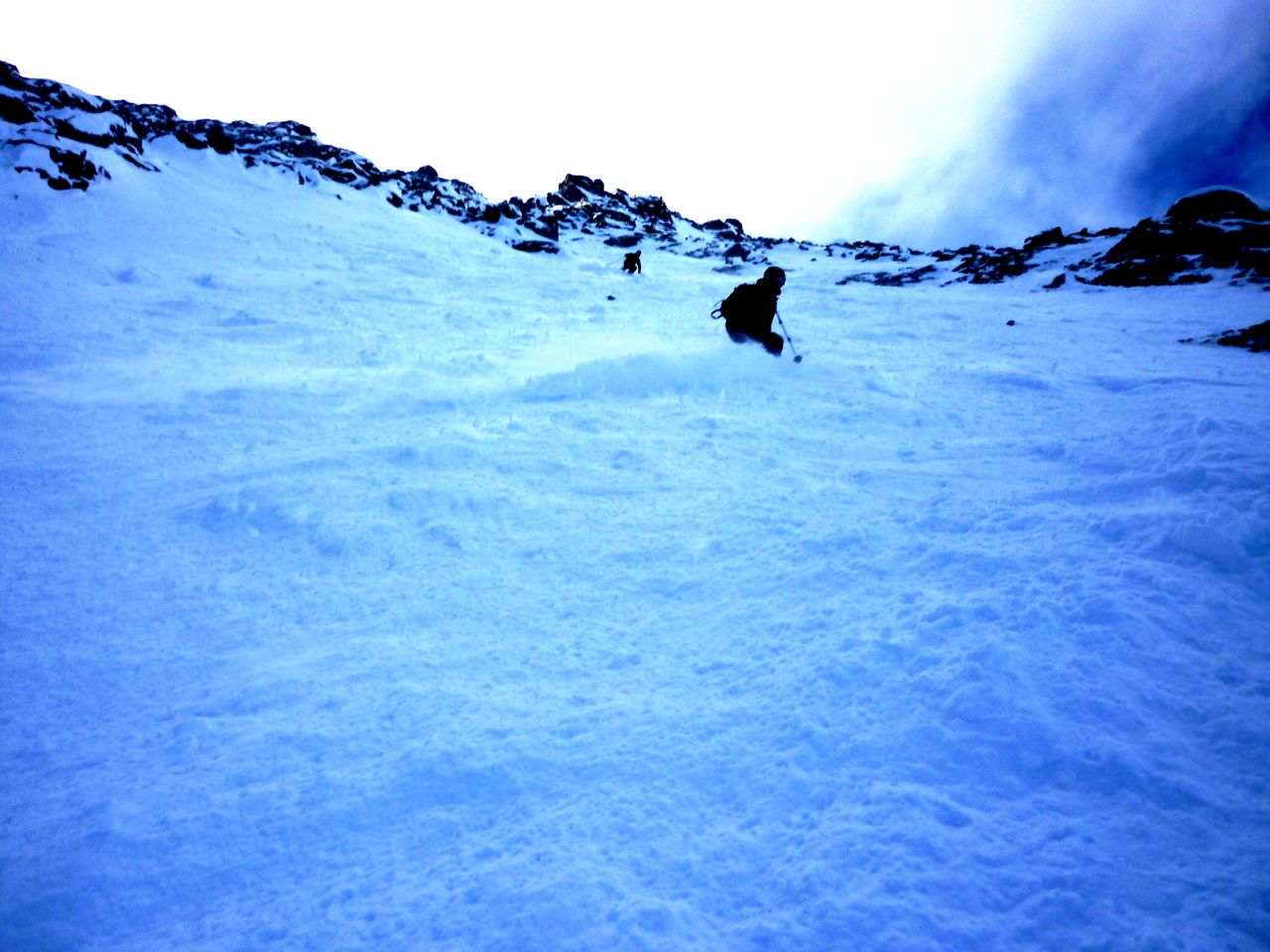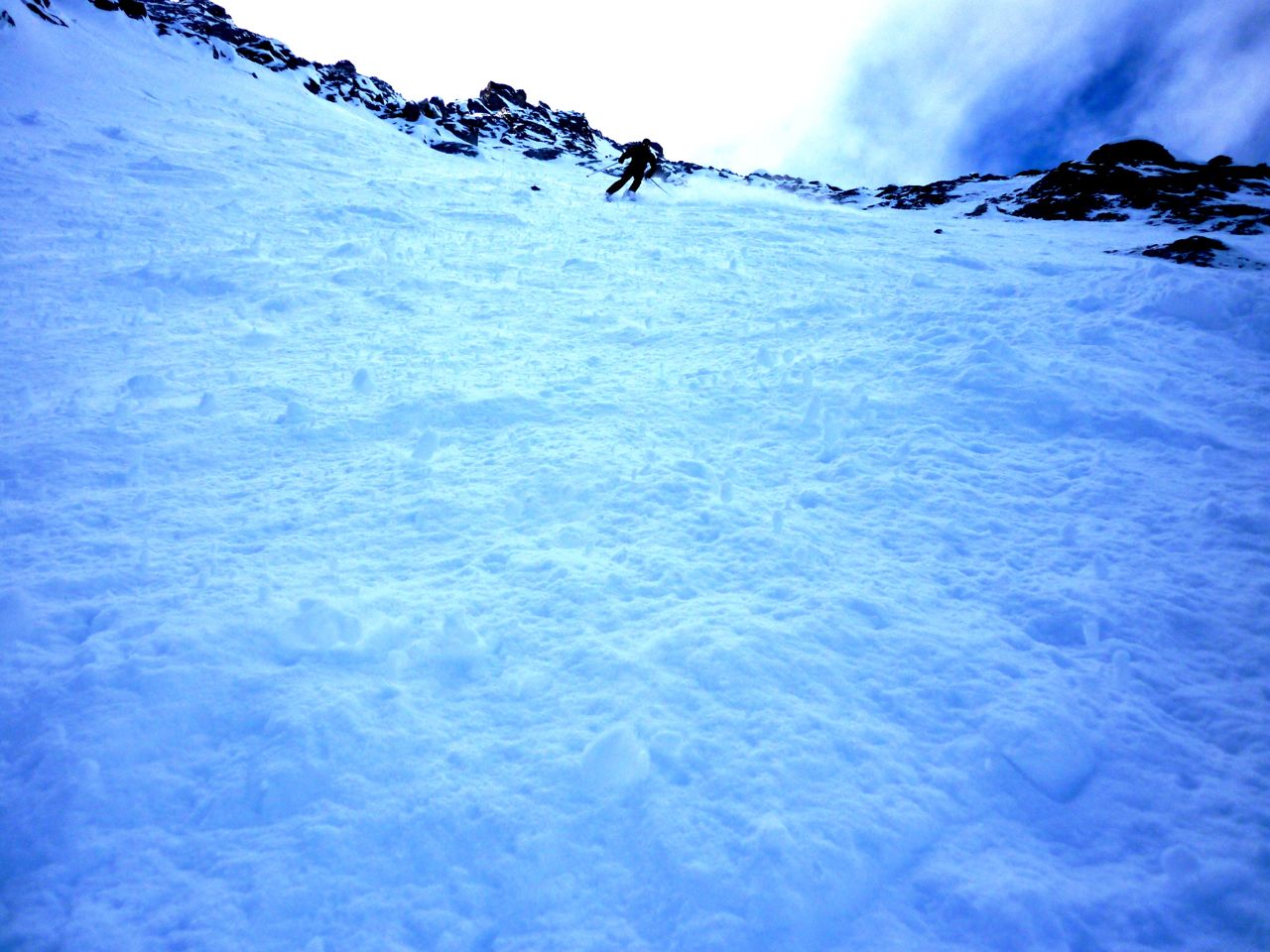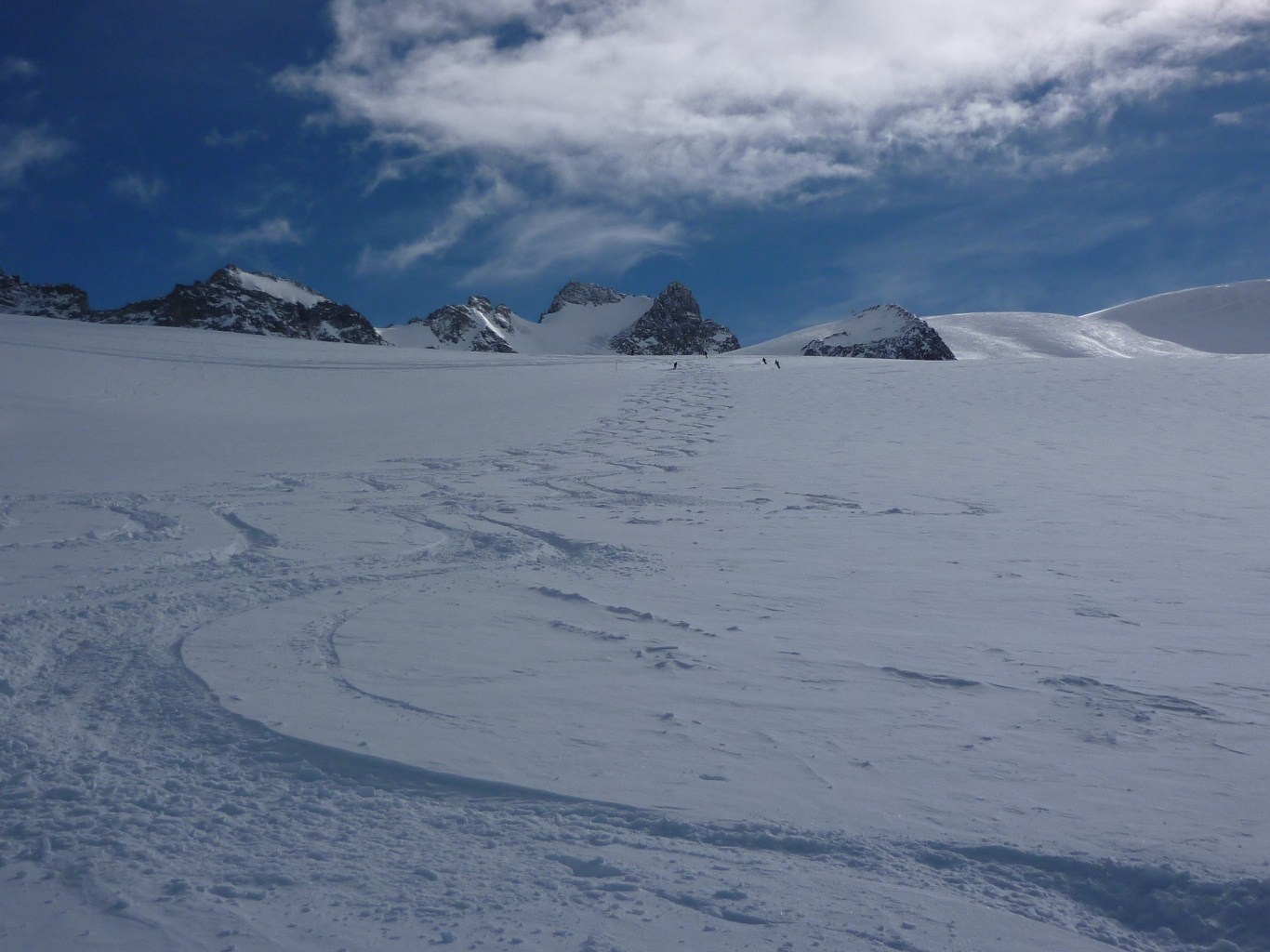 Laying down fresh tracks on the Glacier -- our first guide got bent out of shape if we didn't keep them tight together and make them "pretty" :-)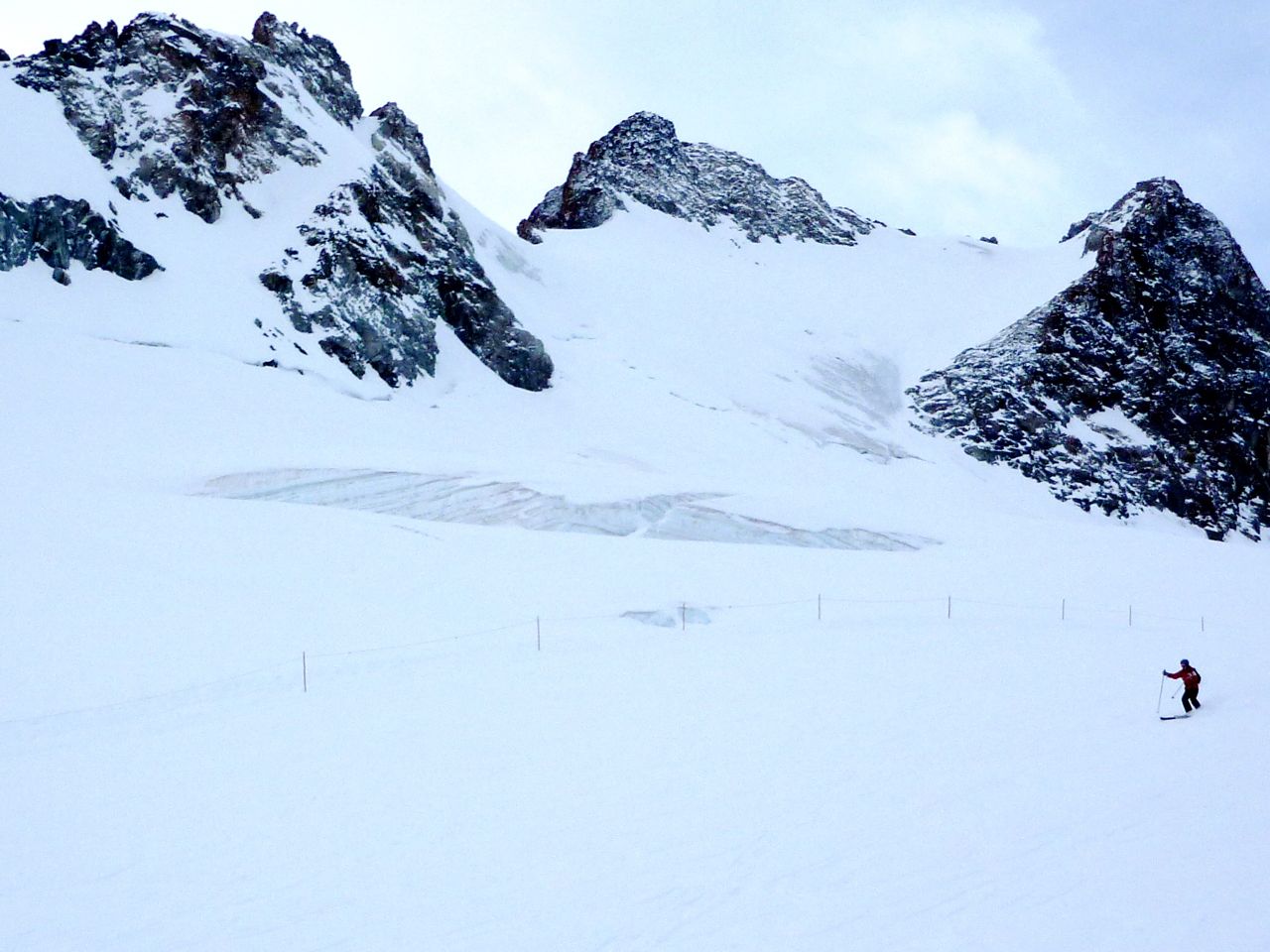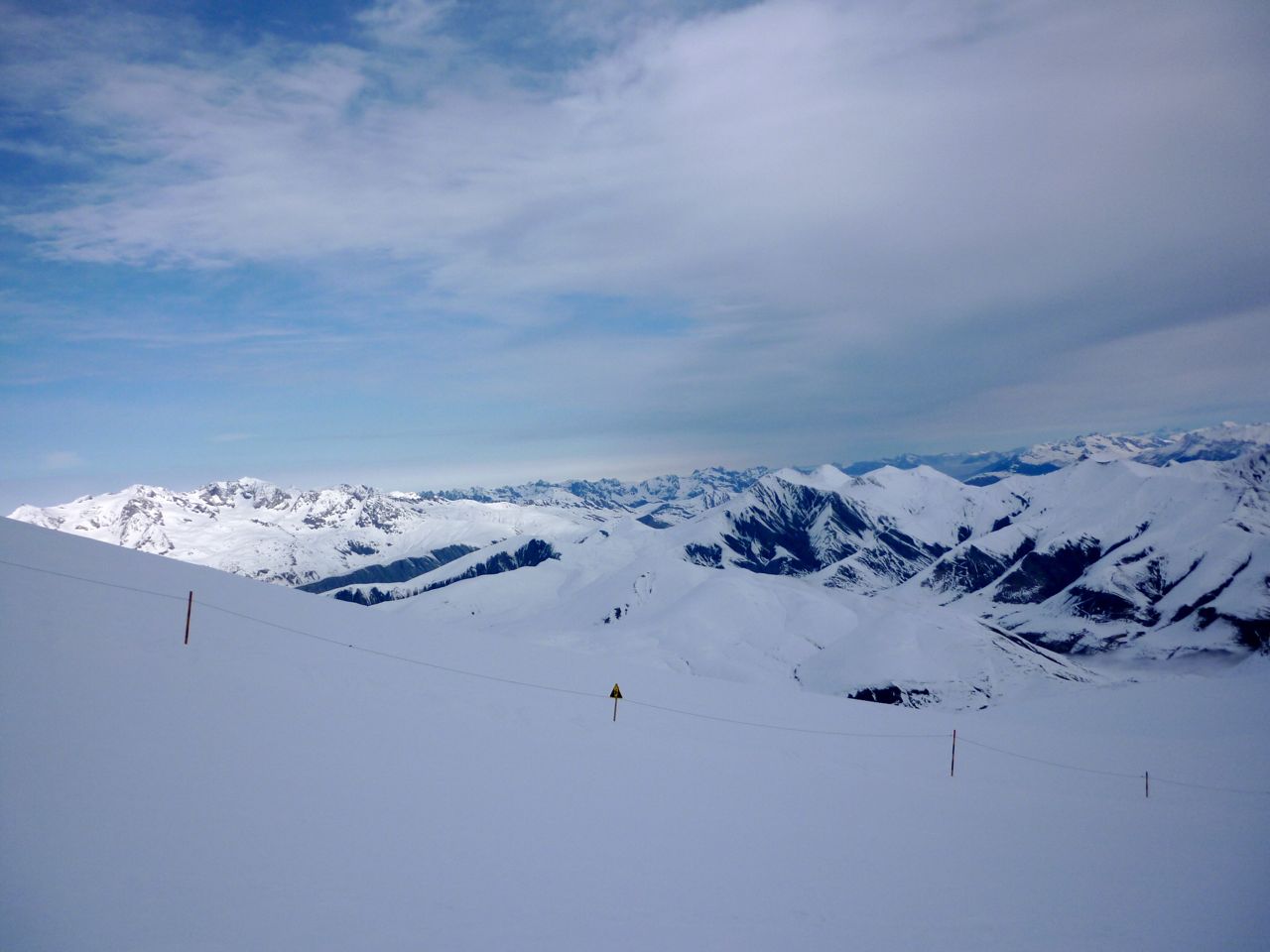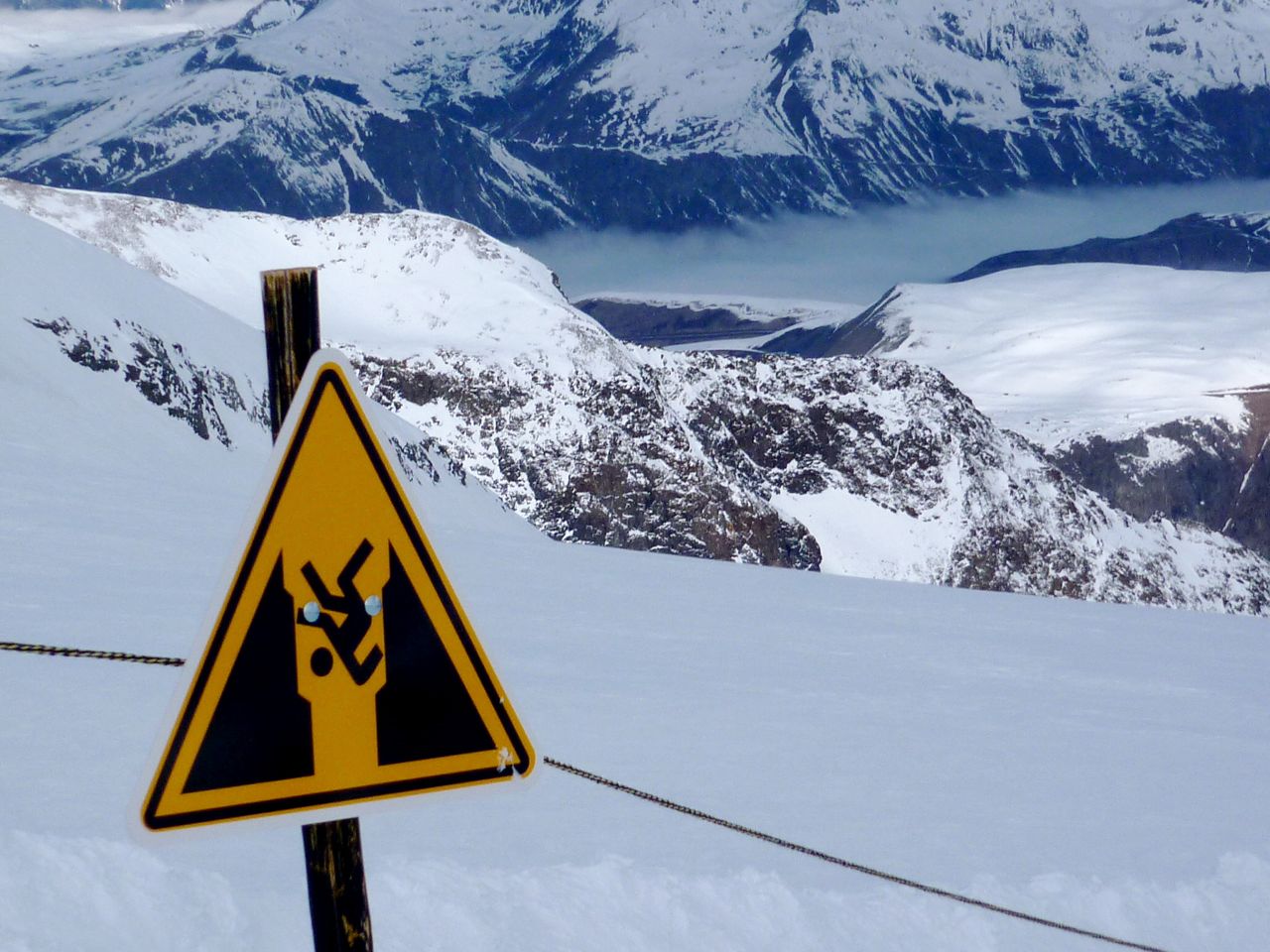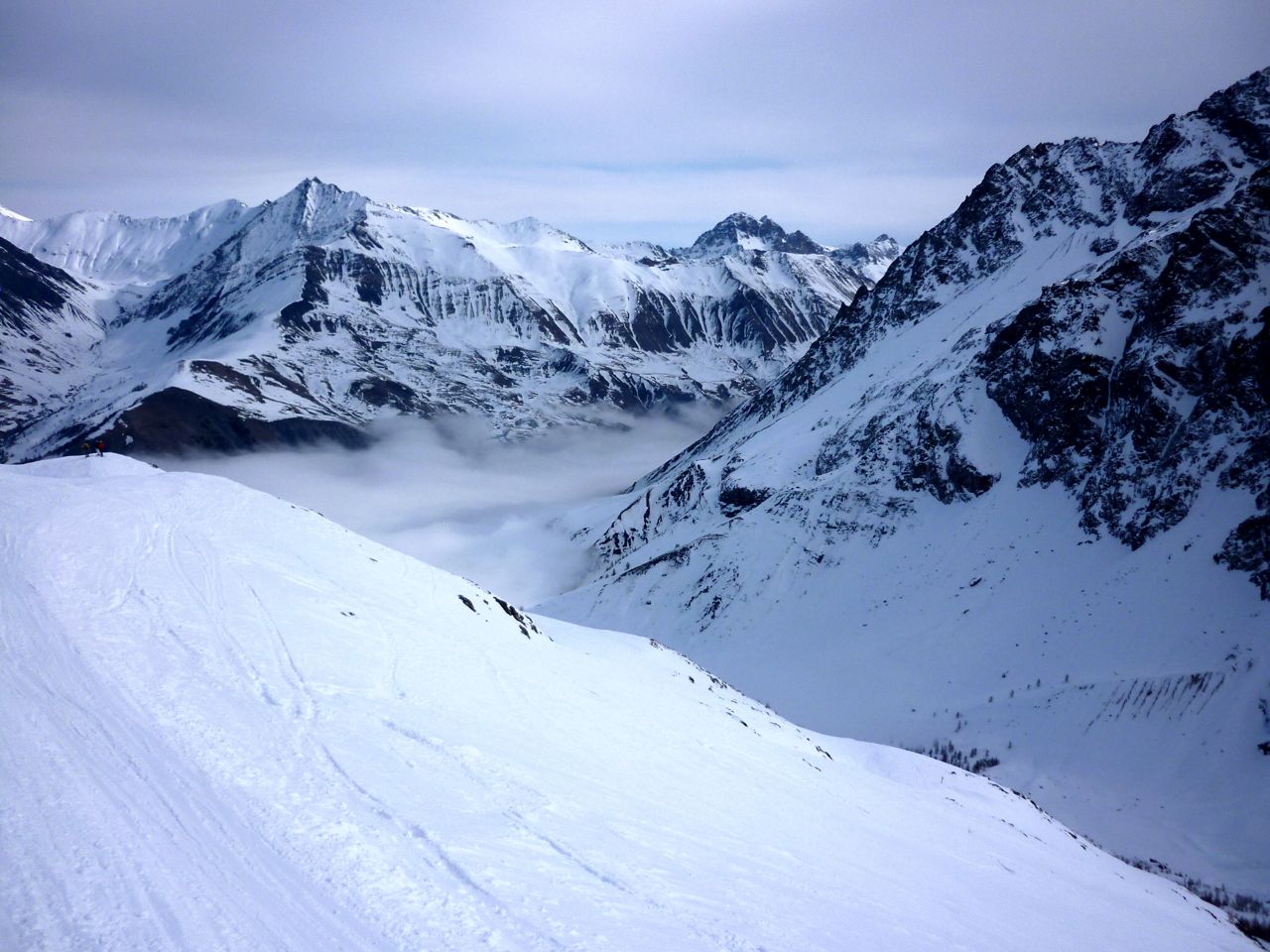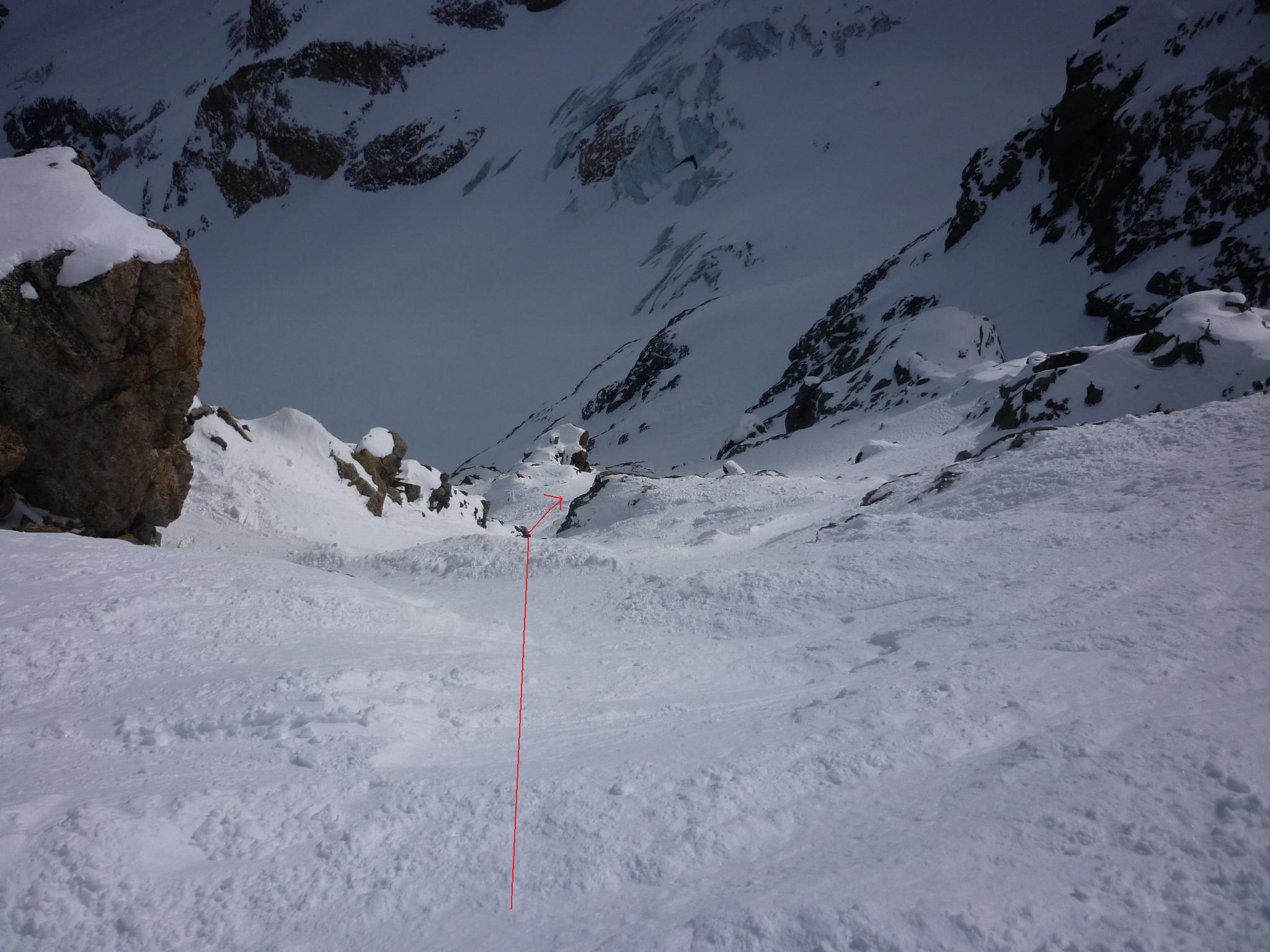 La Trefides Zero Colouir -- The 4 Trefides Colouirs have been called among the "10 Steepest in the world" that are commonly skiied ....
Here's a video of Joey Vallone (one of the guides at Skiiers Lodge where we stayed) skiing the Upper Trefides Colouir last year ....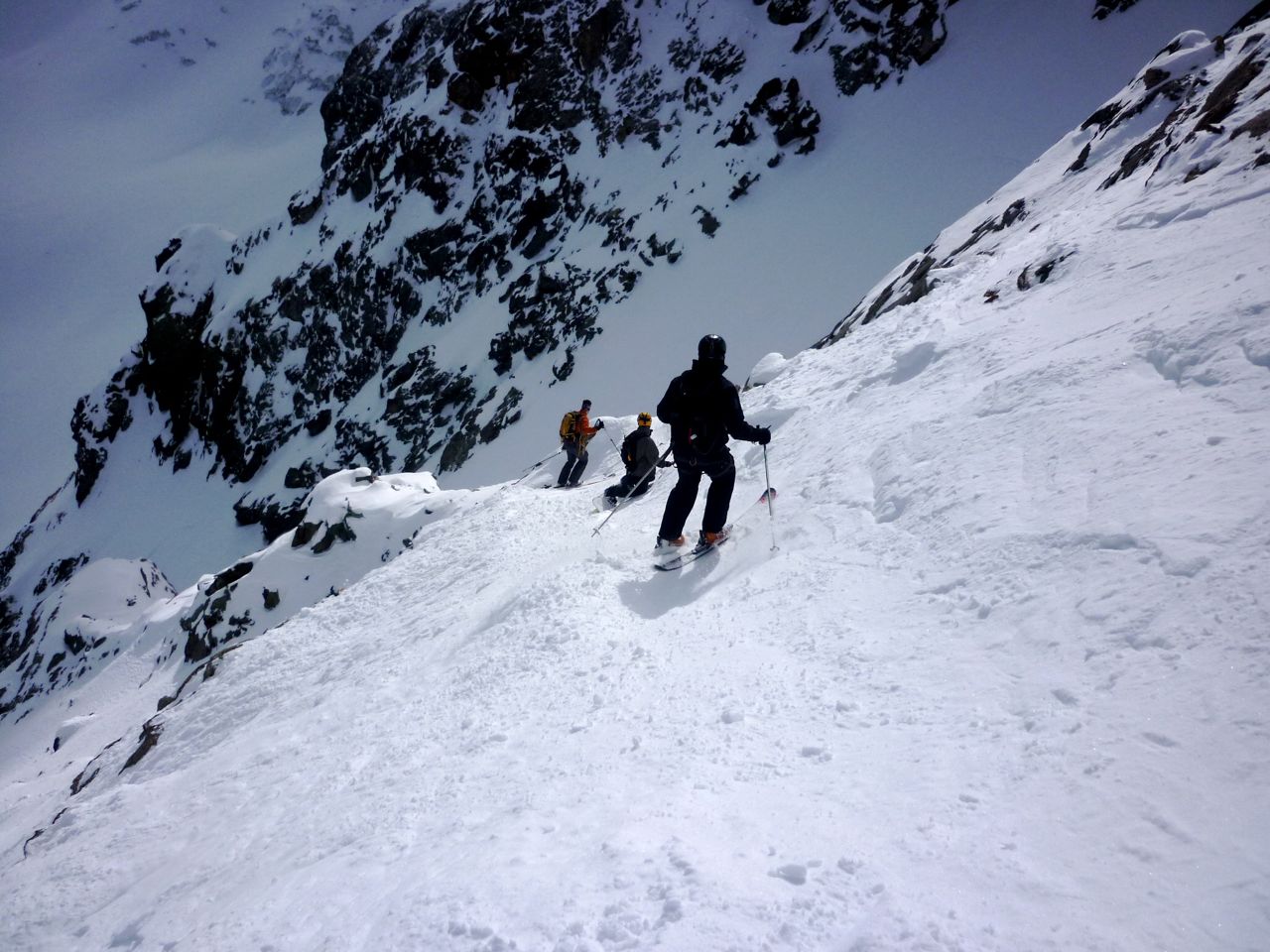 Entrance to La Trefides 1 Colouir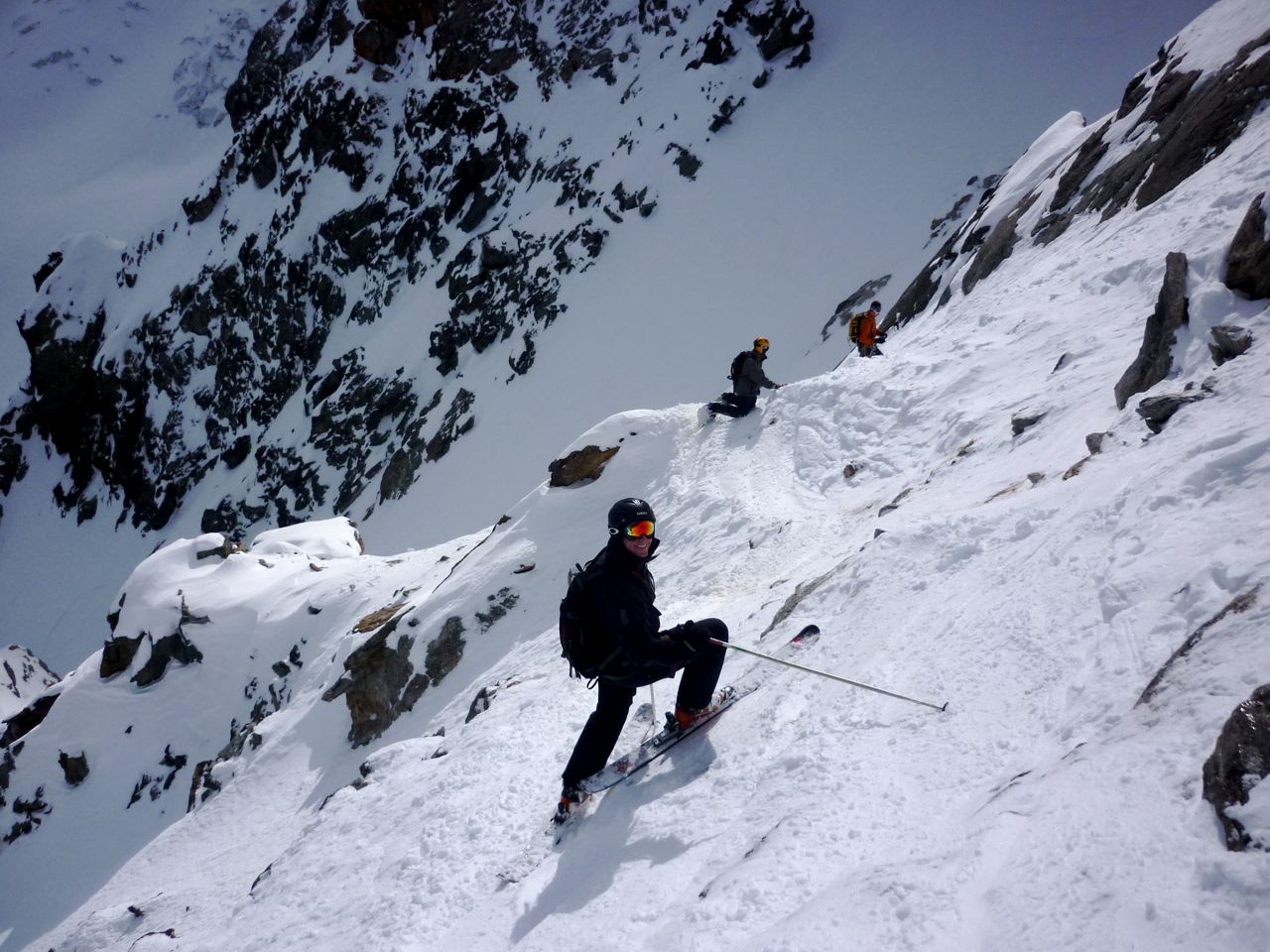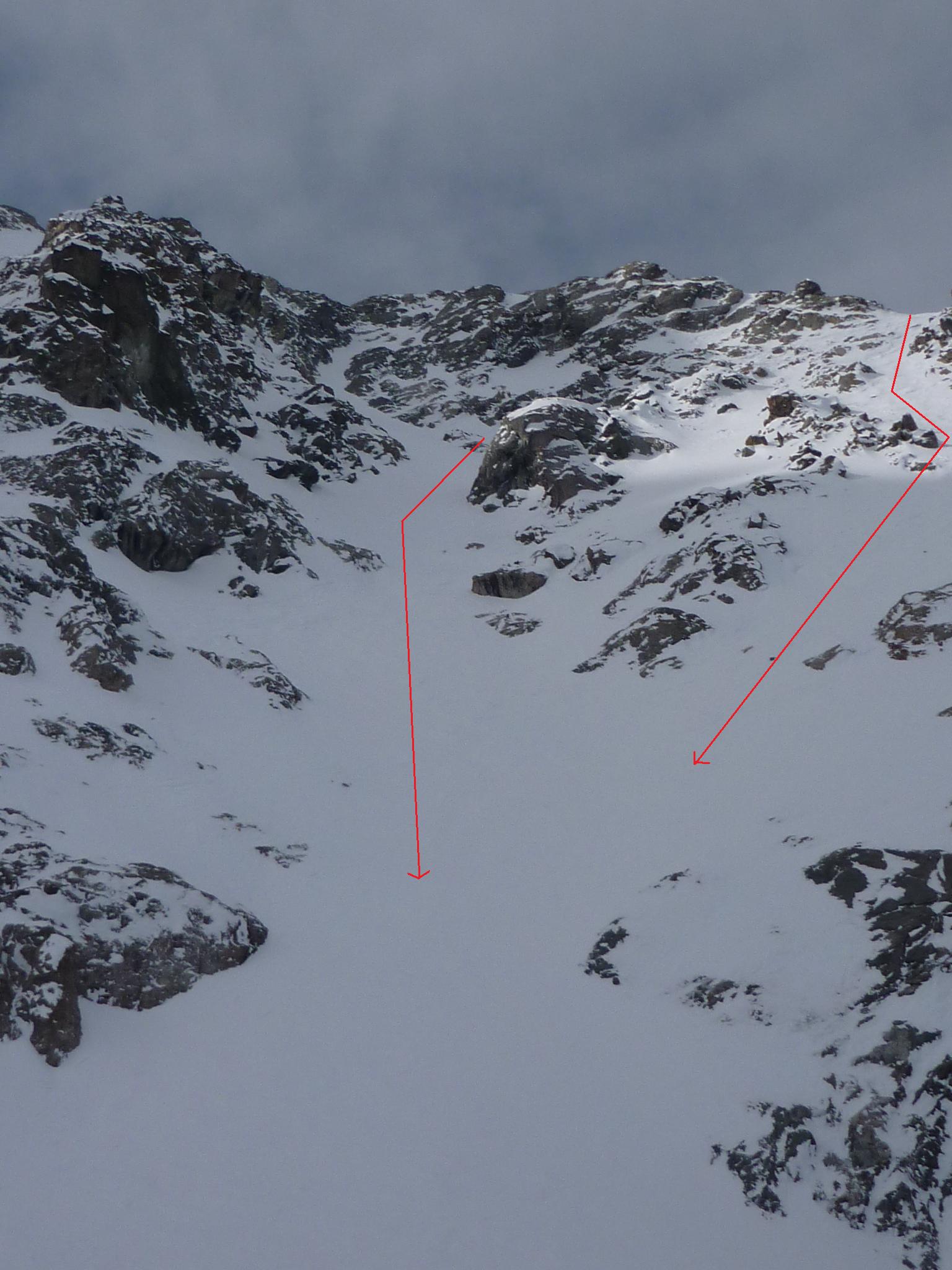 La Trefides Zero and La Trefides 1 Colouirs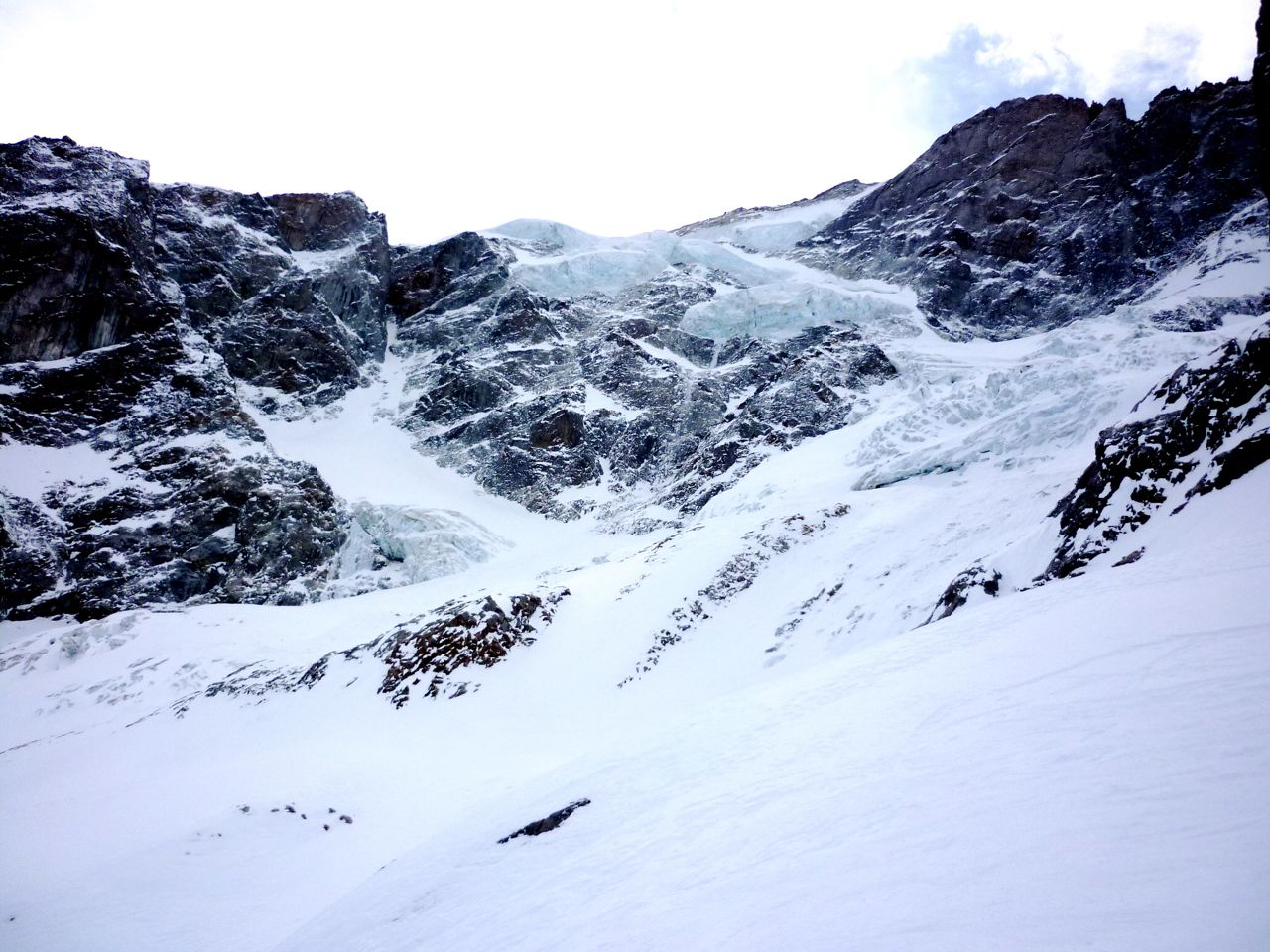 You make sure you don't stop and wait for anyone under one of the hanging glaciers or a house size falling chunk of ice could set loose an avalanche.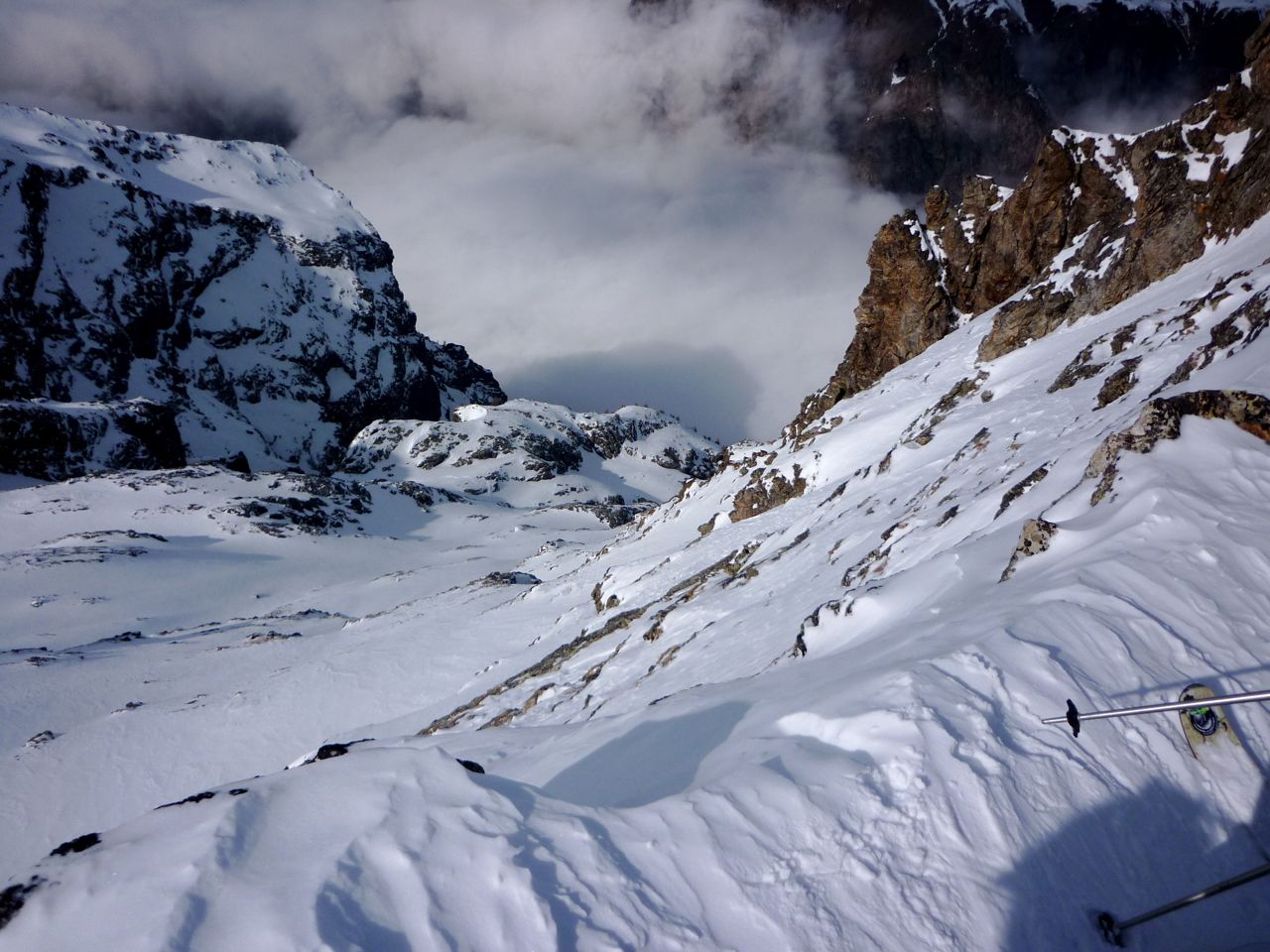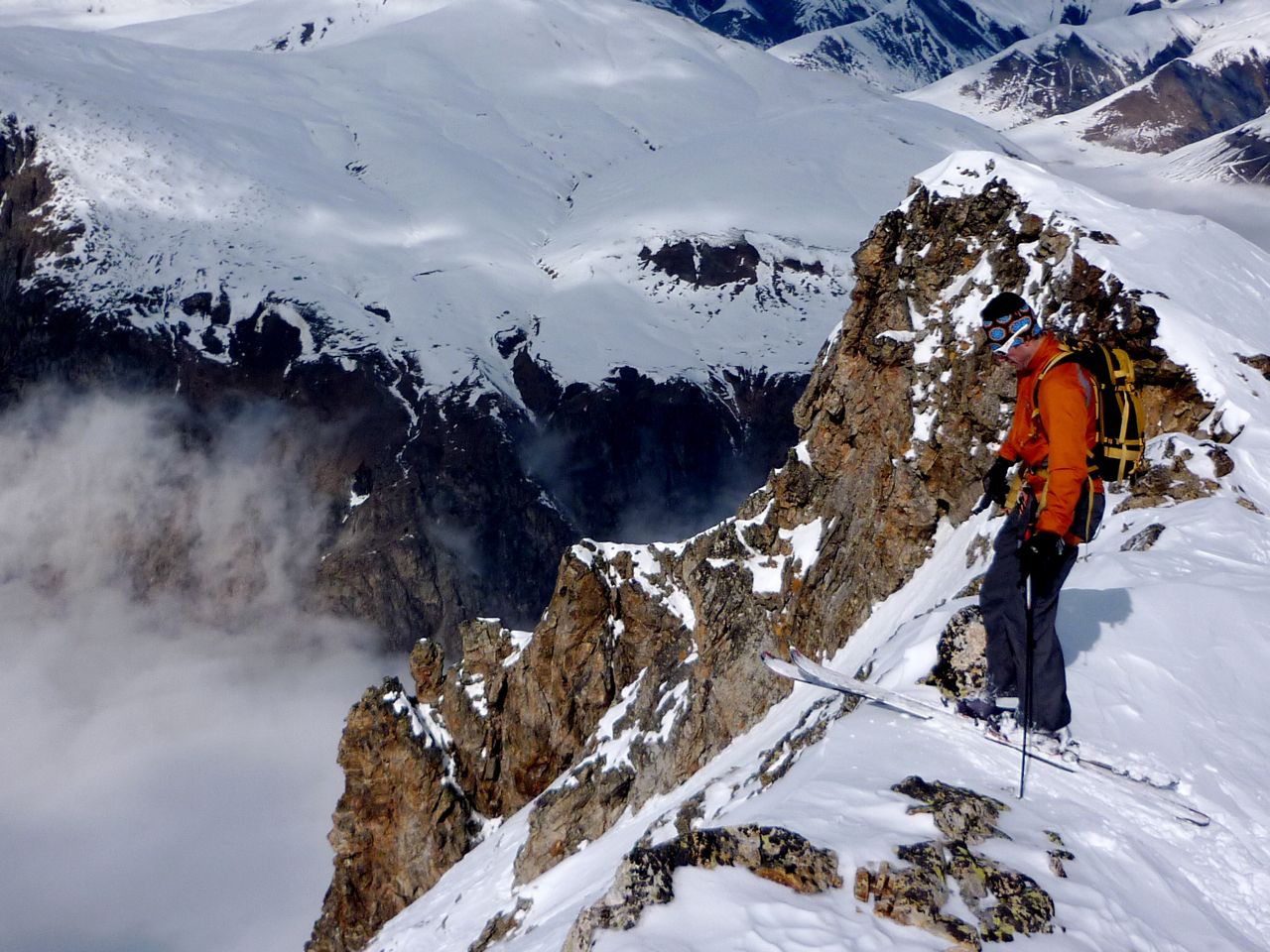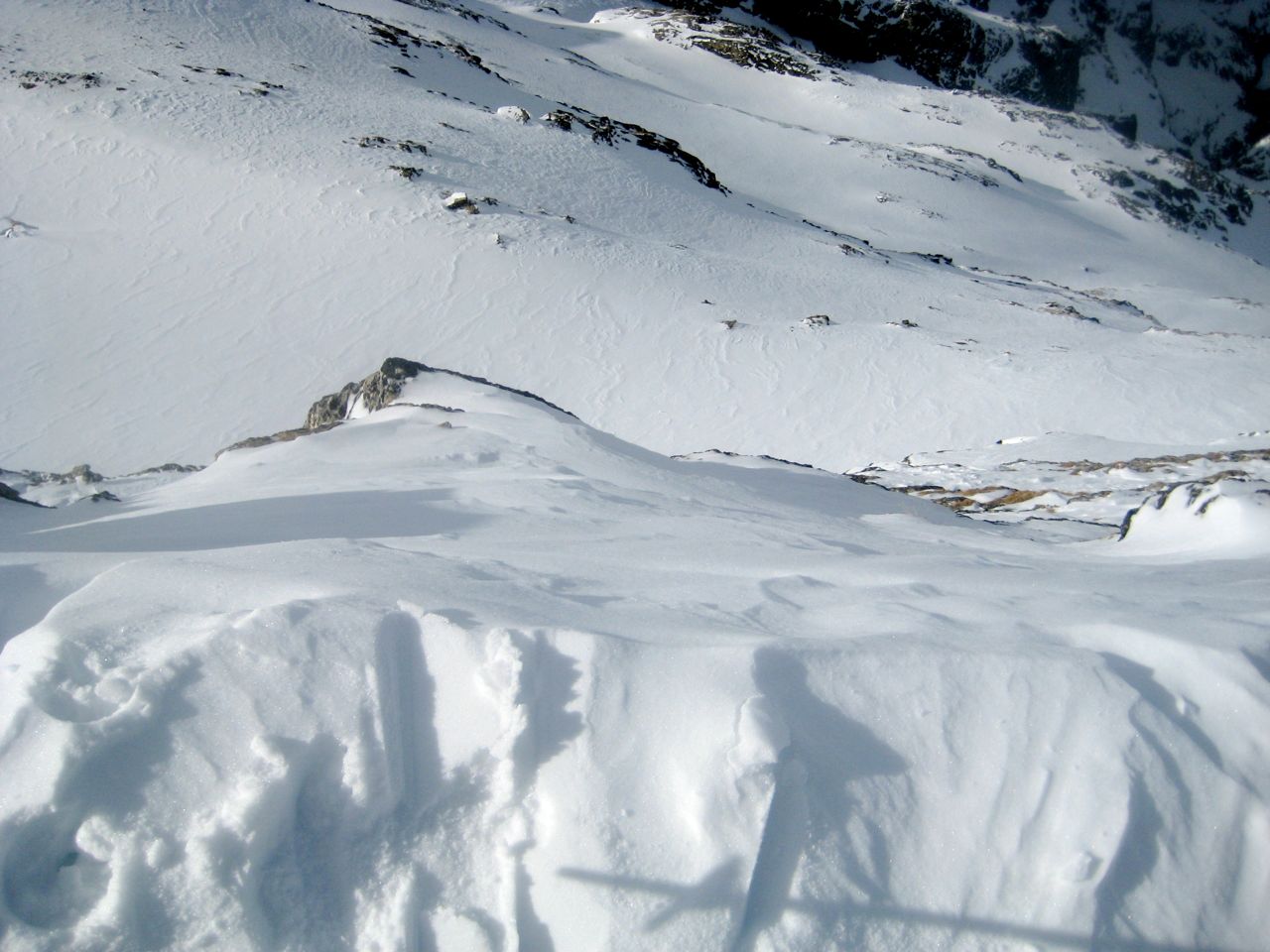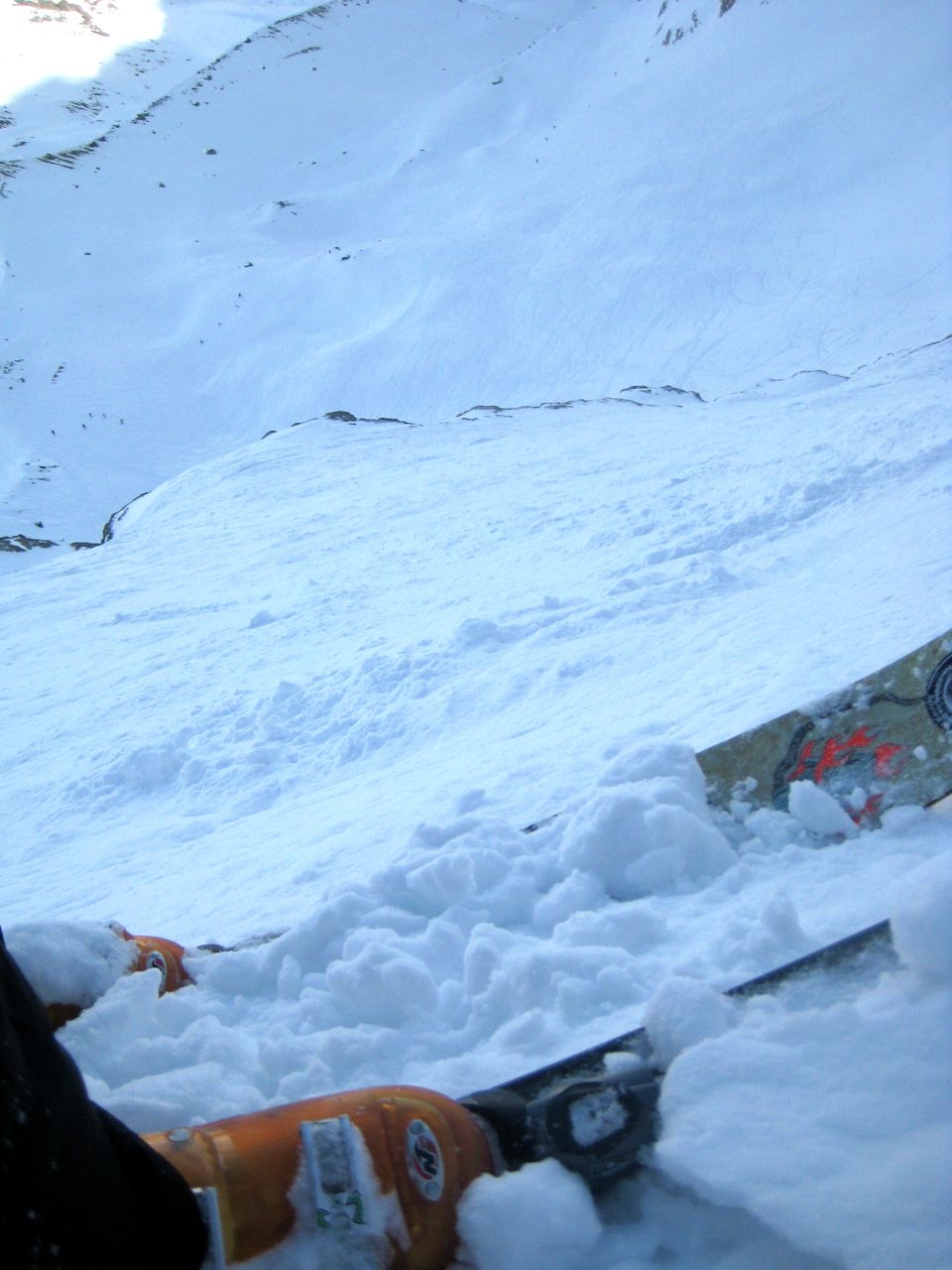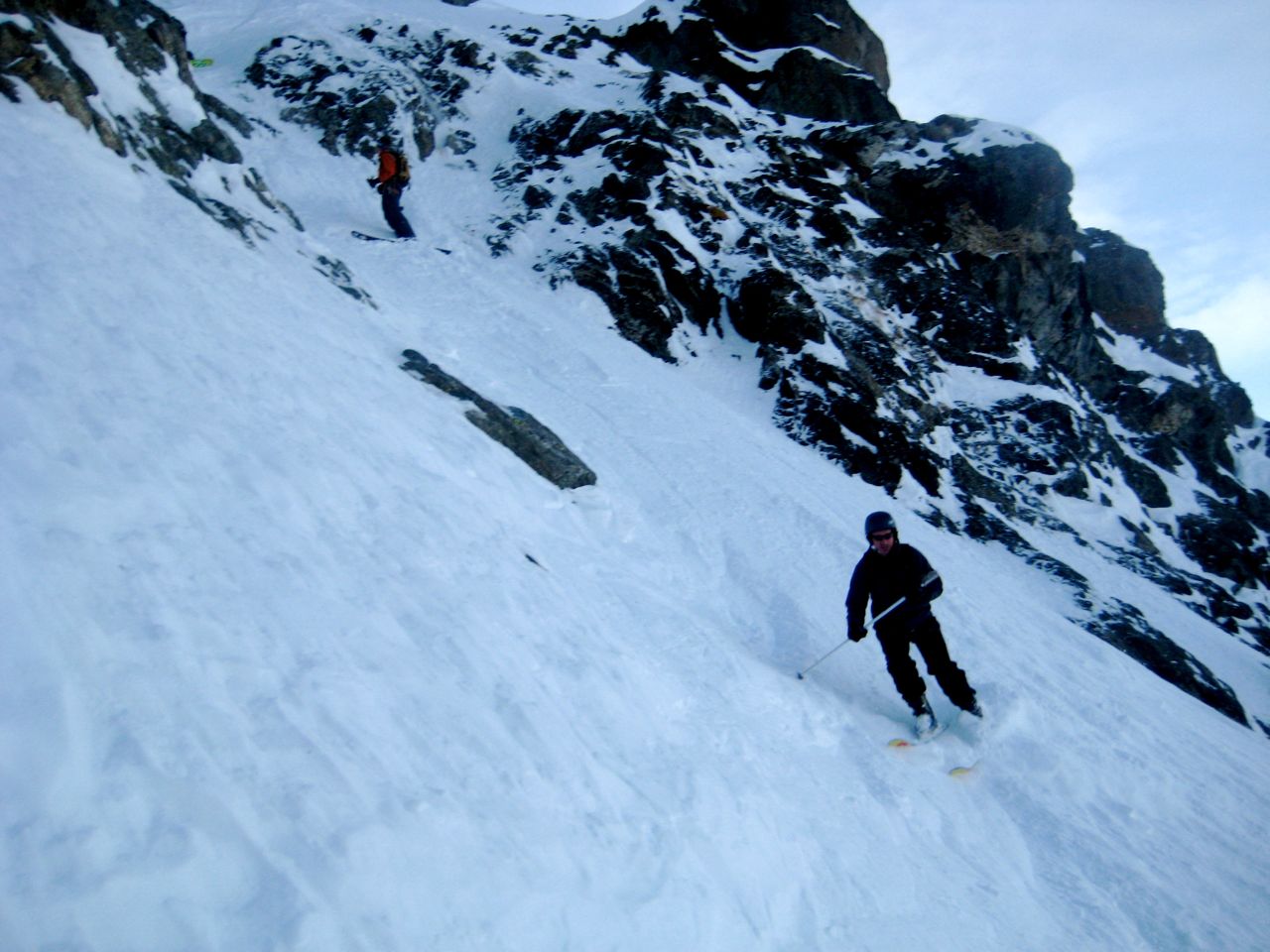 Using my poles as an "arrestor" to avoid cartwheeling down the hill :-)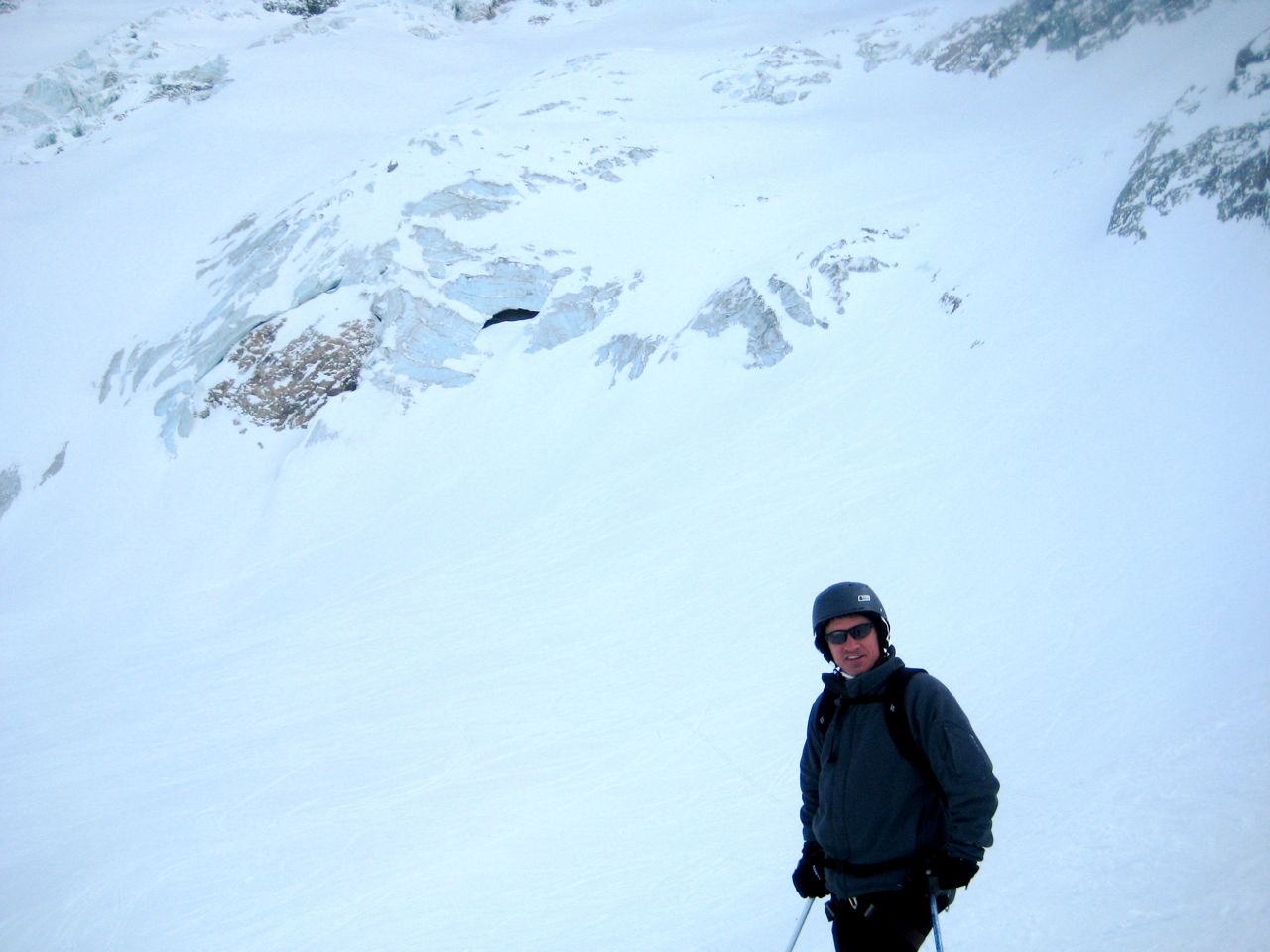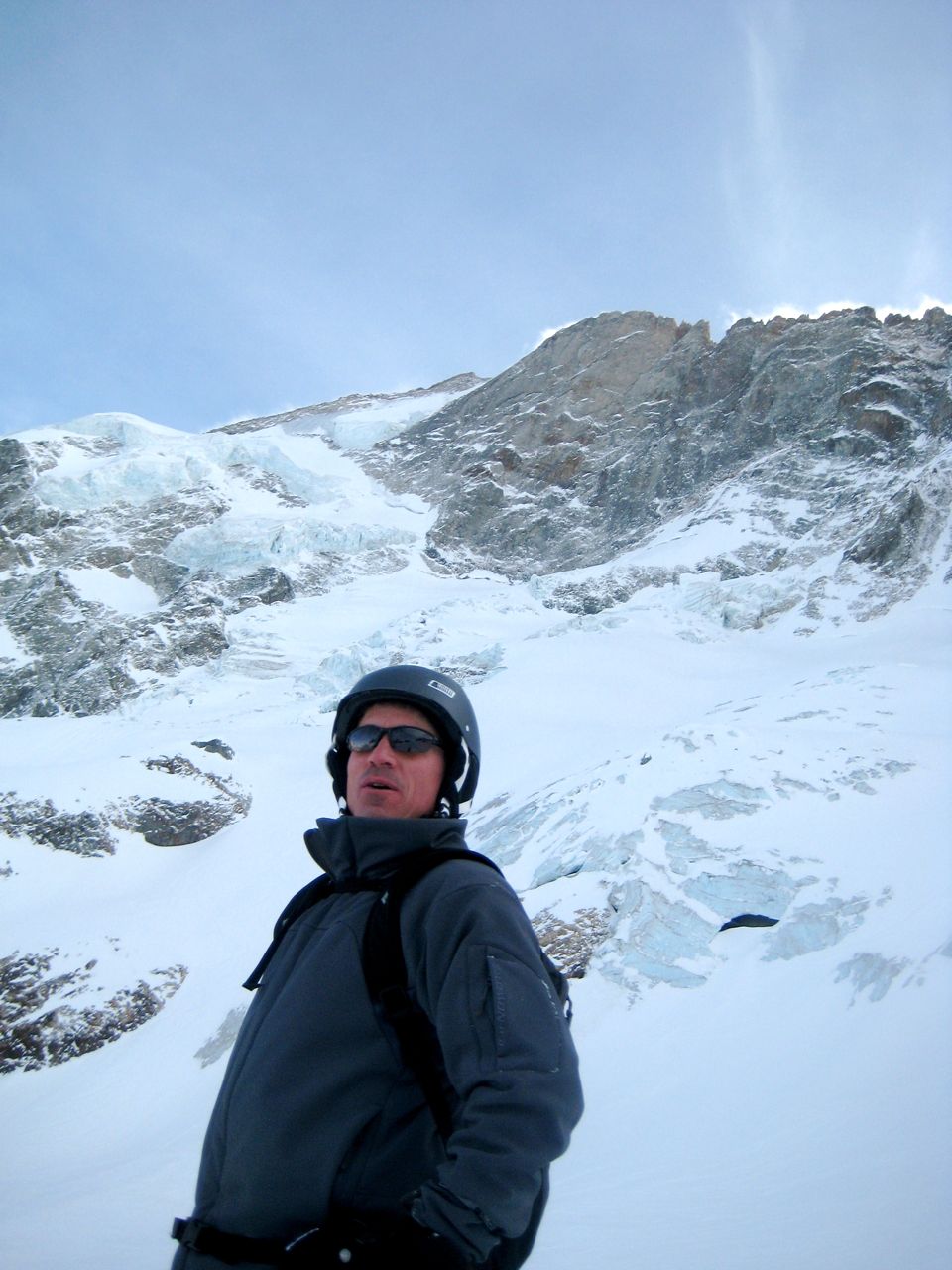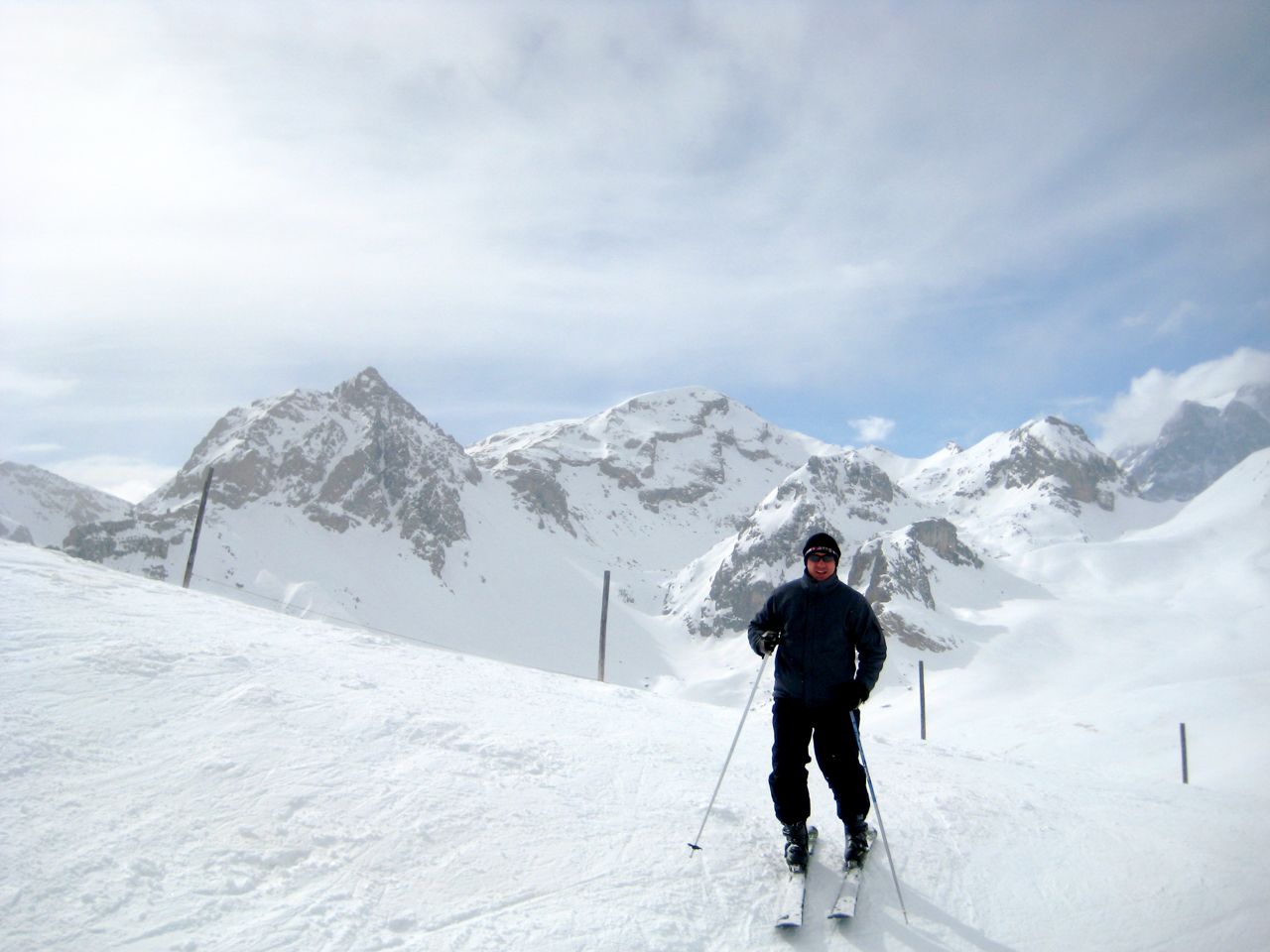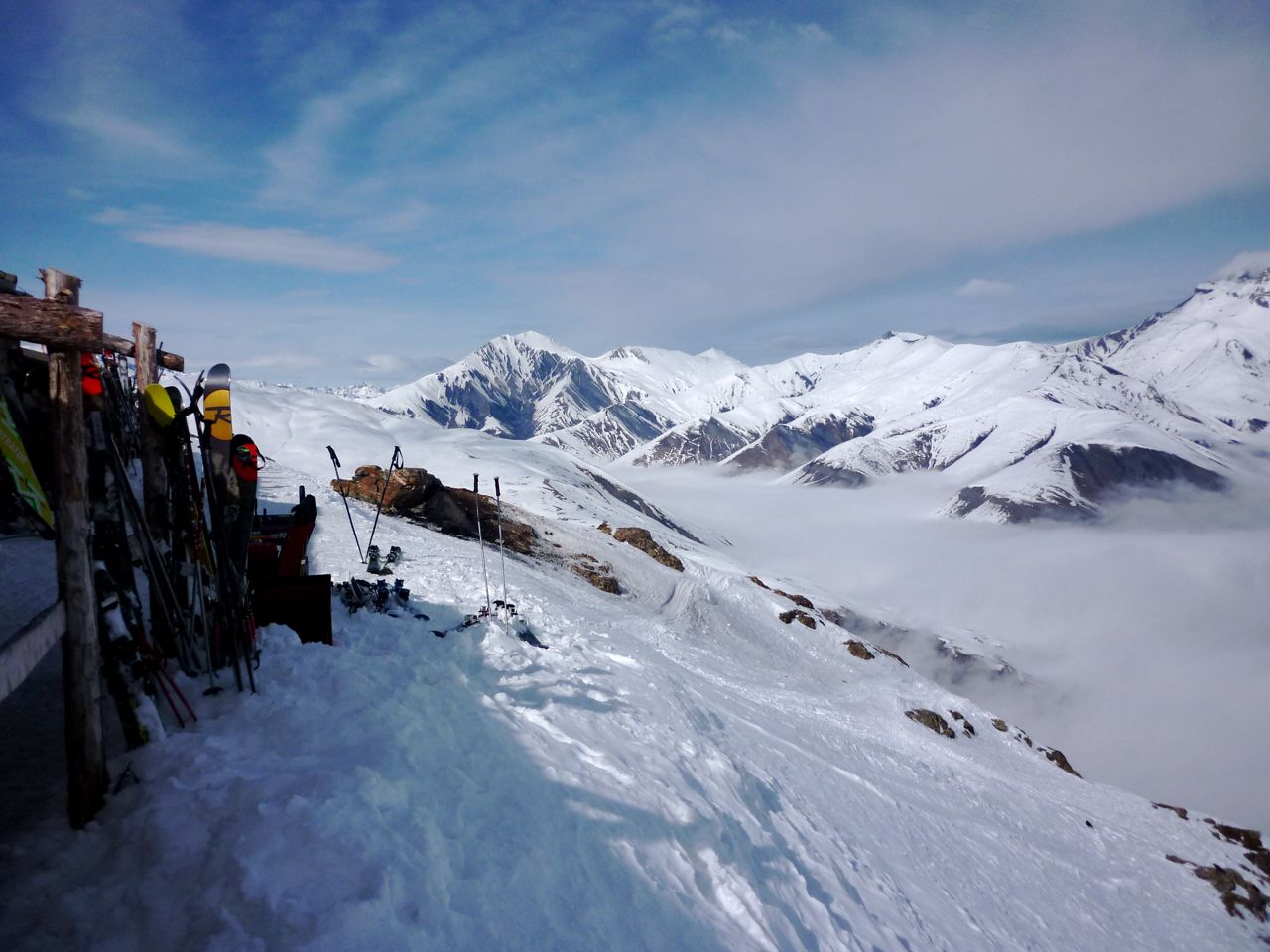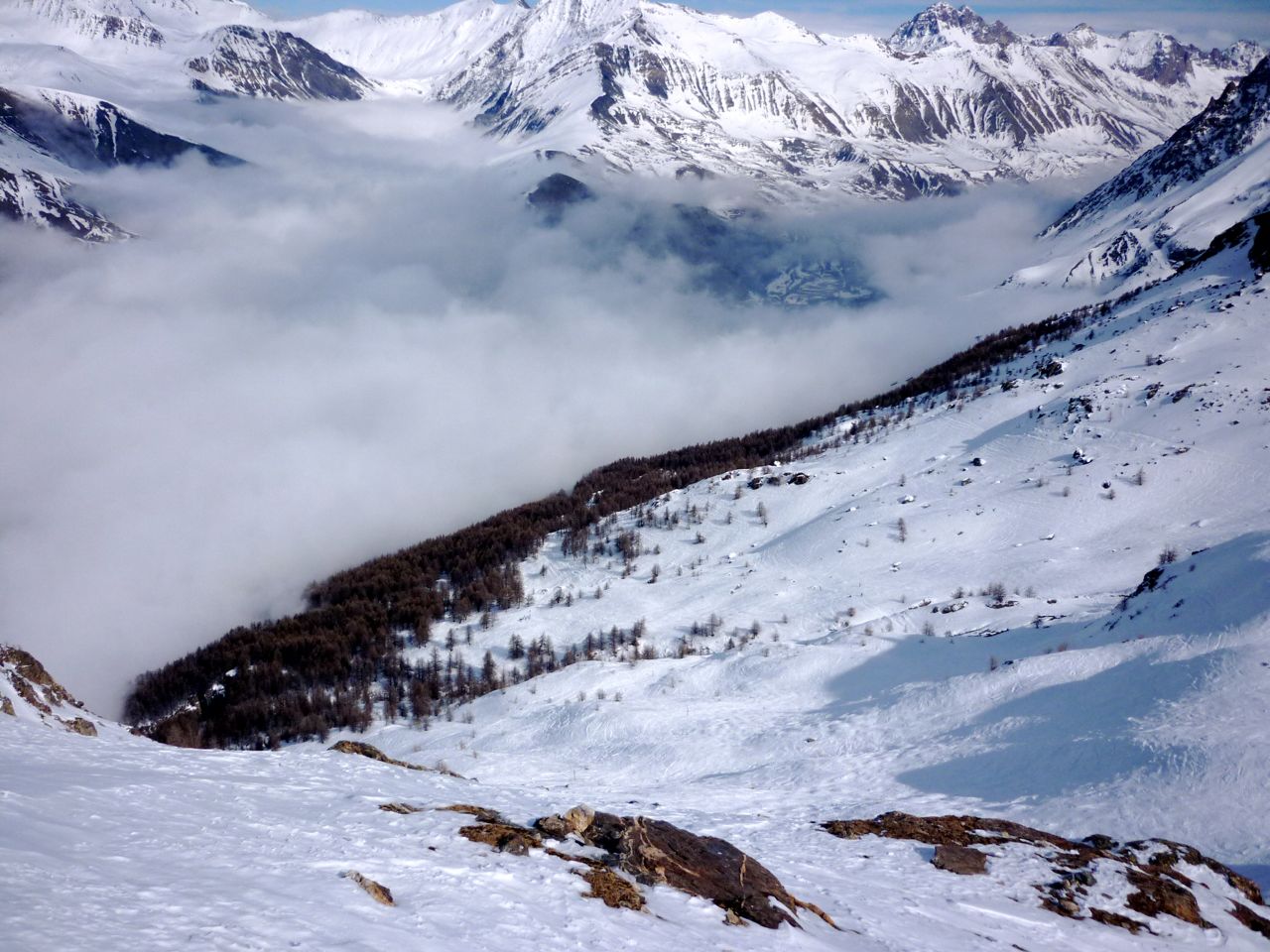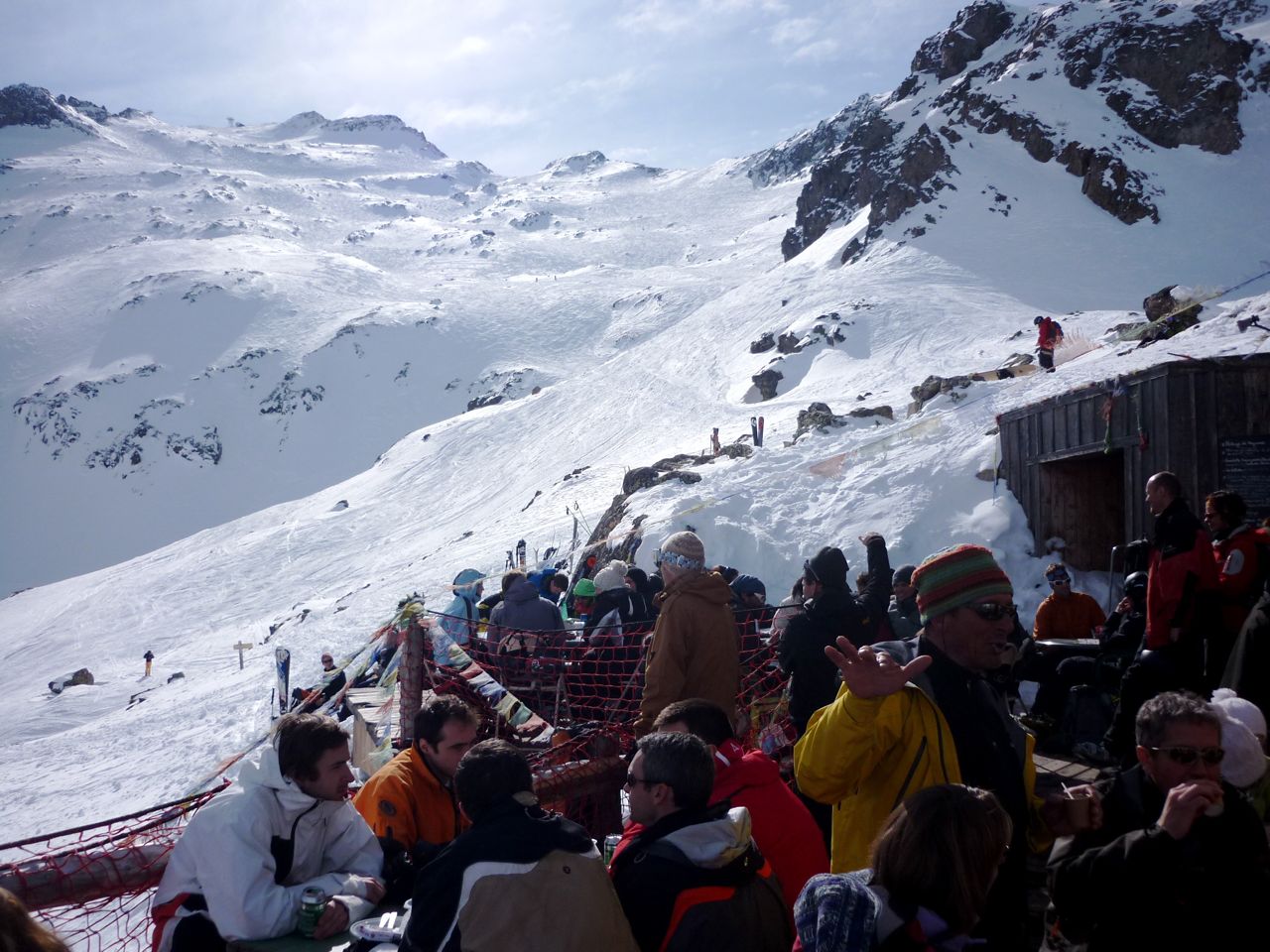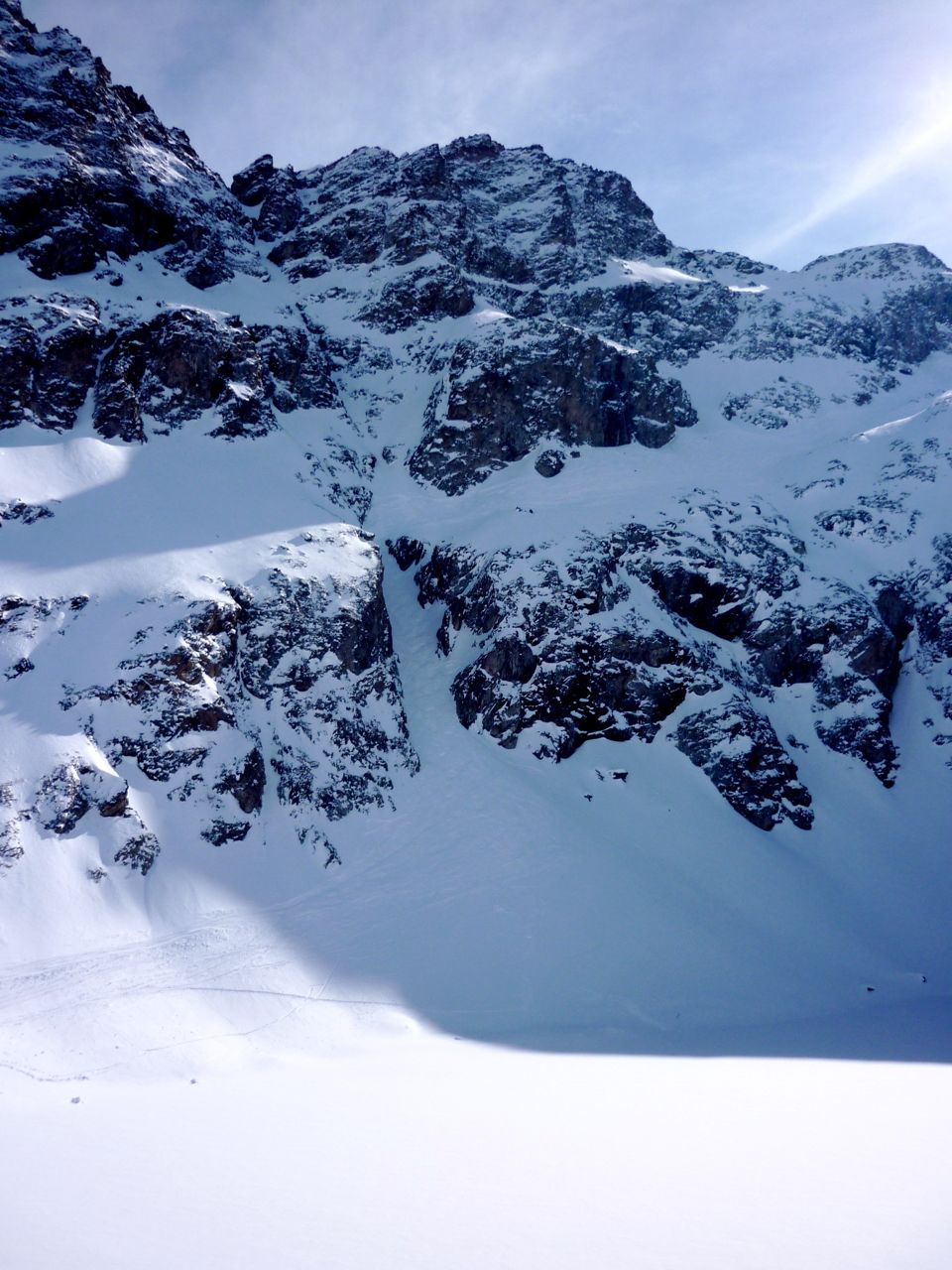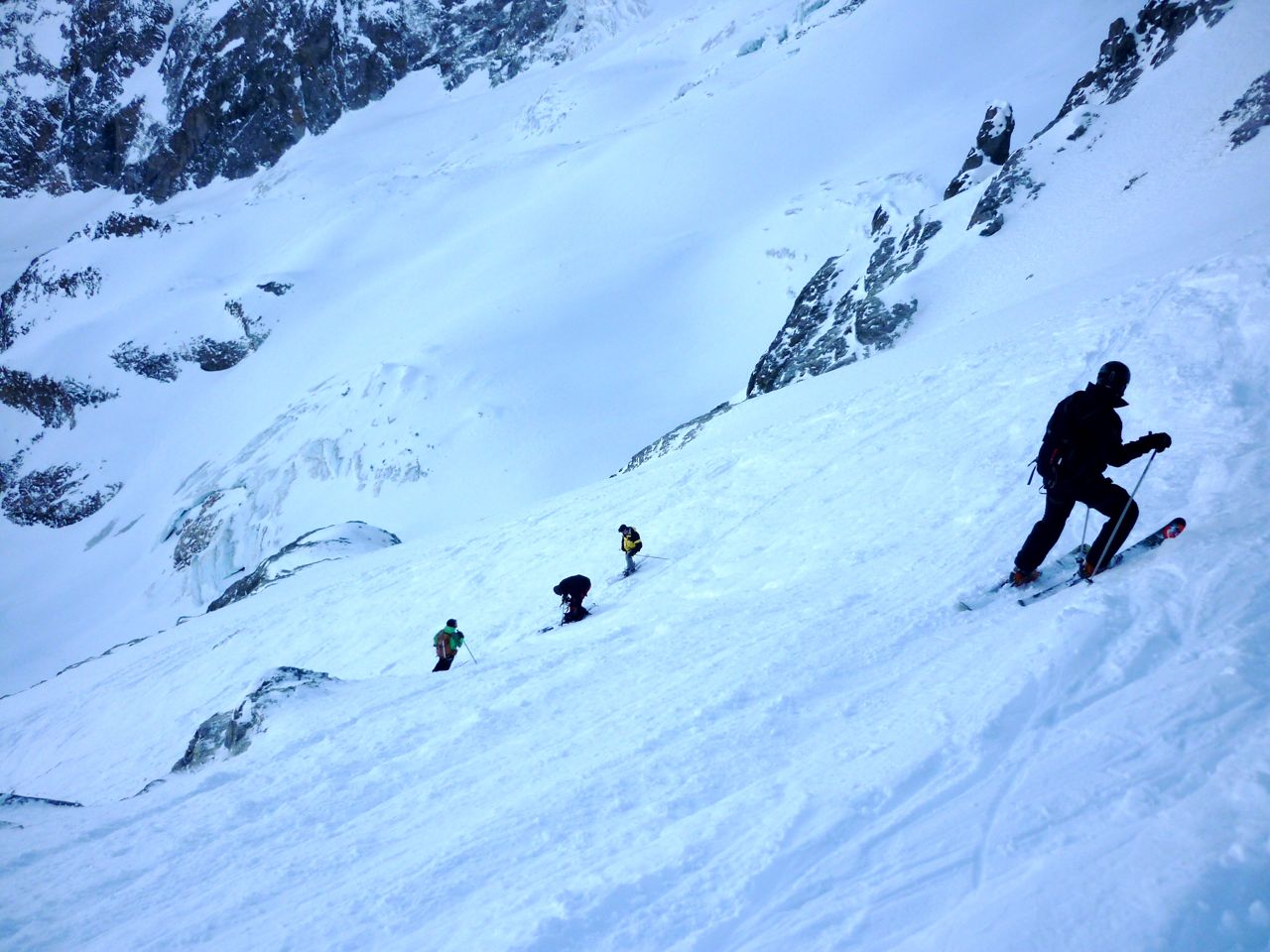 La Trefides 2 Colouir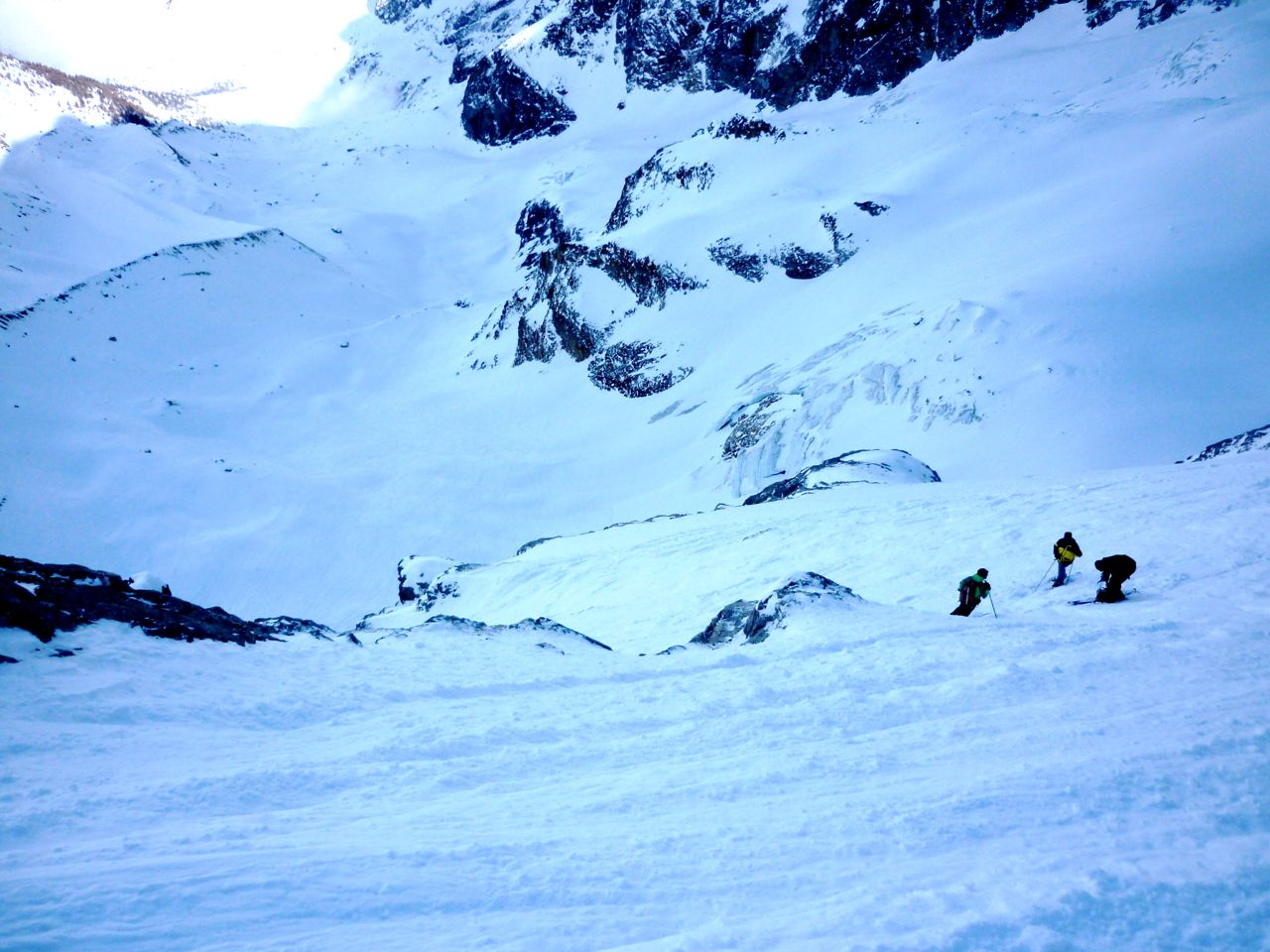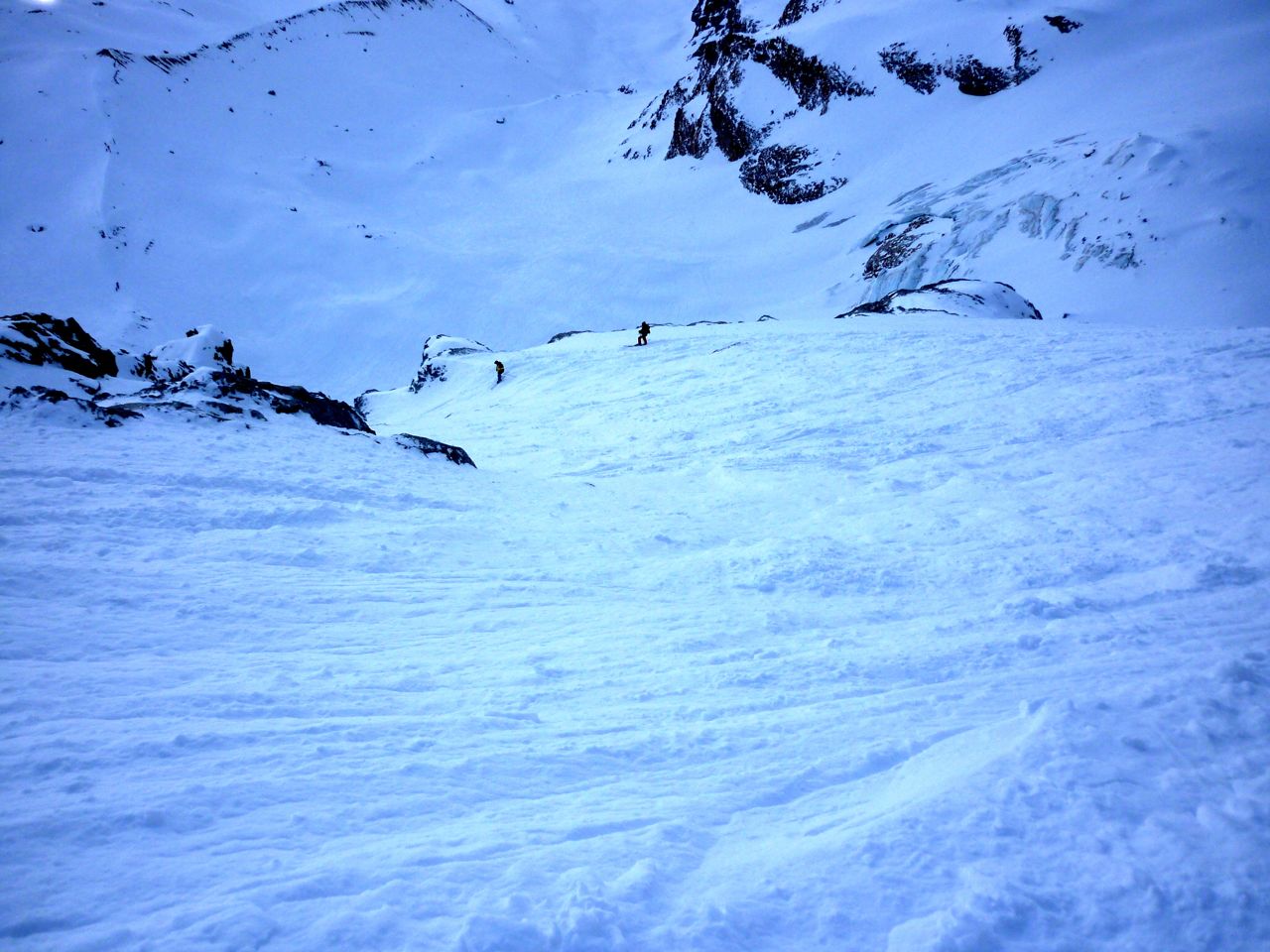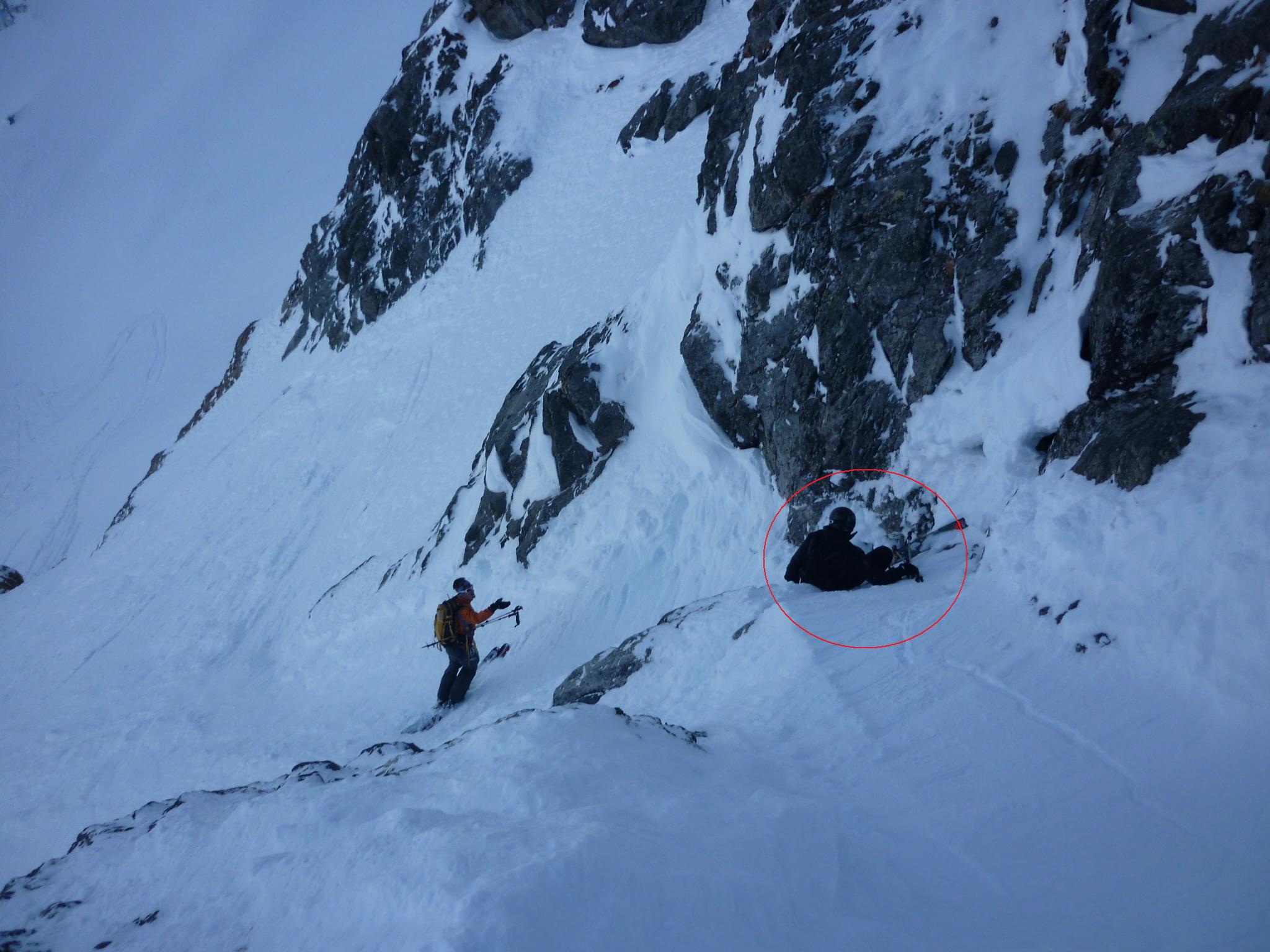 Entrance to La Trefides 2 Colouir -- a little bottleneck at the entrance (about 2 feet wide) .....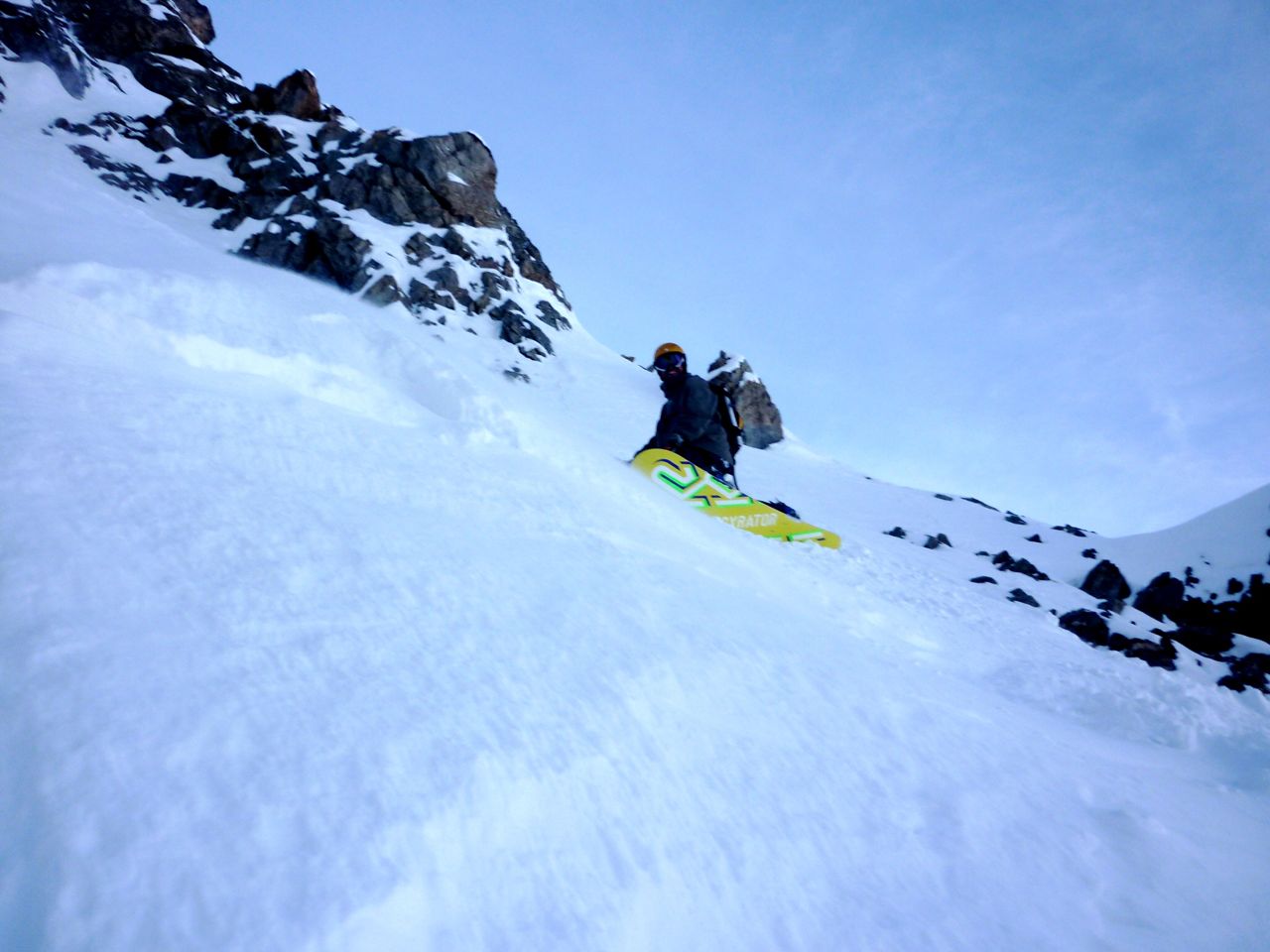 Our South African buddy Axel in Trefides 2 Couloir ...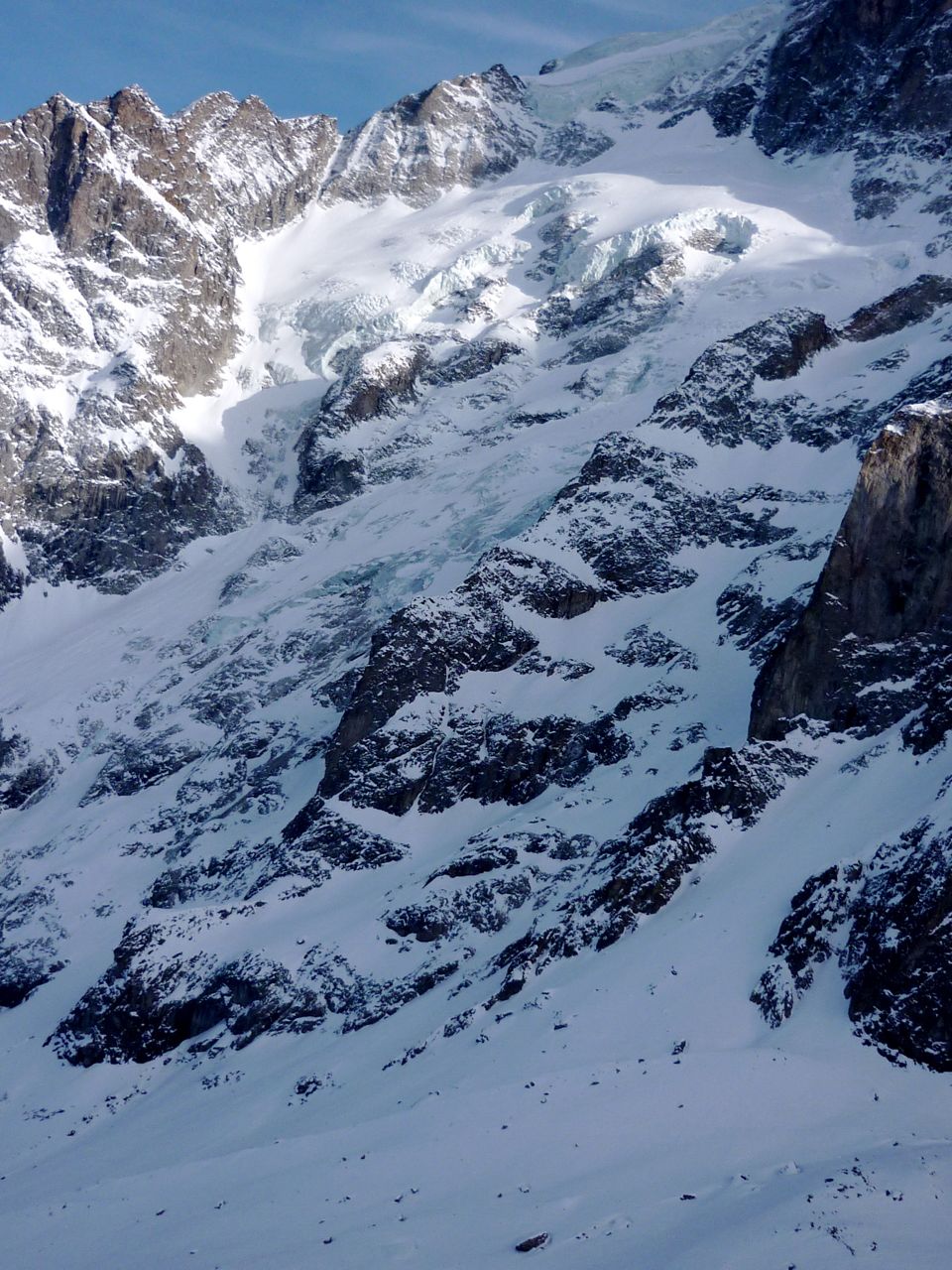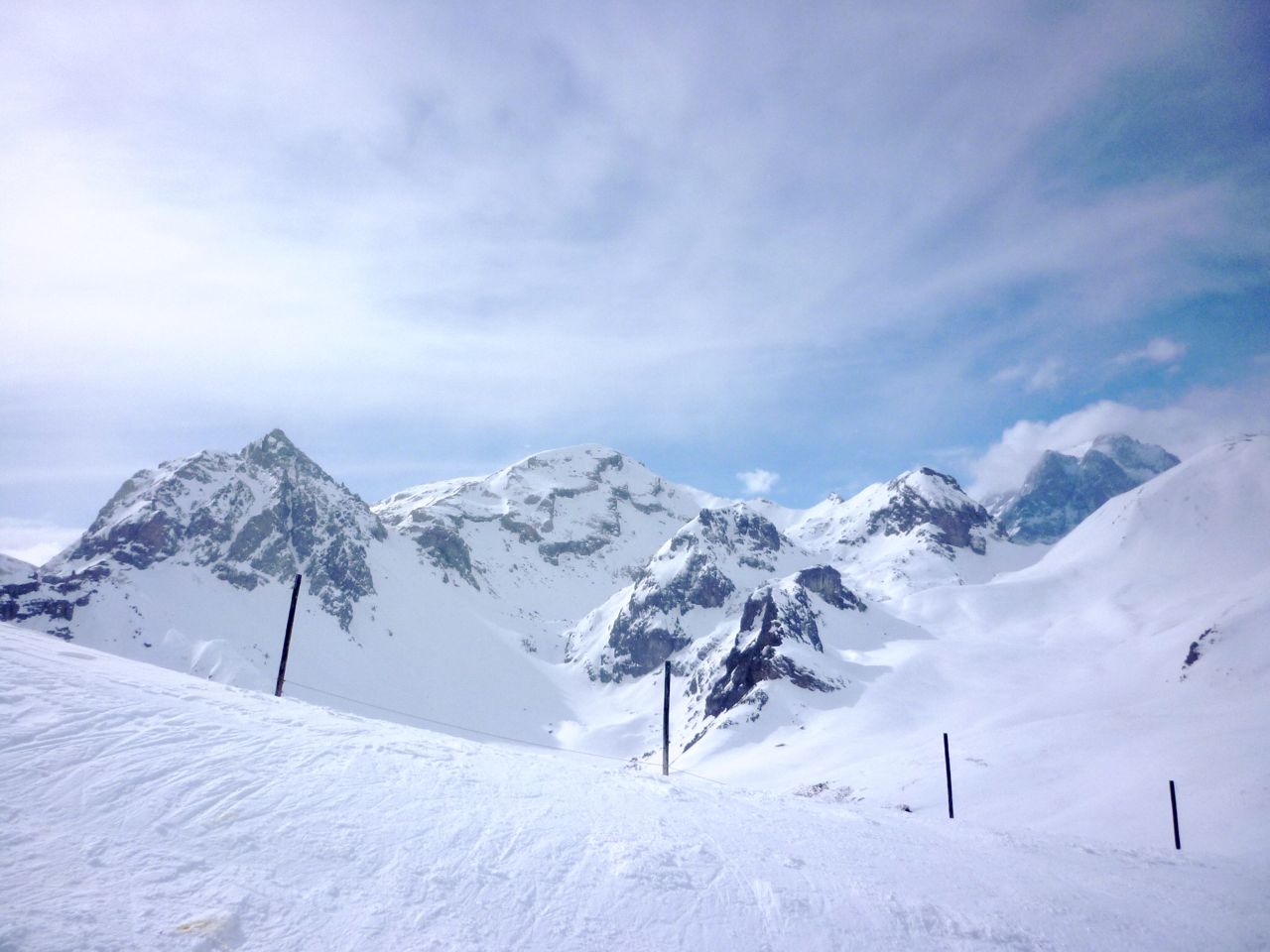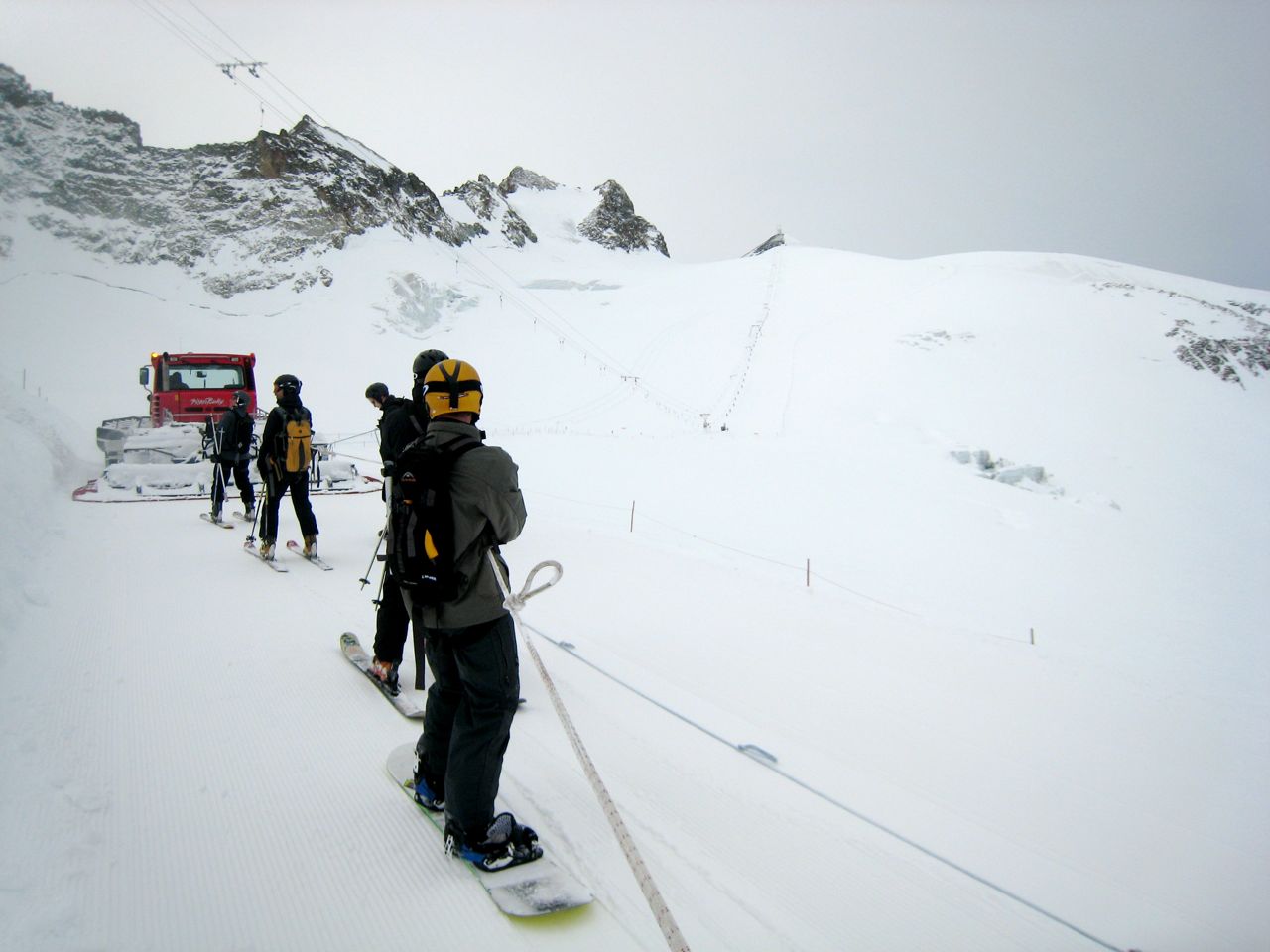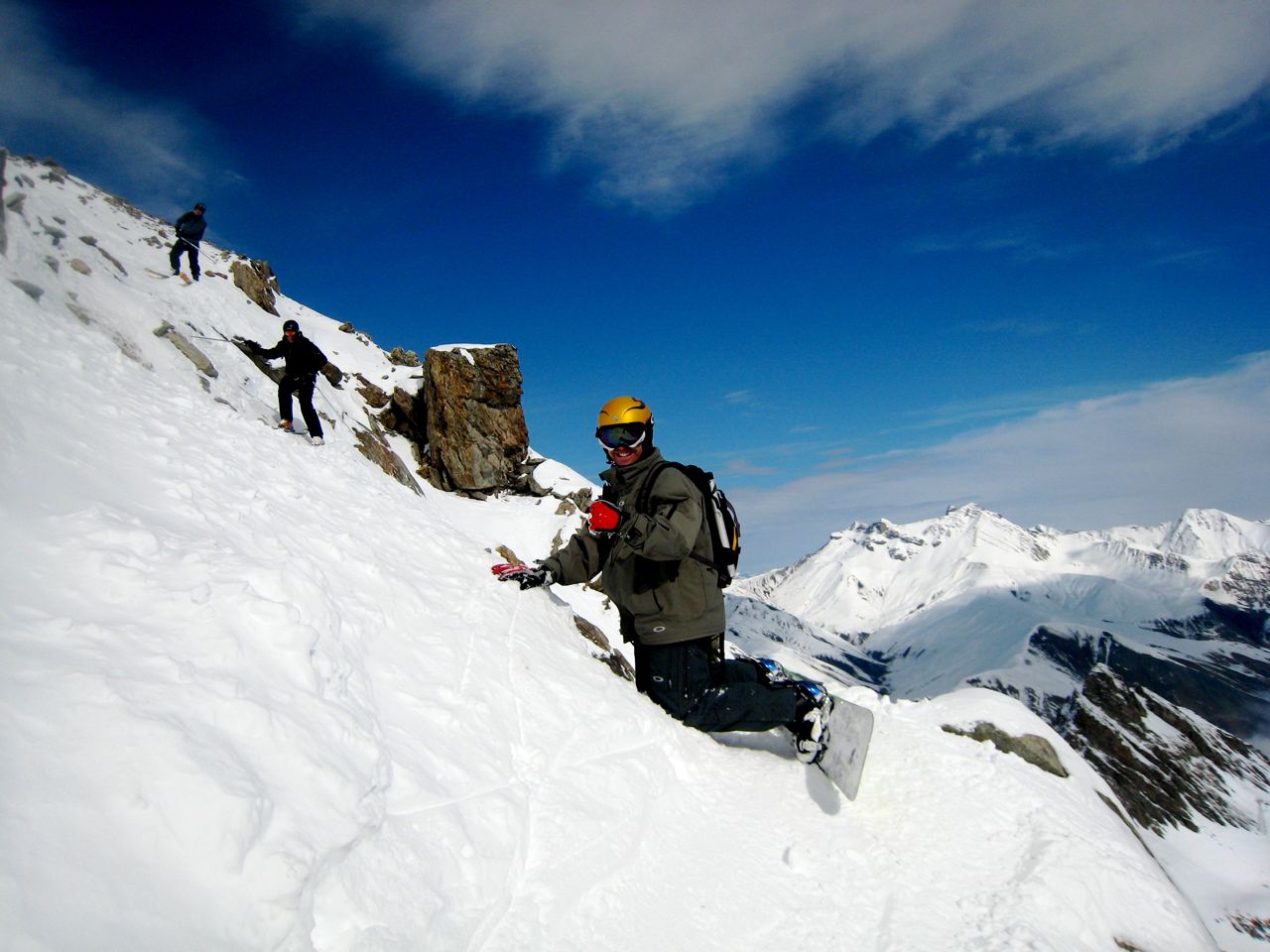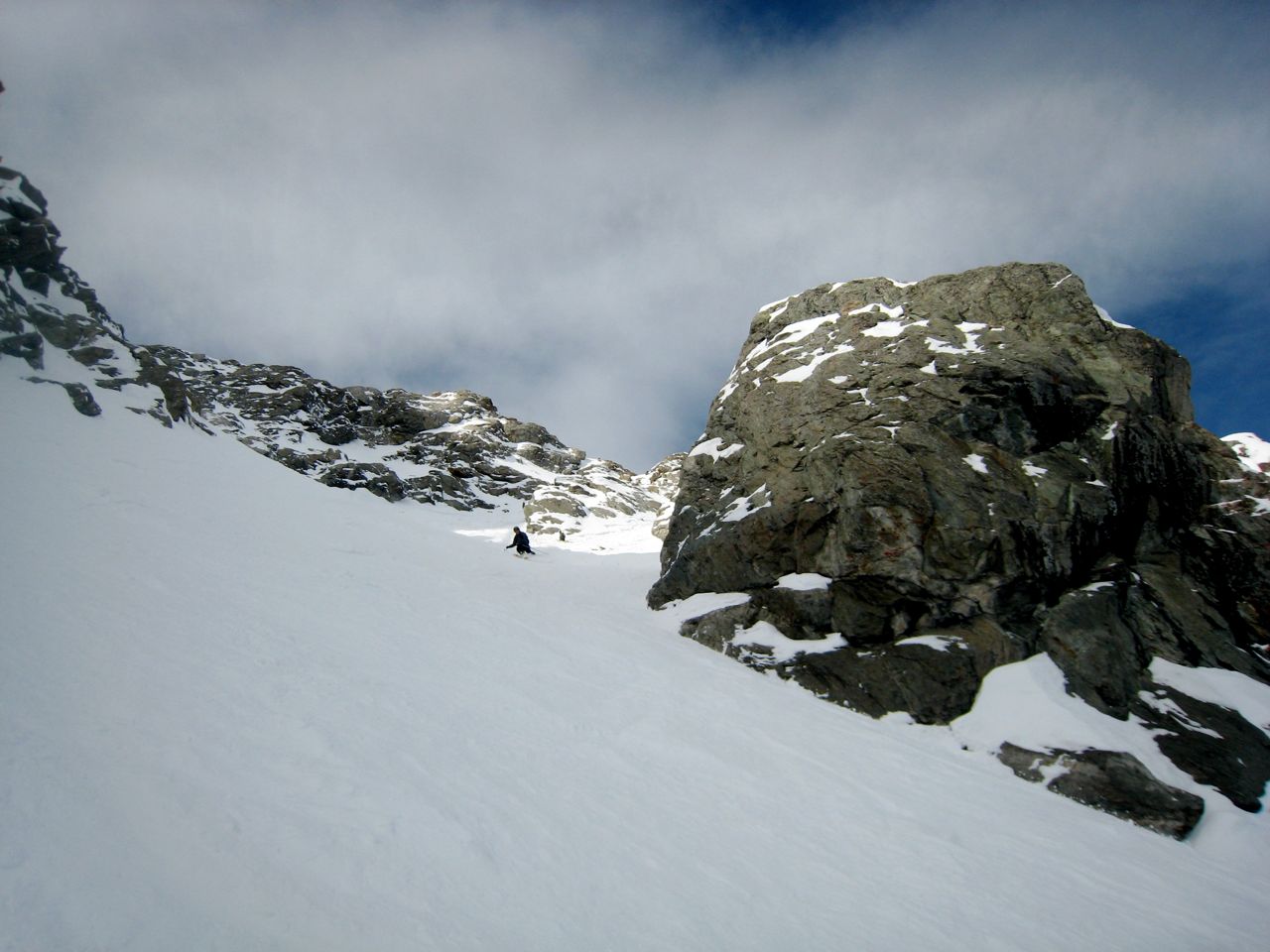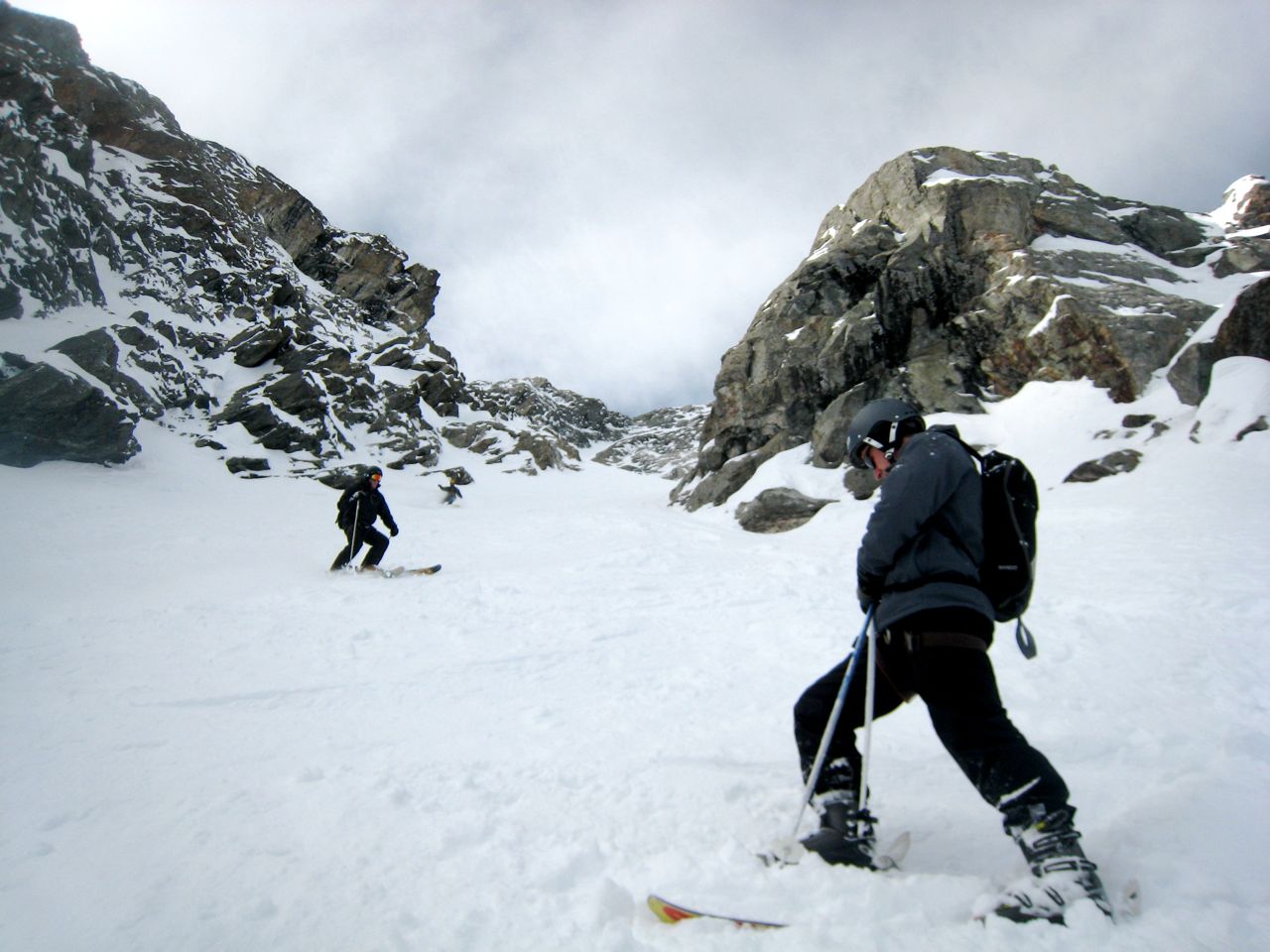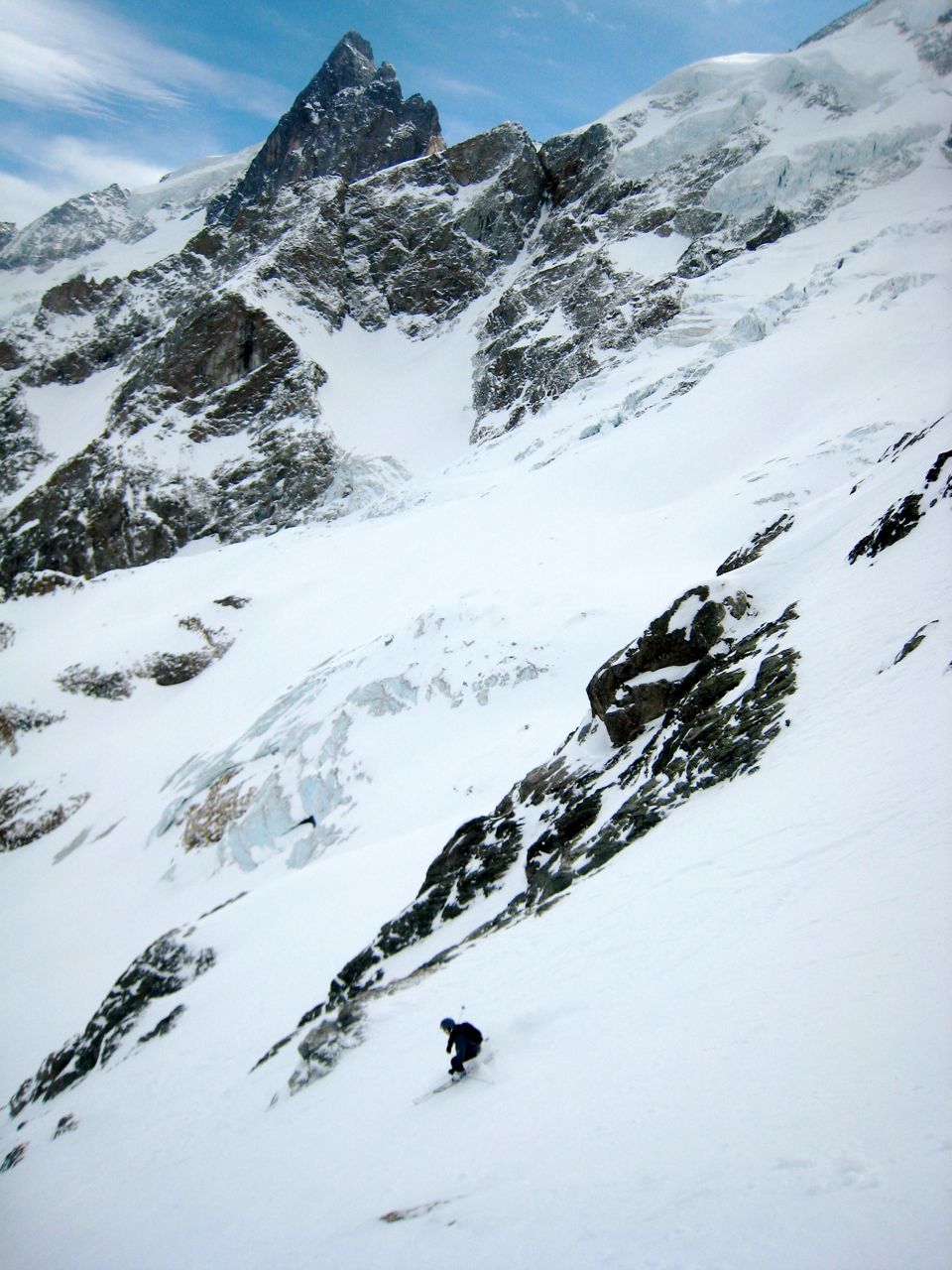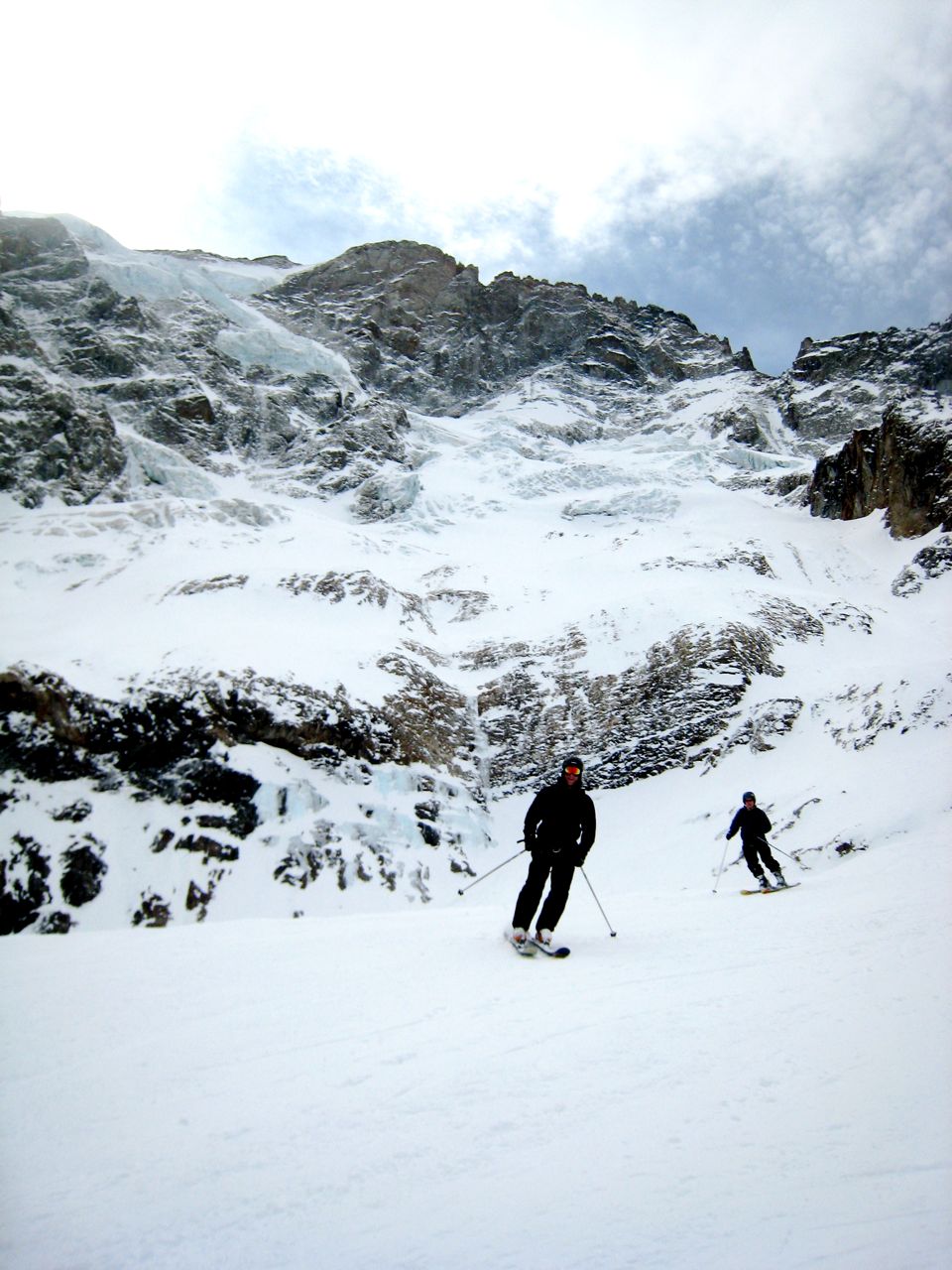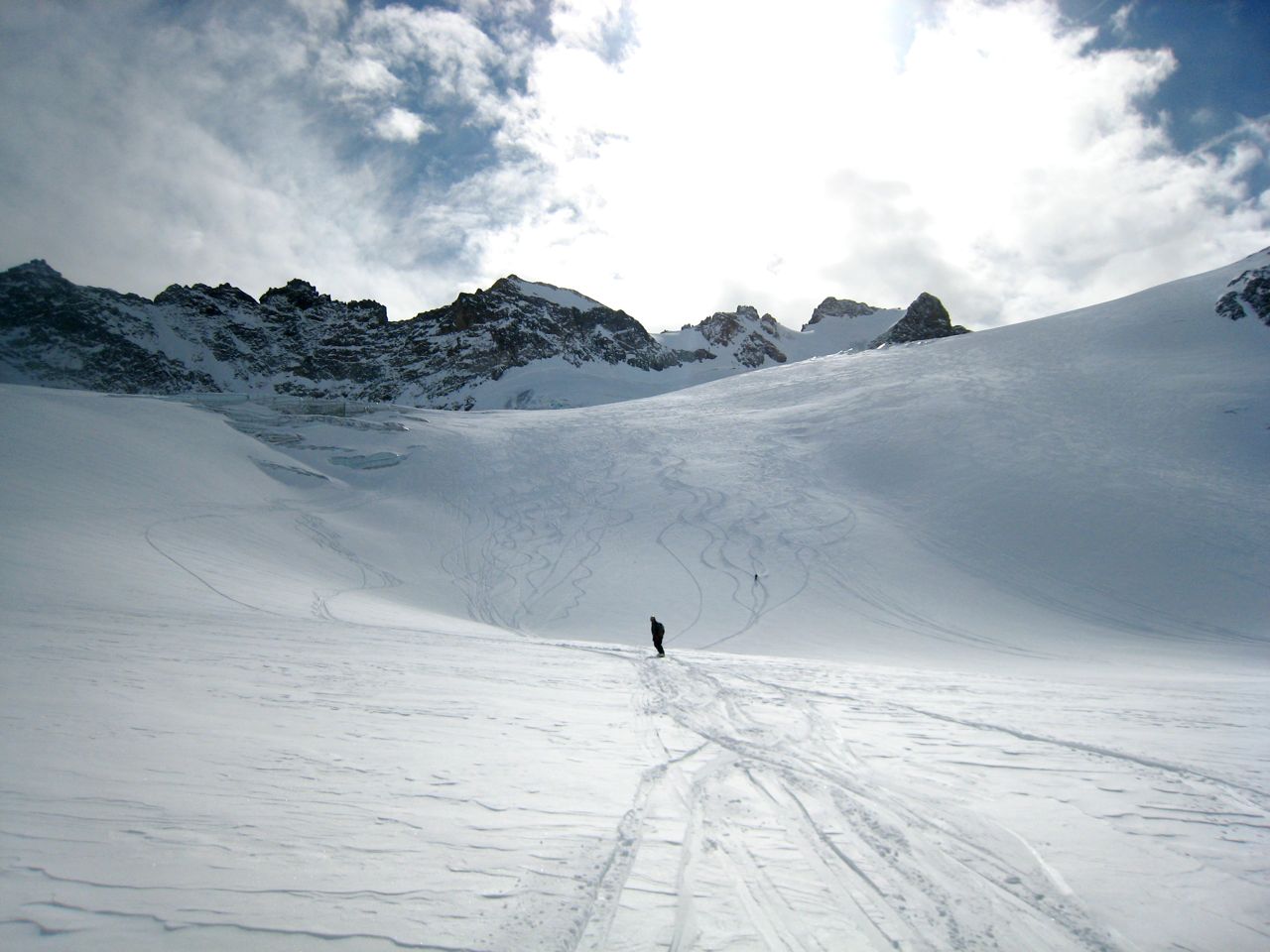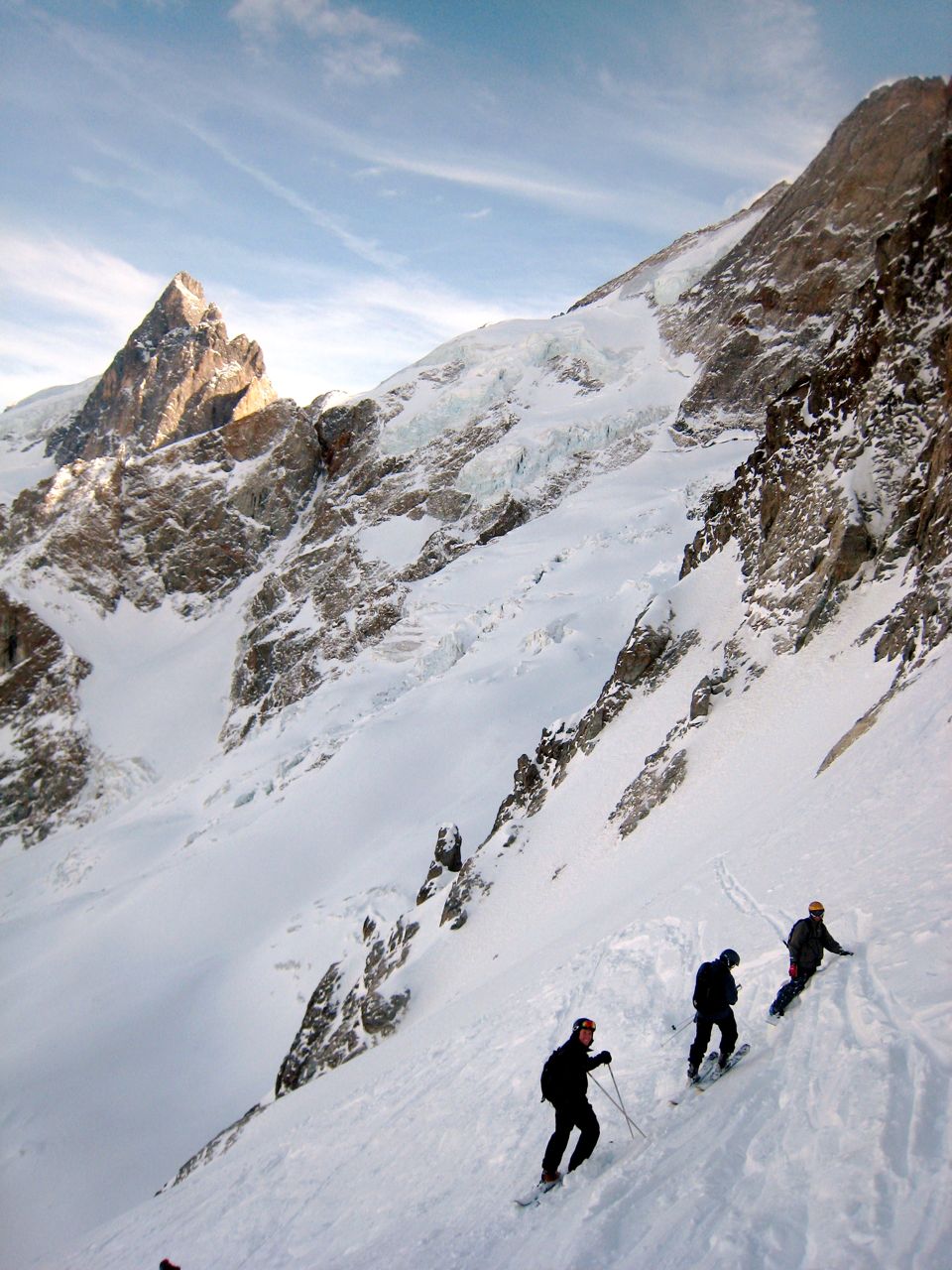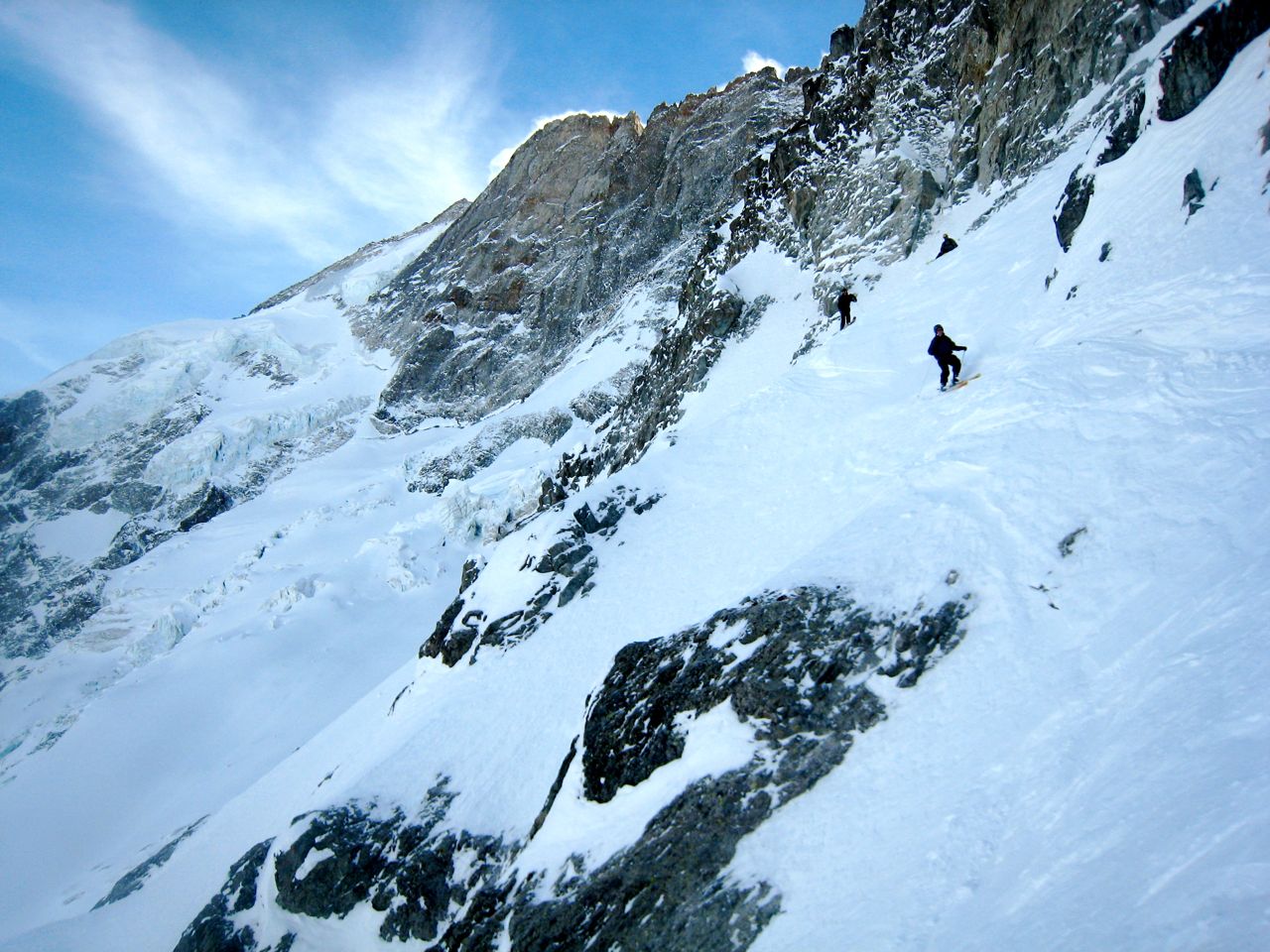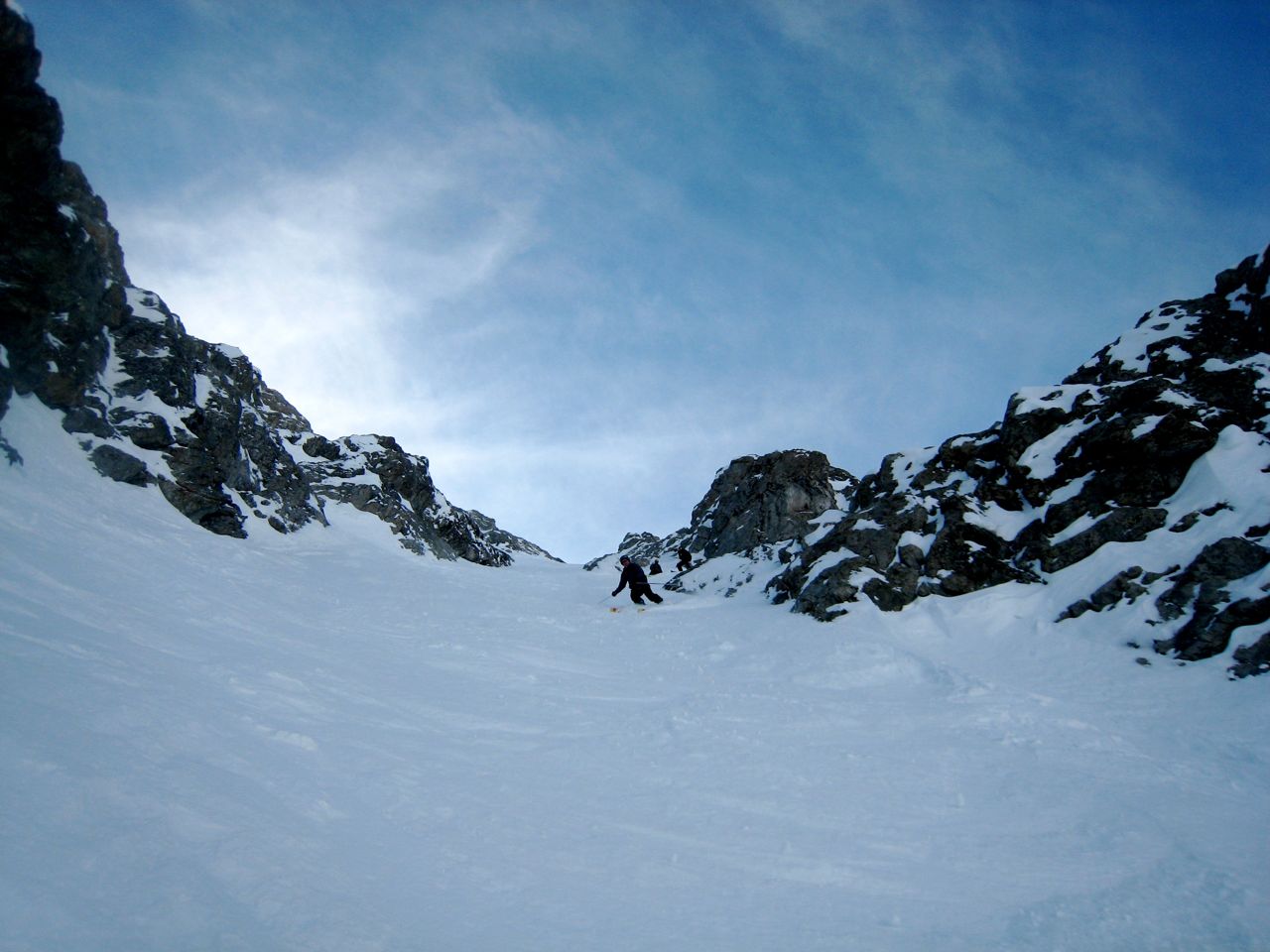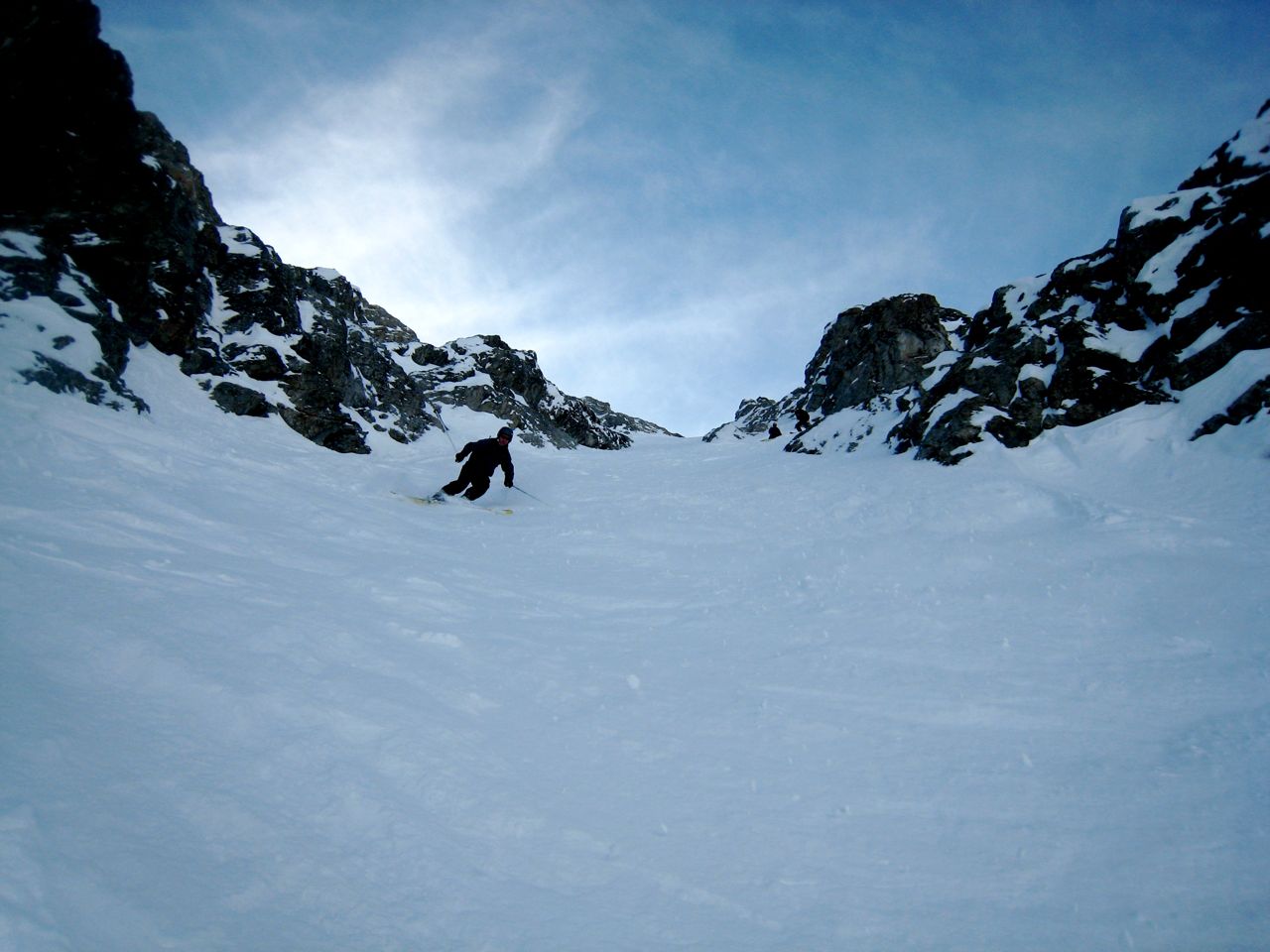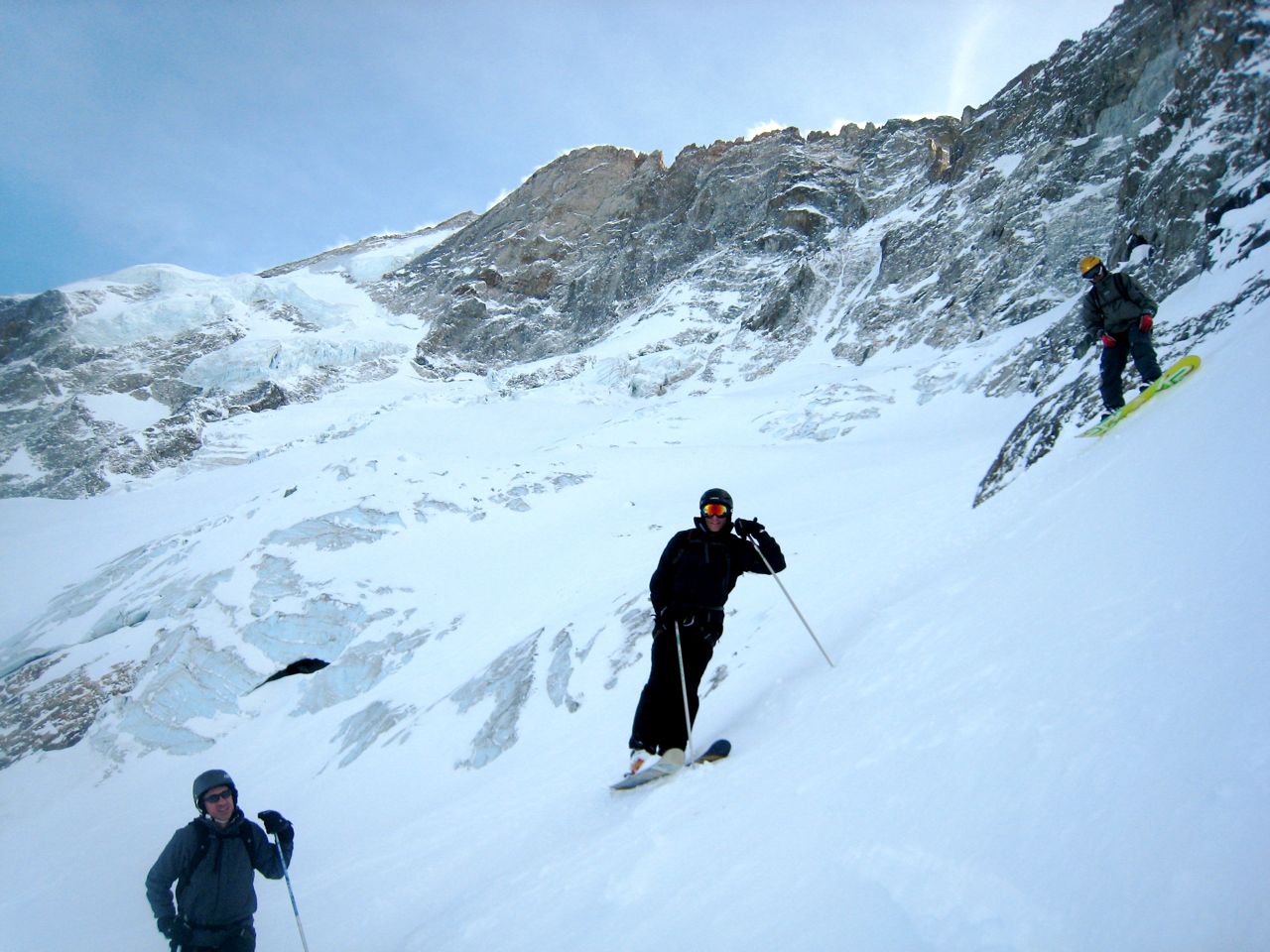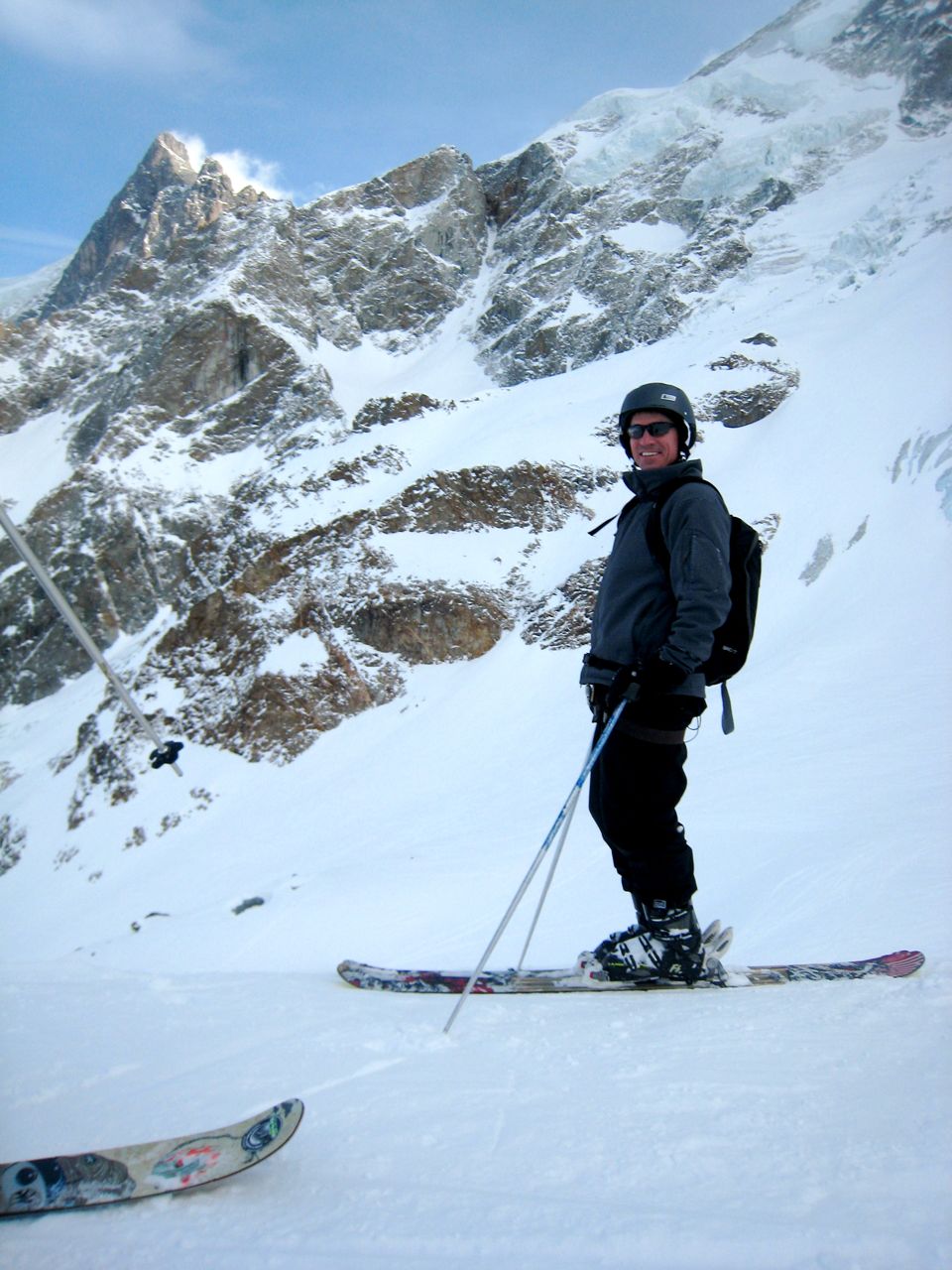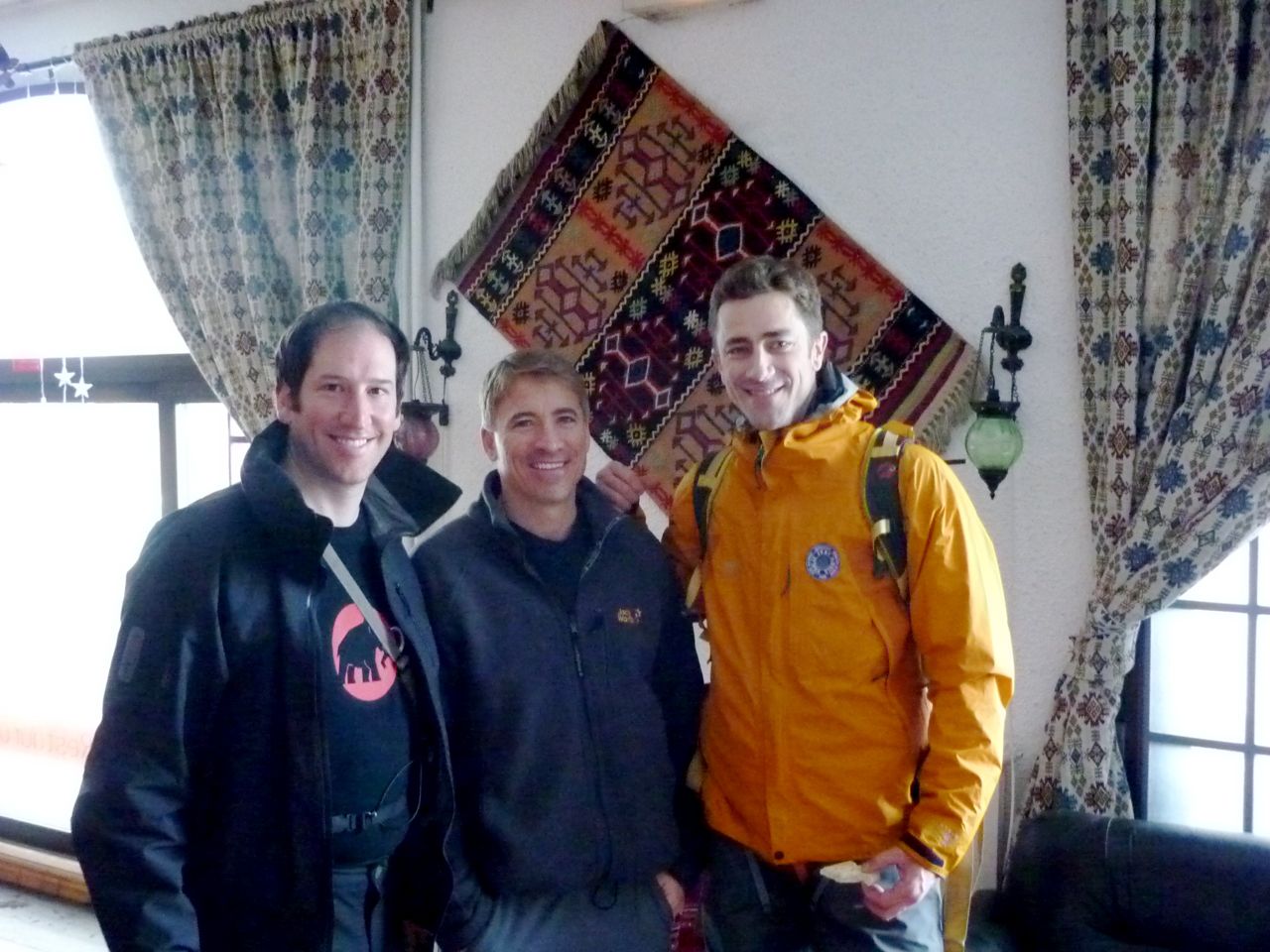 One of our guides from the states (Farmer) ... takes years to get certified as a Climbing/Ski Mountaineering guide in France .. Only 60 Americans are certified in all 3 disciplines needed for certification in France .. Once you are certified you can take people anywhere (no permits like in the states) ...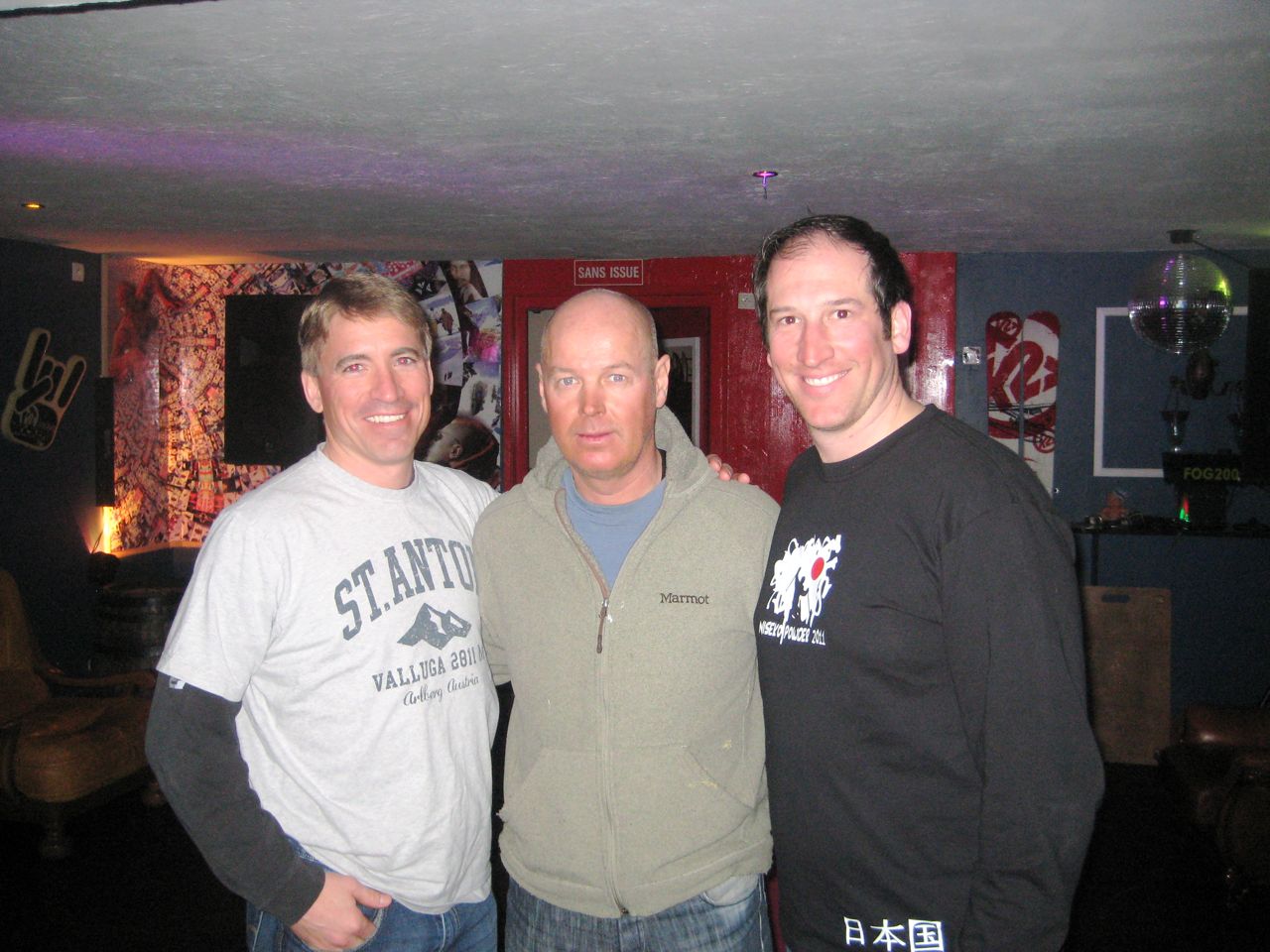 The owner of Skiiers Lodge LaGrave and ski guide -- Pella apparently talked the owners of the lift into opening it in winter 20 years ago so he could take people skiing on the mountain ... for many years before that, it didn't occur to anyone that the "LaMeije" peak was a skiiable mountain :-)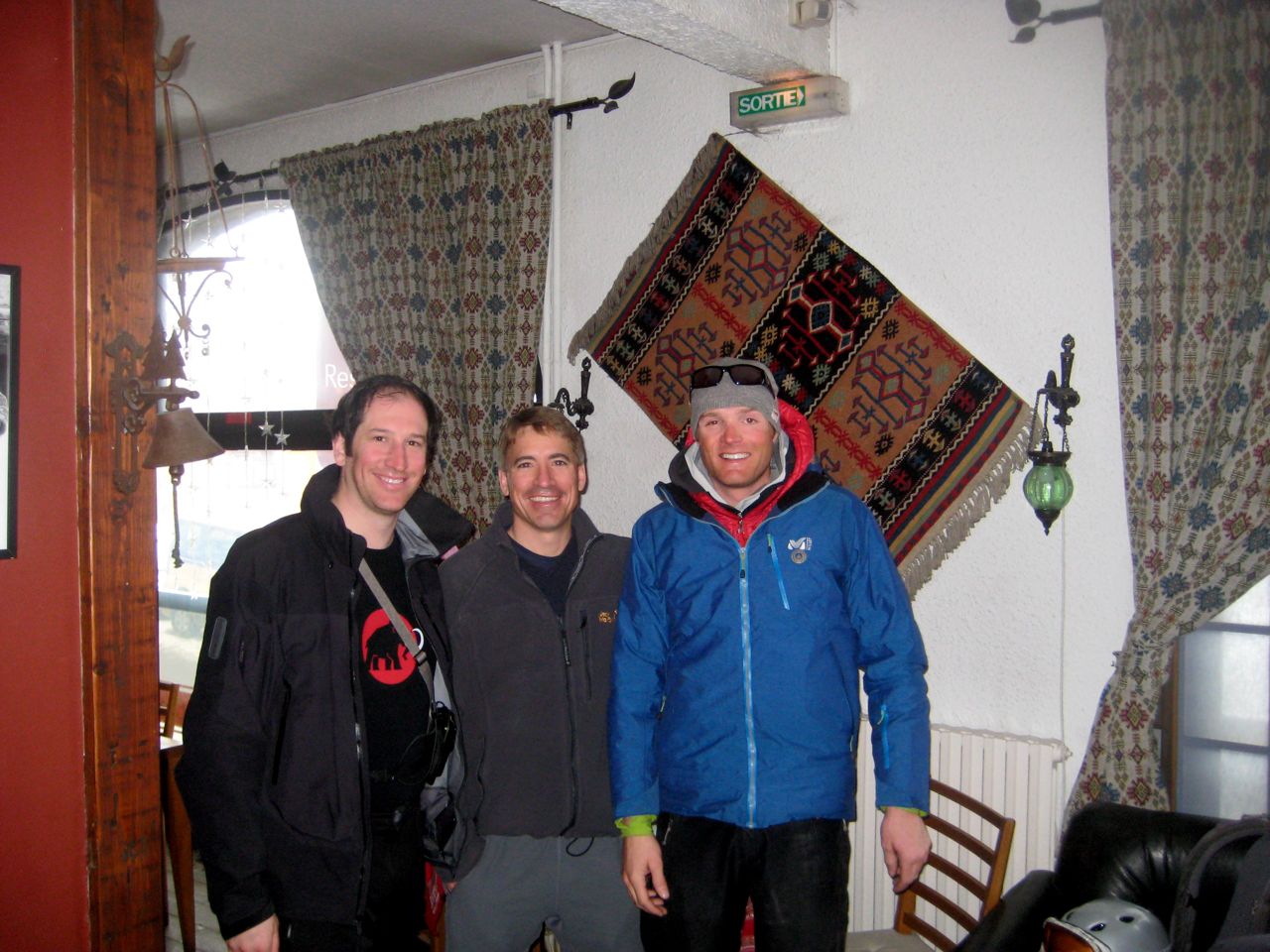 Another of our guides from the US (Tyler) ....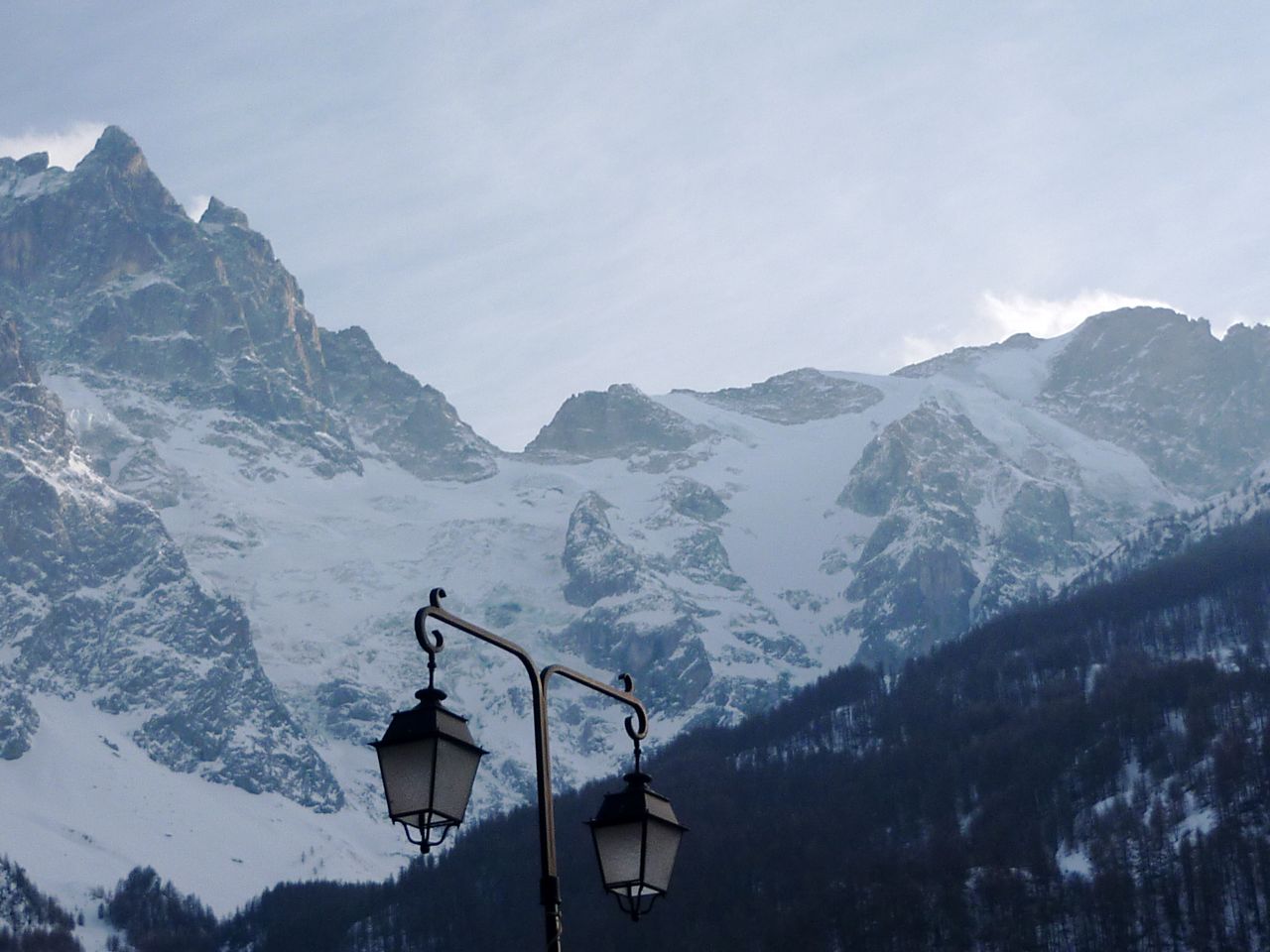 All in all a one-of-a-kind ski moutaineering experience ... It'll never be the same to be on an in-bounds ski run again ....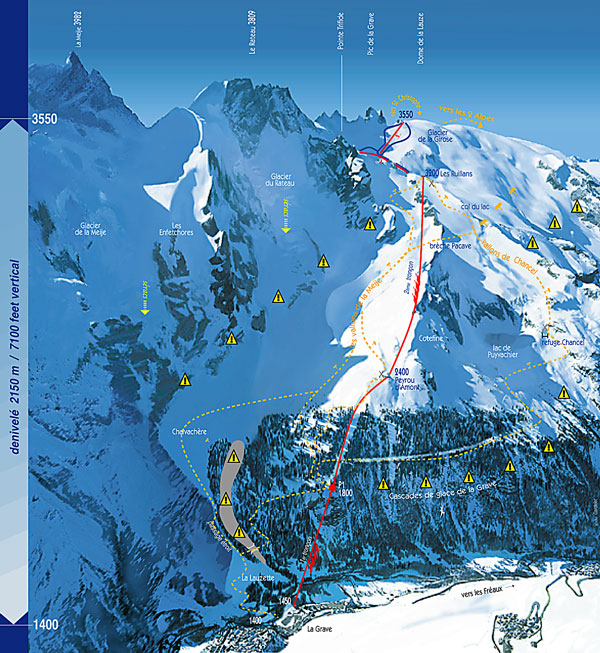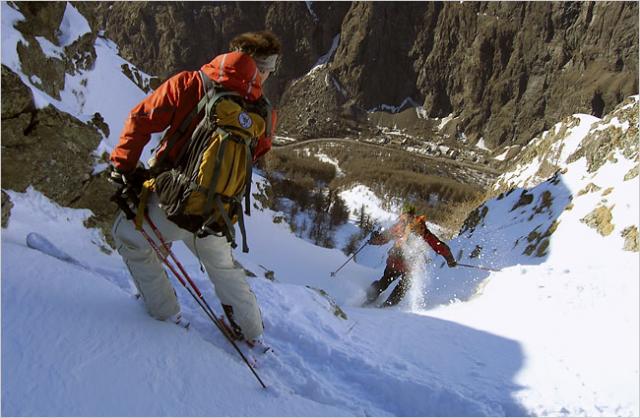 Doug Coombs, LaGrave, 2006